Adani Enterprises plans to raise Rs 20,000 crore through follow-on public offer (FPO). The subscription for the FPO will be open from January 27 to January 31, 2023. The price band is fixed at Rs 3,112-Rs 3,276 per share. 
The FPO comprises of only fresh issue of shares and the issue size is Rs 20,000 crore. Retail investors will get a discount of Rs 64 per share to the FPO's final issue price. 
Adani Enterprises is part of the Adani group, which is one of India's top business houses with an integrated energy and infrastructure platform. The company has a long track record of successfully executing large-scale projects. It is one of India's largest listed business incubators in terms of market capitalisation and are driven by the philosophy of incubating businesses in four core industry sectors – energy and utility, transportation and logistics, consumer, and primary industry.
Adani Enterprises, over the years, has seeded new businesses, developed them into sizeable and self-sustaining business verticals and subsequently demerged them into independently listed and scalable platforms, thereby unlocking value for its shareholders. the company has a demonstrated track record of creating sustainable infrastructure businesses since 1993.
Adani Enterprises has emerged as an incubator by investing, maturing and eventually demerging various diversified businesses. Since inception, the company have incubated six decacorn businesses and successfully listed them, including by way of demergers, as Adani Ports and Special Economic Zone Limited, Adani Power Limited, Adani Transmission Limited, Adani Green Energy Limited, Adani Total Gas Limited and Adani Wilmar Limited. As of December 31, 2022, the Adani group had a market capitalisation of Rs 18,402 billion (approximately US$222 billion), and are one of the largest listed group by market capitalization in India.
The chart below shows the conglomerate's various businesses present across different sectors,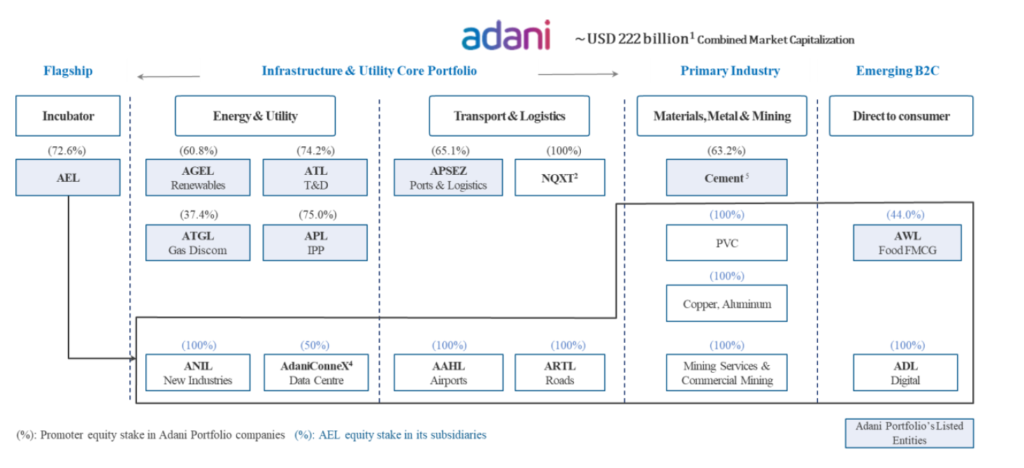 Source: Company's Red Herring Prospectus
Adani Enterprises has a demonstrated track record of incubating sustainable infrastructure businesses in India with a focus on enhancing stakeholder value.
Well-established performance history and expertise in project execution and management.
Tapping on the growing green hydrogen potential in India to build a fully-integrated green hydrogen ecosystem in India.
Airport assets of national importance are strategically located and are supported by a stable regulatory framework and concession terms.
Robust environmental, social and governance ("ESG") focus enhancing value for stakeholders.
One of the leading global player in integrated resource management.
Experienced promoters and leadership with competitive advantage.
Scalable financial structure and strong financial performance.
| | | | | |
| --- | --- | --- | --- | --- |
| Period Ended | 6MFY23 | FY22 | FY21 | FY20 |
| Total Assets (Rs in crore) | 1,23,091.28 | 1,01,760.19 | 51,642.86 | 46,898.36 |
| Total Revenue (Rs in crore) | 79,507.89 | 70,432.69 | 40,290.93 | 44,086.21 |
| EBITDA (Rs in crore) | 4,100.15 | 4,725.71 | 3,258.85 | 2,967.96 |
| EBITDA Margin | 5.20% | 6.70% | 8.10% | 6.70% |
| Profit After Tax (Rs in crore) | 930.4 | 776.56 | 922.64 | 1,138.17 |
| Return on Equity | 5.90% | 3.50% | 5.40% | 6.70% |
| Return on Capital Employed | 6.20% | 9.20% | 11.40% | 12% |
| Net Debt/Equity ratio | 0.82 | 0.91 | 0.52 | 0.35 |
| Net Debt/EBITDA ratio | 3.61 | 5.2 | 3.01 | 2.18 |
The net proceeds from the FPO will be utilised for the following purposes:
Funding capital expenditure requirements of some the company's subsidiaries in relation to (a) certain projects of the green hydrogen ecosystem; (b) improvement works of certain existing airport facilities; and (c) construction of greenfield expressway aggregating Rs 10,869 crore.
Repayment, in full or part, of certain borrowings of the company and three of thier subsidiaries, namely, Adani Airport Holdings Limited, Adani Road Transport Limited, and Mundra Solar Limited totalling Rs 4,165 crore.
General corporate purposes.
Gautam S. Adani and Rajesh S. Adani are the promoters of the company.
| | |
| --- | --- |
| FPO Opening Date | January 27, 2023 |
| FPO Closing Date | January 31, 2023 |
| Face Value | Rs 1 per share |
| Price Band | Rs 3,112 to Rs 3,276 per share |
| Lot Size | 4 shares |
| Issue Size | 6,47,38,475 shares aggregating up to Rs 20,000 crore |
| Fresh Issue | 6,47,38,475 shares aggregating up to Rs 20,000 crore |
| Issue Type | Book Built Issue FPO |
| Listing At | BSE, NSE |
| | | | |
| --- | --- | --- | --- |
| Application | Lots | Shares | Amount |
| Retail (Minimum) | 1 | 4 | Rs 13,104 |
| Retail (Maximum) | 15 | 60 | Rs 1,96,560 |
| Small HNI (Minimum) | 16 | 64 | Rs 2,09,664 |
| Large HNI (Minimum) | 77 | 308 | Rs 10,09,008 |
| | |
| --- | --- |
| Event | Tentative Date |
| Allotment of shares | February 3, 2023 |
| Initiation of refunds | February 6, 2023 |
| Credit of shares to demat account | February 7, 2023 |
| Listing date | February 8, 2023 |
To check your allotment, click here