Devyani International Ltd, operator of Pizza Hut and KFC stores in India, is set to open for initial public offering on August 4 and close on August 6. 
The quick service restaurant (QSR) is planning to raise Rs 1838 crore in the IPO. The price band is fixed at Rs 86 to Rs 90 per equity share. The issue consists of a fresh issue of Rs 440 crore and offer for sale of about 15.53 crore equity share amounting to Rs 1398 crore.
Devyani International is the largest franchisee operator of Yum! Brands Inc in India. It operates 655 stores in 155 cities as of March-end in 2021. Their core brands include KFC, Pizza Hut and Costa Coffee. In addition, they have their own brands such as Vaango and Food Street, Masala Twist, Ile Bar, Amreli, and Ckrussh Juice Bar in the F&B industry. The company also has stores in Nepal and Nigeria which are categorized as international business. The company's bulk of the revenue comes from its core business and international business. It accounted for 83% in FY19 and FY20, while it increased to 94% in FY21. The company has also leveraged the online delivery model through platforms/apps like Zomato and Swiggy to push sales growth.
The following table shows key performance indicators for its core Indian business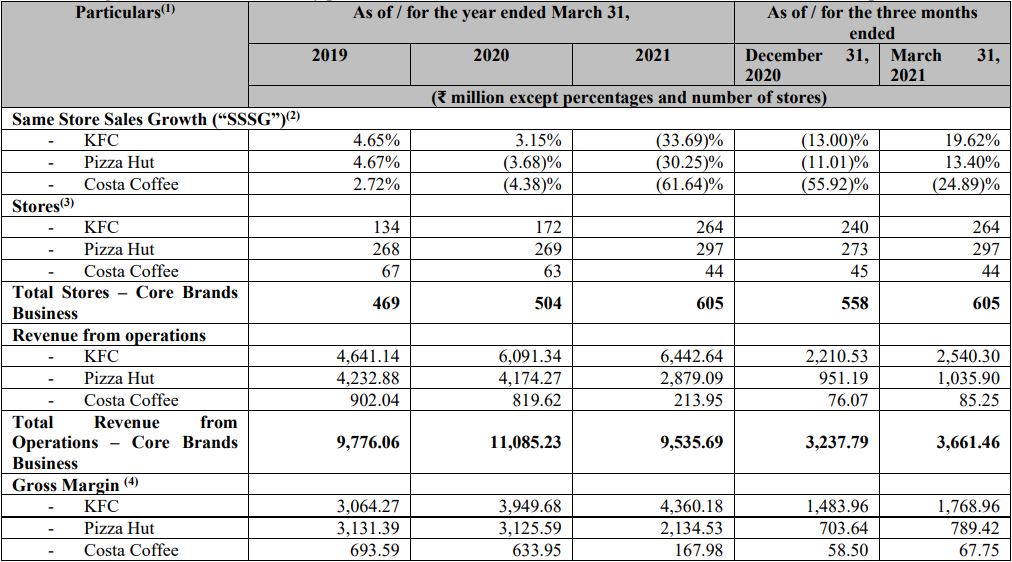 Wide range of product portfolio and well-recognized global brands catering to a range of customer preferences

Multi-dimensional QSR company with technical and marketing expertise and operational efficiency

Strong presence across metro cities and key consumption markets with a cluster-based approach

Cross brand synergies with operating leverage bringing cost efficiencies at each level

Steady growth in revenue and focus on cash flow management
Ravi Kant Jaipuria, Varun Jaipuria and RJ Corp
Particulars
For the period ended (Rs in million)
31-Mar-21
31-Mar-20
31-Mar-19
Total Assets
16,684.07
18,835.76
18,074.90
Total Revenue
11,988.95
15,350.41
13,236.83
Total Expenses
13,381.71
16,465.30
13,948.19
Profit After Tax
-813.24
-787.52
-592.9
The company is planning to use net proceeds from the IPO for repayment or prepayment of all or certain of their borrowings amounting to Rs 357.83 crore

General corporate purposes
| | |
| --- | --- |
| IPO Opening Date  | August 4, 2021  |
| IPO Closing Date  | August 6, 2021  |
| Issue Type  | Book Built Issue IPO  |
| Face Value  | ₹1 per equity share  |
| IPO Price  | ₹86 to ₹90 per equity share  |
| Market Lot  | 165 Shares  |
| Min Order Quantity  | 165 Shares  |
| Listing At  | BSE, NSE  |
| Issue Size  | Rs 1,838 crore  |
| Fresh Issue  | Rs 440 crore  |
| Offer for Sale  | Rs 1,398 crore (155,333,330 equity share)  |
| Listing Date   | August 16, 2021  |
| | | | |
| --- | --- | --- | --- |
| Application  | Lots  | Shares  | Amount (Cut-off)  |
| Minimum  | 1  | 165  | ₹ 14,850  |
| Maximum  | 13  | 2145  | ₹ 1,93,050  |
To read more about other IPOs on August 4, click the respective links below