The Indian economy is likely to grow at 6.8-7% in FY23 compared to earlier estimates of 7.1%, according to CareEdge Ratings.
The Indian economy witnessed a growth of 13.5% in Q1FY23 compared to a growth of 4.1% in Q4FY22, due to favourable low base effect. India's three major sector namely agriculture, industry and services showed a loss in growth momentum in Q1FY23 compared with Q4FY22, according to rating agency CareEdge.
The rating agency said that the GDP growth in Q1FY23 was lower than its expectation due to lower-than-expected growth in manufacturing, construction, trade, hotels and transport segments. Moreover, the GDP growth was also lower than RBI's estimate of 16.2% for Q1FY23.
CareEdge in its report said that both private consumption and investment rate increased in Q1FY23 compared with the previous quarter. However, India's net exports have weakened sharply with economic slowdown in Europe and China as well as high commodity prices.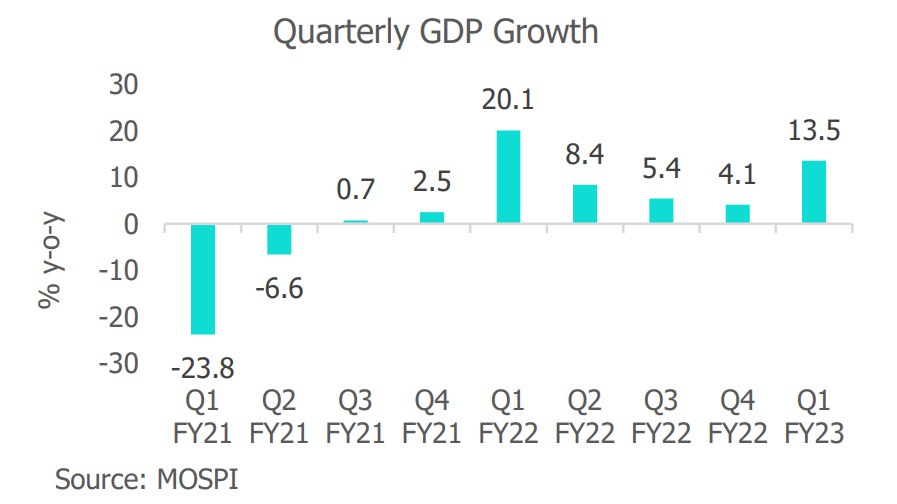 The services sector, which has the highest share in the Indian economy, posted a growth of 17.6% in Q1FY23. However, the sector's output was only 3% higher when compared with the pre-pandemic quarter of Q1FY20. The output in the sectors related to trade, hotels, transport, communication and broadcasting recorded a growth of 25.7% YoY. Further, public administration, defence and other services witnessed a growth of 26.3% year-on-year.
The industrial sector's output jumped 8.6% in Q1FY23 on y-o-y basis. However, CareEdge said that the sector witnessed a sharp contraction sequentially due to lower production across mining, manufacturing and construction sectors. Manufacturing output contracted in Q1FY23 due to high commodity prices, according to the rating agency. With easing of commodity price pressures and signs of improvement in consumption demand, CareEdge expects the manufacturing sector to perform better in coming quarters.
Finally, the agriculture sector recorded a growth of 4.5% in Q1FY23 over a low base of 2.2% growth in the same period last year. CareEdge said that despite the disruption due to heatwave, overall food grain production for the crop year 2021-22 is estimated to be at a record high of 315.72 million tonnes as per the fourth advance estimates. It also noted that irregular rains could affect the production of some major Kharif crops such as rice and pulses that could put pressure on the overall agriculture sector's output growth.

Consumption and Investments
The private consumption to GDP ratio increased to 59.9% in Q1FY23 from 55.5% in Q4FY22, according to CareEdge report. High frequency indicators such as production of consumer durable goods as measured by IIP and auto sales reflected double-digit growth in Q1FY23 compared with Q1FY22. On the contrary, the production of consumer non-durable goods was only 1.1% higher in Q1 compared with year-ago period showing the uneven nature of demand recovery.
Further, the investment to GDP ratio increased to 34.7%, the highest in the 39 quarters owing to a revival in business sentiment and strong capital expenditure push by the government, the rating agency said in the report.
CareEdge said that signs of economic recovery were visible on consumption and investment front. The rise in private consumption to GDP ratio in the first quarter is a positive sign and reflects revival of consumption demand.
However, the demand revival has been uneven so far with high rural inflation, uneven rains and flat rural wage growth weighing on rural demand. Nonetheless, higher MSP for Kharif harvest, onset of festive season and easing inflationary pressures are expected to support rural demand in the coming quarters.
Further, there are positive signs appearing with the rise in capacity utilisation of manufacturing sector to 75 level. The central government's capital expenditure push in the fiscal year is also favourable for investment scenario. However, CareEdge warns of the global slowdown and its implications for the Indian economy in the coming quarters.