Indian stock indices closed higher on Monday as technology stocks and Reliance Industries gained, while Auto index rose on encouraging sales data for July. The Sensex closed 0.69% higher at 52,950.63 and Nifty advanced 0.77% to 15,885.15.
Nifty IT index rose 1.06% to 30,803 and Nifty Auto index closed up 1.34% to 10.183.45. Reliance Industries edged higher 1.83% to close at Rs 2,072.50.
IHS Markit said India's July manufacturing PMI stood at 55.3, as against 48.1 in June.
Indian rupee ended higher at 74.33 against the US dollar.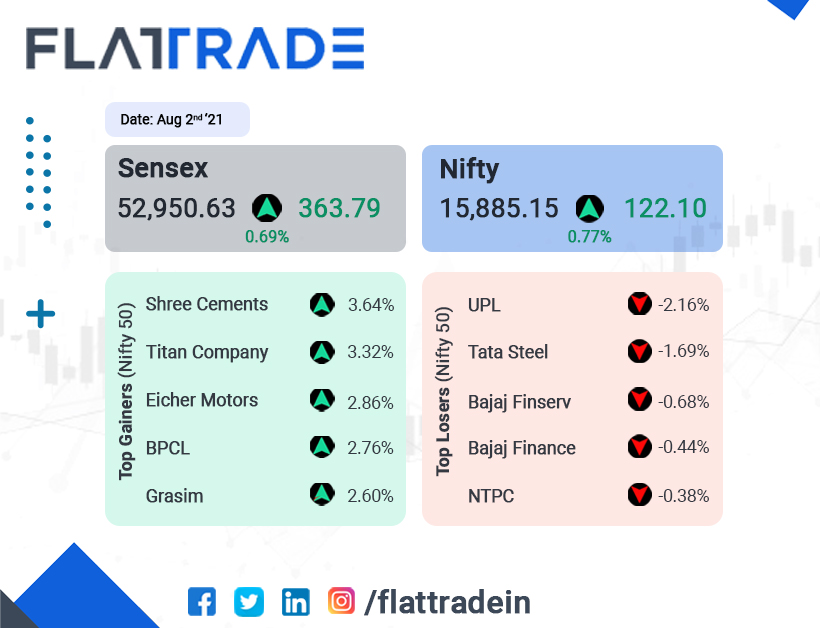 HDFC: The NBFC's standalone net profit fell 1.7% to Rs 3000 crore in Q1 of FY22, from Rs 3051.5 crore in the year-ago period. Its net interest income grew 22% to Rs 4147 crore in the quarter, from Rs 3392 crore in the corresponding period of last year. As of June end of FY22, the assets under management increased to Rs 5.74 lakh crore, as against Rs 5.31 lakh crore in the previous year.
Emami: The company's consolidated net profit soared 96.4% to Rs 77.79 crore in Q1 of FY22, from Rs 39.30 crore in Q1 of FY21. Its operating revenue increased 37.3% to Rs 660.95 crore during the quarter on year-on-year basis. The company's domestic business grew by 42% over previous year, while its international business rose 17%.
Varun Beverages: Bottler of PepsiCo in India reported a 123% jump in consolidated net profit at Rs 318.80 crore in Apr-Jun quarter of 2021, boosted by volume growth and cost rationalization. The company had posted a net profit of Rs 142.87 crore in the year-ago period. Net revenues increased by 49.4% to Rs 2,449.85 crore during the quarter. Total expenses rose to Rs 2,087.79 crore, from Rs 1,486.49 crore in the same period of last year.
CDSL: The company posted a 37% rise in its consolidated profit after tax at Rs 63.99 crore for the quarter ended June 2021, compared with a PAT of Rs 46.72 crore in the year-ago period. Total income jumped 51% to 129.79 crore in the quarter, from Rs 86.01 crore in the corresponding quarter of last year.