Benchmark Indian indices bounced back from four days of losses and ended in the green, boosted by gains in metal, PSU Bank, pharma and energy stocks. The Sensex closed 0.91% up at 59299.32 and Nifty closed 0.91% higher 17691.25.
All Nifty indices closd in the green. Top gainers are as follows: Nifty Metal soared 2.99%, PSU Bank jumped 2.1%. Pharma climbed 1.54% and Energy was up 1.45%.
Indian rupee lost 19 paise to close at 74.31 against the US dollar.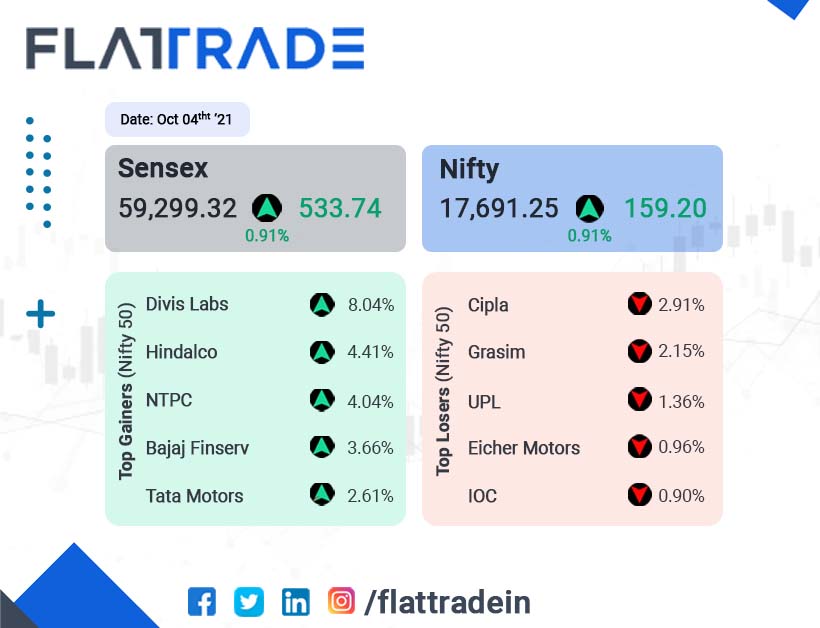 Adani Green: The renewable energy company has completed its acquisition of SB Energy Holdings in an all-cash deal. The transaction estimates SB Energy India at an enterprise valuation of $3.5 Billion (Rs 26,000 crore). SB Energy India has 5 Giga Watt of renewable assets across four states through its Special Purpose Vehicles.
Stata Bank of India: The public-sector lender is planning to raise Rs 6,000 crore through issuing AT1 bond to replace maturing securities. The lender recently raised Rs 4000 crore through AT1 bonds in September. The bank's capital adequacy ratio (CAR) stood at 13.66%.
YES Bank: The private sector bank reported a 3.6% growth (year-on-year) in advances at Rs 1,72,945 crore for the quarter ended September, 2021, from Rs 1,66,923 crore in the year-ago period. The bank's deposits rose 30.1% to Rs 1,76,672 crore in September 2021, from Rs 1,35,815 crore in the corresponding period last year.
Tata Motors: The automaker unveiled its new sub-compact SUV vehicle Punch. The company is planning to launch the model on October 20. Buyers can book the vehicle on the company's website and als through its wide sales network across the country for Rs 21,000.
Tata Communications Ltd: The company said in its filing on the exchanges that it has expanded the company's partnership with Cisco Systems. The new agreement pertained to the deployment of I.T. infrastructure to deliver 'anywhere, anytime' access to enterprises.
Cipla: The pharma company has signed an agreement with US-based Eli Lilly to sell two of the U.S. drugmaker's best-selling diabetes treatments in the country, the companies said in a joint statement. The rights of the products – Trulicity and Humalog- will be transferred by Lilly to Cipla to sell, promote and distribute. The deal will allow Cipla to expand its portfolio of drugs.