Benchmark Indian indices closed at record high for the third consecutive session, boosted by by gains in I.T., realty and auto stocks as well as Reliance industries. The Sensex rose 0.29% to 58,296.91 and Nifty closed 0.31% higher at 17,377.80.
The Indian rupee depreciated 7 paise to 73.10 against the US dollar on Monday.
Nifty Realty rose 3.16%, IT was up 1.50%, Auto advanced 0.42%. Nifty Bank fell 0.46%.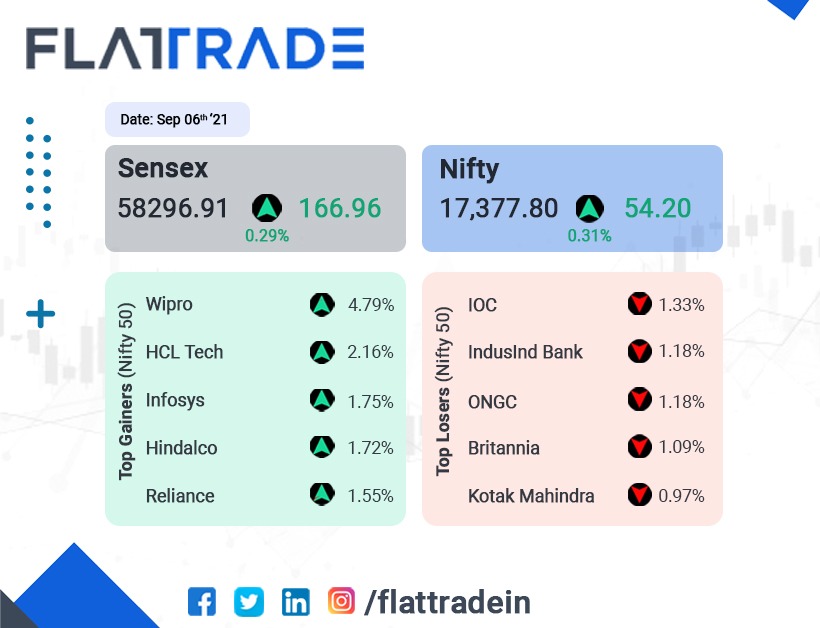 IRCTC: The company became one among the top 100 most valuable listed companies after the stock of the transport support services firm hit a new high of Rs 3,041.20, up 6% on the BSE in intra-day trade on Monday. The stock has risen 97% from its low of Rs 1,541 touched on April 19, 2021. The company has a dominant market share in online rail bookings and packaged drinking water at 73% and 45%, respectively. Shares of the company closed at Rs 3,023 on BSE.
Reliance Industries: Shares of the company continued to move higher on Monday and gained nearly 4% in intra-day trade after the company said its subsidiary has acquired majority stake in genomic testing firm Strand Life Sciences Pvt Ltd for Rs 393 crore. Shares of the company closed 1.65% higher at Rs 2,428.
ONGC: The company's plan to complete merger of its refining subsidiary MRPL with HPCL to align its upstream and downstream operations into two verticals has got delayed. Sources said that the merger process will be started only after the company completes merging ONGC Mangalore Petrochemical Ltd. (OMPL) with MRPL. The sources added that the merger of HPCL and MRPL, under conservative assumptions, could happen by FY24-end.
Zydus Cadila: The drugmaker said it has obtained approval from the US health regulator FDA to market Sitagliptin, a medicine for treating diabetes. The company said its subsidiary has received tentative approval for Sitagliptin base 25, 50 and 100 mg tablets.
Lupin: The drugmaker said non-profit drug developer TB Alliance has given a non-exclusive licence to manufacture anti-TB drug pretomanid as part of the three-drug BPaL regimen. Lupin plans to commercialise the medicine in around 140 countries and territories, including many of the highest TB burden nations around the world.
Nuvoco Vistas Corporation: Shares of cement manufacturer Nuvoco Vistas Corporation (NVCL) hit a new high of Rs 577.50, on the BSE in Monday's intra-day trade, but closed at Rs 566.4. The rally happened after the company recently informed the stock exchanges that CRISIL Ratings has revised its rating outlook on the long-term bank facilities and debt instrument of the company to 'Stable' from 'Negative'.