Benchmark Indian indices closed marginally lower on Tuesday as realty, IT and pharma stocks fell. The Sensex closed 0.03% lower at 58,279.48 and Nifty fell 0.09% at 17,362.10.
The Indian rupee depreciated 31 paise to close at 73.42 against the US dollar.
Top losers in Nifty on a sectoral basis were Realty (-2.33%), IT (-1.31%), PSU Bank (-1.25%) and pharma (-0.65%). FMCG sector rose 0.30% and managed to close in the green.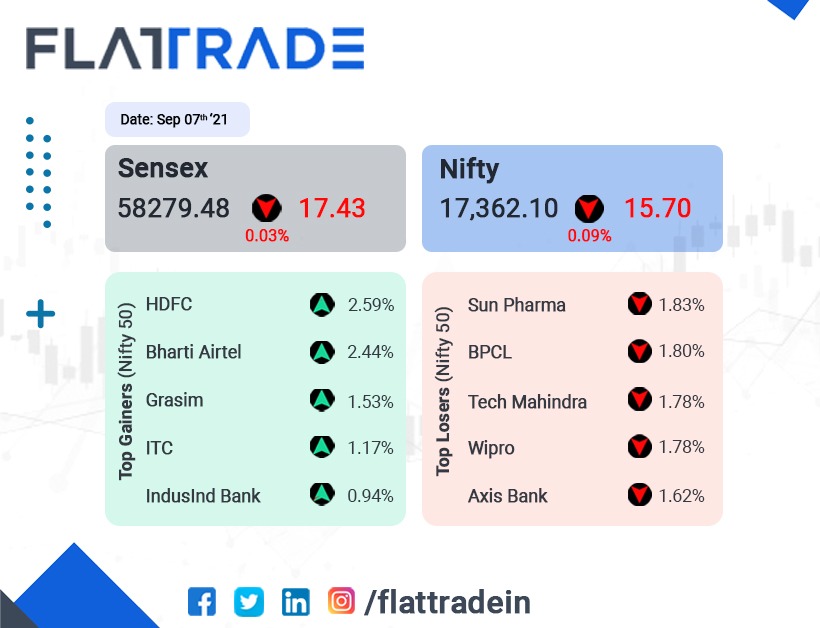 IRCTC: Shares of the company rallied on Tuesday as investors were positive about the prospects of the company. The re-opening of the economy after the second wave and the company's potential to become a full-fledged travel company have boosted the share price and it has more than doubled since April. Shares of the company closed 9.26% higher at Rs 3286.90.
Vodafone Idea: The telecom operator in its latest annual report has stated that the industry is in "unsustainable financial duress" and hoped that the government would provide the necessary support to address "all structural issues" faced by the sector. Chairman Himanshu Kapania in a letter to shareholders cited persistent challenges in the operating environment, amid "unsustainable pricing" and "hyper-competition" during FY21. Kapania also hoped that the Indian government will support efforts to generate reasonable returns on massive investments.
Panacea Biotec: The company has produced and dispatched the first shipment of the second component of the Russian Sputnik V vaccine manufactured for sale in India, according to a joint statement by the drug firm and the Russian Direct Investment Fund (RDIF). It will be distributed in India through Dr Reddy's Laboratories, which is a partner of RDIF and Panacea Biotec.
Voltas: Shares of the company rallied on demand recovery hopes ahead of festive season. The government's push to make India a manufacturing hub for ACs and Voltas being a market leader in India pushed the stock higher. Shares of the company closed 5.7% higher at Rs 1187.25.
Wonderla Holidays: The company's MD Arun K Chittilappilly told CNBC-TV18 that all of its amusement parks were open for four days and the footfalls have been encouraging as it has reached pre-pandemic levels. He was also optimistic that the company might report positive EBITDA in the second quarter of FY22.