Benchmark Indian equity indices closed higher, boosted by gains in utilities, auto and banking stocks. Nifty crossed 18,000-mark during intraday trading but gave up gains to close 0.28% higher at 17945.95. The Sensex closed at 60135.78, up 0.13%.
Nifty Auto jumped 2.67%, Nifty Bank rose 1.37% and BSE Utilites index gained 2.80%. Nifty IT tanked 3.36% as TCS closed 6.35% lower after its results were below than analysts' expectation.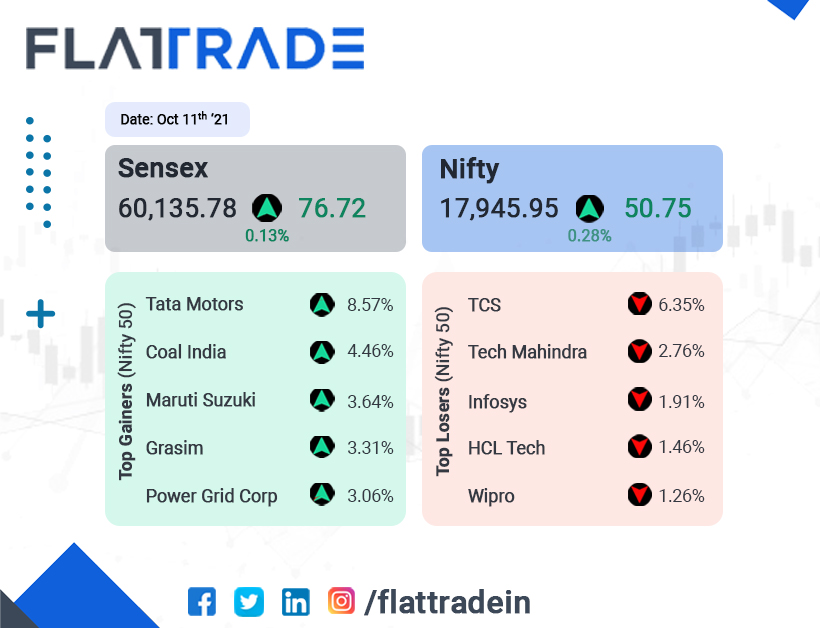 Reliance Industries: The company said that its subsidiary, Reliance New Energy Solar, will buy a 40 per cent stake in Sterling & Wilson Solar through a combination of primary investment, secondary purchase and open offer for around Rs 2,850 crore. The acquisition is expected to help RIL meet its renewables targets faster.
Ramkrishna Forgings: The company posted a standalone revenue growth of 129.31% year-on-year to Rs 578.94 crore in the second quarter of fiscal 2022, from 252.47 crore. The company's profit after tax rose to Rs 50.11 crore in Q2FY22, as against Rs 2.07 crore in the year-ago period.
Indian Oil Corp: The oil refiner has postponed a maintenance shutdown at its Haldia refinery by at least 15 days to mid-November to meet increasing local fuel demand during the festival season, two sources familiar with matter said, according to Reuters. The refiner plans to shut a crude unit and a vacuum distillation unit for 40 days, a fluidised catalytic cracker for 50 days, one of the sources said.
Coal India: The public-sector company is using its 40 million tonne stocks to replenish utilities, which together have 7.2 million tonnes of inventory, equivalent to four days' requirements, the ministry statement said on Sunday, Reuters reported. The ministry said coal supplies to power plants were affected due to monsoon rains and high global prices forced utilities that rely on imported coal to curtail generation. Shares of other power-related companies like Adani Power, Tata Power, NTPC, Power Grid, etc. climbed.
Tata Motors: The automaker shares extended its rally and closed 8.57% higher on Monday driven by a strong growth outlook. In addition, there were news reports that said Tata Motors is in advance stage of talks to raise $1 billion by selling stake in its electric vehicle unit.
Aditya Birla Sun Life AMC: Shares of the company made a tepid market debut on Monday, listing at par with its issue price of Rs 712. On the National Stock Exchange, it debuted at Rs 715, a gain of just 0.42% from the issue price. Shares closed 1.76% lower at Rs 699.45.
Sunteck Realty Ltd: The realty developer has reported a pre-sales growth of 55% sequentially to Rs 272 crore. The company's collections increased to 20% quarter-on-quarter to Rs 207 crore while collection efficiency improved to 85% of pre-sales in the first half of the fiscal, as against 68% in the corresponding period last year, according to its exchange filing.
Affle India: The company has received its 5th and 6th US Patent Grants, significantly strengthening its global technology IP portfolio, according to its exchange filing. With these two patent grants, Affle has 6 US Patents granted along with multiple other patents filed and pending across the US, India and Singapore.
JSW Steel: The company posted a 29% year-on-year growth in group combined steel production at 5.07 million tonne (MT) during the quarter ended September, 2021. The capacity utilization at standalone level stood at 91% in the second quarter of fiscal 2022, the company said.