Indian Stocks had traded higher on June 15, led by gains led by Banks and Financials. Sensex rose by 0.42% and gained 221.52 points to 52,773. The Nifty gained by 57.4 points to 15869.25.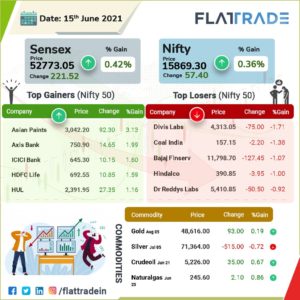 Wipro: Wipro announced that it is collaborating with Oracle to launch Wipro Zero Cost Transformation, a new offering that helps organizations migrate to the cloud.
Asian Paints: Reports indicate that Asian Paints has undertaken a price hike of 5-7% in solvent-based paints and a ~2% hike in prices of water based paint. The price hikes are expected to be effective from July.
L&T Infotech: L&T Infotech has entered into a strategic collaboration agreement with Amazon Web Services (AWS). LTI has recently launched a dedicated cloud unit for AWS which will focus on migration and modernisation, SAP application workloads, data analytics, and Internet of Things (IoT), complemented by LTI's advisory, professional services and delivery capabilities.
NMDC: Reports indicate that the government is likely to start process of offer for sale (OFS) for NMDC in June 2021. The government is expected to sell 7.5-10% stake at a discount to 8-10% on CMP and is believed to have appointed SBICAP and Citi to manage the OFS.
Strides Pharma: Strides Pharma Sciences' arm – Strides Pharma Global Pte. Limited has entered into an exclusive partnership with Ennaid Therapeutics, a global pharmaceutical company to produce an oral, repurposed medication to treat mild, moderate and asymptomatic cases of COVID‐19. Initial tests for the medication depict effective antiviral activity against SARS CoV‐2 virus.