Benchmark equity indices continued their losing streak and closed lower, weighed by losses in technology, telecom, metal, FMCG and energy stocks. The Sensex closed 0.55% lower to 60923.50 and broader index Nifty fell 0.48% to 18178.10.
Nifty IT fell 2.53%, Nifty Metal dropped 1.77%, FMCG lost 0.86%. BSE Telecom and Energy indices plunged 1.81% each.
Indian rupee was little changed to close at 74.86 against the US dollar on Thursday.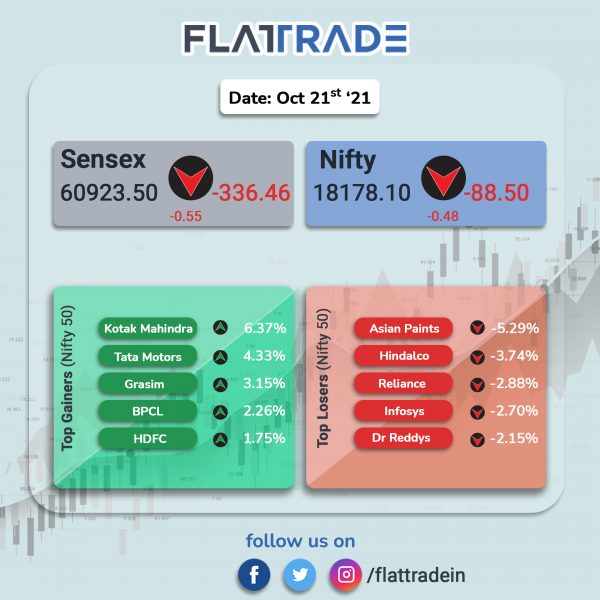 Asian Paints: Shares of the company dropped after it posted lower-than-expected earnings in Q2FY22. Its consolidated net profit fell 28.25% to Rs 595.96 crore in the second quarter, from Rs 830.37 crore in the year-ago period. The decline was attributed to higher raw material cost amid steep inflation. Operating revenue increased 32.6% to Rs 7,096 crore from Rs 5,350 crore, due to higher volume growth in domestic decorative business.
Union Bank of India: Shares of the bank hit 52-week high as the stock was in upward trajectory for the last few sessions. The stock has gained 42% in October, after most of the rating agencies upgraded outlook of the bank from negative to stable. The lender's capital ratios have improved after the government infused capital, funds were raised via QIP and better accruals.
Tata Steel, Tata Motors: The companies' global ratings were upgraded by Standard and Poor's following the reassessment of Tata Sons influence and potential financial support to group entities. Tata Steel rating was revised from "BB" to "BBB-" with a stable outlook. Tata Motors' rating was upgraded from "B" to "BB-" with a stable outlook.
HDFC Bank: The private-sector lender has joined hand with Mastercard and USAID to provide new credit facility aimed at lending to small businesses that need financing to maintain and grow their operations, and enable recovery through digitisation, with an emphasis on supporting women-led businesses. The banks expects to provide at least 50% of the credit facility to new small business borrowers.
Bank of Maharashtra: The PSB's net profit doubled to Rs 264 crore in Q2FY22 from Rs 130 crore in the year-ago period. Its Net Interest Income (NII) grew 33.84% YoY to Rs 1500 crore in Q2FY22, as against Rs 1120 crore in the same period last fiscal. Gross Advances rose 11.44% to Rs 115,236 crore in Q2FY22, from Rs 103,408 crore in Q2FY21.
Sterlite Technologies: The company's net income was down 4.57% QoQ to Rs 105.67 crore in Q2FY22, as against Rs 105.70 crore in Q1FY22. Revenue rose 15% to Rs 1,507.53 crore in Q2FY22, from Rs 1,309.23 crore in the previous quarter of FY22. Other income stood at Rs 6.24 crore in the second quarter, compared with Rs 6.53 crore in the first quarter of FY22.
UPL Ltd: The company said that its subsidiary, UPL Global Ltd., has entered into a definitive agreement to acquire 80% stake in equity share capital of PT Excel Meg Indo- Indonesia. UPL said that PTE has a good presence in Indonesia and wide range of agro-chemical offers. UPL hoped the acquisition will provide access to new market and product portfolio of PTE, according to its exchange filing. The deal is expected to be closed by the end of December 2021.