Benchmark Indian indices closed at record highs, helped by gains in realty, technology and telecom stocks. The S&P BSE Sensex closed above the 60,000 mark for the first time. The Sensex rose 0.27% to close at 60,048.47. The Nifty rose 0.17% to 17,853.2.
Nifty IT rose 0.78% and Realty gained 7.40%. Telecom index in BSE jumped 2.77%.
Indian rupee was relatively flat as it fell just 5 paise to 73.69 against the US dollar.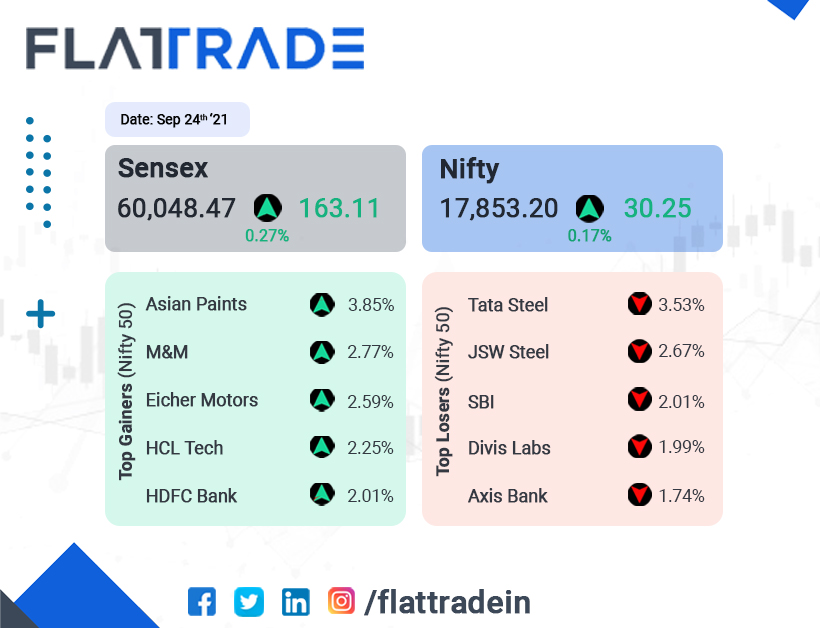 Tata Motors: The automaker has achieved a sales milestone of 10,000 units of electric vehicles. The company said that this shift of green mobility was boosted with the help of other group companies including Tata Power, Tata Chemicals, Tata Autocomp, Tata Motors Finance, and Croma through an expansive e-mobility ecosystem The Tata UniEVerse.
PVR Limited: The company's shares fell 3.59% after Crisil downgraded its ratings on bank facilities and debt programmes of the multiplex operator as well as on profit booking. The rating agency said that PVR's business risk profile was weakening over the medium term due to extended restrictions on its operations.
Shilpa Medicare & Cadila Healthcare: Shilpa Medicare has entered into an agreement with Cadila to manufacture its three-dose Covid-19 vaccine ZyCoV-D. According to regulatory filing, the Shilpa Medicare has entered into a agreement with Cadila for production-supply of the ZyCov-D vaccine drug substance from its integrated Biologics R&D cum Manufacturing center at Dharwad, Karnataka.
Indiabulls Housing Finance: The mortgage financier said that it has repaid Rs 7,075.84 crore to its non-convertible debenture (NCD) investors in September. The repayments included Rs 6,575.84 crore of public issue of NCDs by IBH and Indiabulls Commercial Credit (ICCL), a 100 percent subsidiary of IBH, in September 2016 and September 2018, respectively, and Rs 500 crore of NCDs issued by IBH in September 2011.