Benchmark Indian stock indices closed at record levels, boosted by gains in banking, metals, telecom and pharma stocks, amid positive global cues. The Sensex closed 1.36% higher at 56,889.76 and Nifty rose 1.35% to 16,931.05. 
Indian rupee gained 42 paise to close at 73.27 against the US dollar on robust inflows into domestic equities. 
All sectors except IT gained in Nifty. Top gainers were Metal (2.47%), Bank (2.02%), Pharma (1.96%). Technology sector fell 0.58%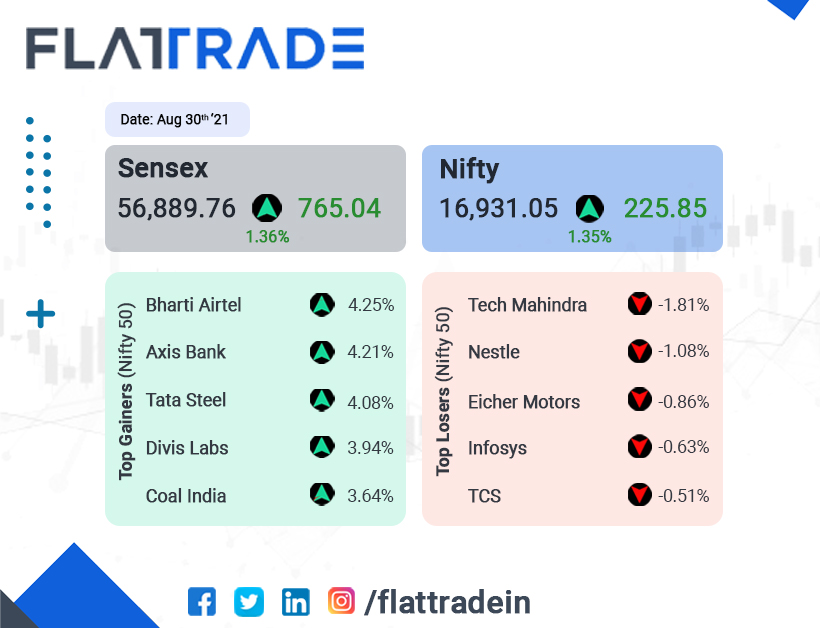 Larsen & Toubro: The engineering and infrastructure company announced that it has won contracts for various businesses. The value of the projects range between Rs 1000 crore and Rs 2500 crore. Among the contracts won, its Building & Factories business has secured an order to build Multilevel Parking and Advocates Chamber for The Honourable High Court at Allahabad.
Maruti Suzuki: The automaker said it will increase prices across models from next month due to rising input costs. In a regulatory filing, the company said, "over the past year the cost of company's vehicles continue to be adversely impacted due to increase in various input costs."
Axis Bank: The lender has begun issuing debt securities under its Rs 35,000 crore fund raising plan announced earlier this year. The bank said that the issuance is part of the existing global medium term notes (GMTN) programme of the bank, adding, the notes will not be offered or sold in India under the applicable laws.
NTPC: The energy company said it is all set to meet the country's increasing power demand and the company recorded electricity generation growth of 23% over the previous year. The company said that it is continuously coordinating with Coal India and Railways for adding coal supply at critical stations and diverting rakes when required. It is also adding 2.7 lakh million tonne import coal left out from the contracts placed earlier.
Bharti Airtel: The telecom operator's share price zoomed 4.25% after the company announced Rs 21,000-crore rights issue. Sunil Bharti Mittal, founder and chairman of Bharti Enterprises, said that the leverage was bothering investors and the company, and stated that no rights issue funds will be used to raise a stake in Indus towers. The chairman expects the average revenue per user to be at Rs 200 in this fiscal year, adding, that it's time to raise tariffs.