Major equity indices rebounded and closed positively in the second half of the session, helped by gains in banks, metal, auto and energy stocks. The Sensex and the Nifty closed 0.4% higher, each.
However, broader indices closed in the red. Nifty Midcap 100 fell 0.18% to 29,221.20 and BSE Smallcap lost 0.53% to 27,653.23.
Top gainers among Nifty sector indices are PSU Bank [1.22%], Metal [0.91%], Bank [0.85%], Private Bank [0.7%], Auto [0.65%] and Energy [0.6%]. Top losers were IT [-0.35%] and Pharma [-0.33%].
Indian rupee rose 4 paise to 76.15 against the US dollar on Monday.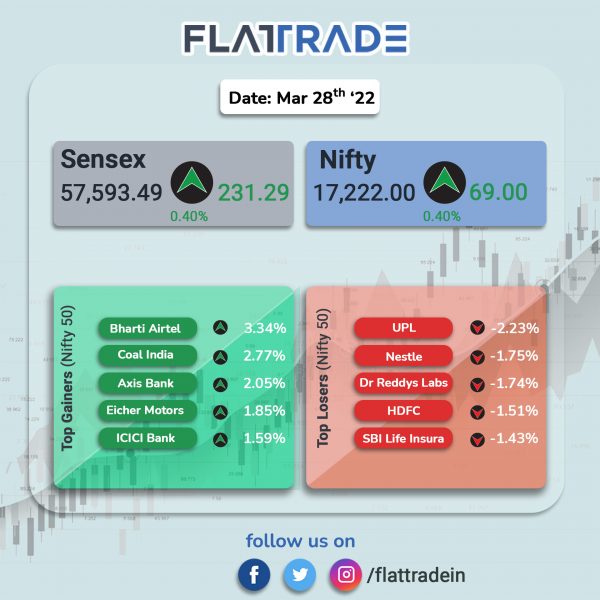 Adani Group: The group announced a multi-year partnership with Google Cloud, as the company aims to move more than 250 business-critical applications to Cloud. The partnership will tap each organisation's expertise across best-in-class infrastructure, technology, and industry solutions to modernise the Adani Group's IT operations at scale.
Larsen & Toubro (L&T): The Ministry of Defence has signed a contract with the conglomerate for acquisition of two multi-purpose vessels (MPVs) for Indian Navy at an overall cost of Rs 887 crore under "Buy-Indian" category. The MPVs will be the first of its kind platform, constructed to provide a cost-effective solution to meet a variety of requirements of Indian Navy.
HCL Technologies: The IT major on Monday announced that it has been selected to provide global service desk and on-site support to Novo Nordisk. HCL said it will implement a multilingual and omnichannel digital workplace solution for Novo Nordisk.
Reliance Jio: The telecom arm of Reliance Industries announced a monthly recharge plan of Rs 259 for its prepaid customers. It is its maiden prepaid recharge plan with full one-month validity. The new Reliance Jio 259 recharge plan is available to both new and existing users through all online and offline channels.
Escorts Ltd: Shares of the company fell 5.5% and it has fallen 8% in the past two sessions as the open offer made by Japan's Kubota Corporation to acquire additional 28.42 per cent stake in the company ends today.
Motherson Sumi Wiring India (MSWIL): Shares of the wiring harness division, which was previously part of Motherson Sumi (MSSL), were locked in the lower circuit of 5%. The company enjoys market leadership in the Indian wiring harness industry, with an estimated market share of over 40%.
Gail India: Shares of the company jumped 3% after the state-owned utilities company announced that its board will consider buyback of shares in its board meeting on Thursday, March 31.
In other news, Russia-based Gazprom has asked GAIL to pay for gas imports in euros instead of dollars, Reuters reported citing two unnamed sources.
Shree Cement: The company announced that it started commercial production at company's clinkerisation unit (kiln-3) at Baloda Bazar, near Raipur in Chhattisgarh. The facility has a production capacity of 12,000 tons per day (4.0 million tons per annum).
Astra Microwave Products: Rating agency CRISIL has reaffirmed its 'CRISIL A/Stable/CRISIL A1' ratings on the bank facilities and commercial paper programme of the company. The rating agency said that the ratings continue to reflect the established market position of AMPL, its strong customer relationships, healthy order pipeline, and comfortable financial risk profile.
G R Infraprojects: The company said that it has emerged as bidder for a road project in Rajasthan worth Rs 1,368 crore. The project involves the construction of a 4-lane greenfield expressway spur from Delhi-Vadodara greenfield expressway near Bandikui to Jaipur in Bharatmala Pariyojana Phase-1 on hybrid annuity mode in the state of Rajasthan.
Kalyan Jewellers: The company has announced its board approval for the appointment of Vinod Rai as the Chairman and Independent Non Executive Director on the board of the company. The appointment will be subject to obtaining requisite regulatory and shareholders' approvals.
Godrej Properties: The company announced that it has entered into an agreement to develop a 33 acres land parcel in the residential micro-market of Bannerghatta Road in South Bengaluru. The agreement is for an outright purchase with approximately 5% area share to the landowners.
RITES Ltd: The company announced that it has entered into a Memorandum of Understanding (MoU) with Mineral Exploration Corporation (MECL) to jointly bid and execute works related to geotechnical investigations for civil engineering infrastructure projects.
Jyoti Structures: The company rose 5% after the company said that it secured a Rs 382 crore contract from Adani Transmission. The contract involved turnkey design, supply and construction of 765 KV Double Circuit transmission line from Khavda to Bhuj in Gujarat ans the contract is likely to be executed in about 17 months.