Benchmark indices pared early gains to close in the positive amid mixed global cues. The Sensex closed 1.09% higher at 60395.63 and the Nifty rose 1.07% to 19,003.30.
Top sectoral gainers were Nifty Banks [1.77%], Aviation [2.42%], Automobile [1.41%]
Indian rupee down 28 paise to 74.70 against the US dollar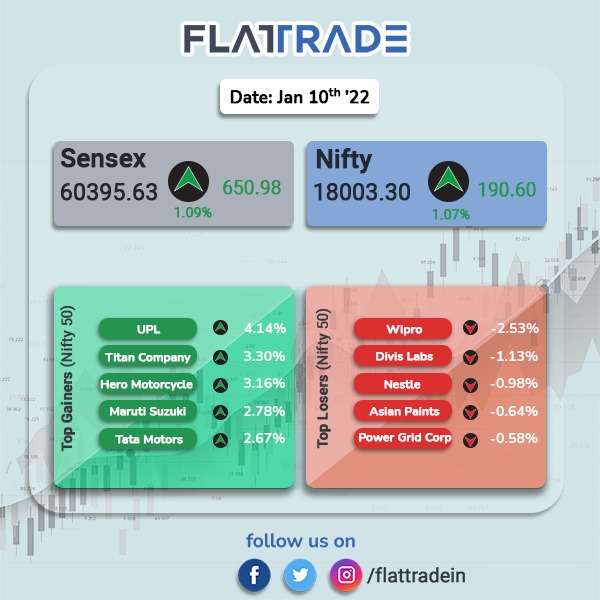 Adani Power: In an out-of-court settlement, Adani Power agreed to forego compensation from Gujarat Urja and not to terminate the power purchase agreement.
Sunteck Realty: Sunteck Realty posted pre-sales of Rs 352 crore in the third quarter, up 29 percent from the year-ago period. Pre-sales saw a 23 percent year-on-year growth at Rs 800 crore in the nine-month period ended December 31.
KEC International: The company has secured orders of Rs 1,025 crore across its various businesses for T&D projects in India and Middle East for 400 KV transmission line and 400/220 kv substation order in India, from a leading private developer under Tariff Based Competitive Bidding (TBCB) route, 380 KV transmission line order from Saudi Electricity Company
GTPL Hathway:The company has announced an investment in unique artificial intelligence innovative technology to remotely optimise its residential Wi‐Fi connections through a partnership with Aprecomm,It will bring down customer issue resolution time and enhance the experience of more than 700,000 connected broadband households.
Tata Consultancy Services Ltd: The board will also meet to announce third quarter earnings. This will be the fourth buyback and in earlier three buybacks Tata Sons was the biggest beneficiary.
Paytm: Macquarie Securities India suggested that the company's future earnings growth is expected to be lower than estimated earlier due to lower revenue and other factors