Dalal Street jumped on Wednesday after Russia's Foreign Minister Sergei Lavrov reportedly said that some parts of a possible peace deal with Ukraine were close to being agreed. Metals, banks and auto stocks were big gainers. The Sensex and the Nifty soared 1.86% and 1.87%, respectively.
Broader equity indices also witness robust buying with Nifty Midcap 100 and BSE Small cap climbing 2.01% and 1.47%, respectively.
Top gainers in Nifty sector indices were Realty [-3.64%], Metal [2.63%], Private Bank [-2.44%], Auto [2.16%], Bank [2.07%]. All other sector indices also closed in green.
Indian rupee jumped 35 paise to 76.27 against the US dollar.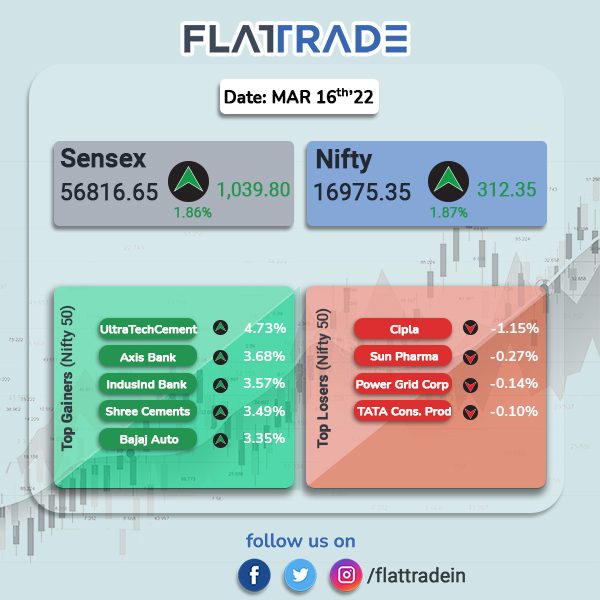 Tata Consultancy Services (TCS): The company's TCS BaNCS has been selected by Singapore Exchange (SGX) to power the NSE IFSCSGX Connect (Gift Connect), its program to connect to NSE IFSC Limited (NSE International Exchange), for trade execution and clearing of Nifty products on behalf of its members in Singapore and globally. This will enable international investors to access Indian capital markets and create a larger liquidity pool of international and domestic participants, according to its regulatory filing.
Tata Communications: Shares of the company rose after the company announced a multi-year strategic collaboration with Formula 1. Under the deal, the company will function as the official broadcast connectivity provider of Formula 1. It will empower Formula 1 with global end-to-end managed network services for video contribution.
Hindustan Aeronautics Ltd (HAL): Shares of the company rose over 7.57% after the company announced a new facility for its joint venture with French firm Safran, Helicopter Engines MRO. The facility will be operational by the end of 2023 and will have a capacity to repair 50 engines a year. HAL also signed an MoU with Bengaluru-based SASMOS to collaborate on advanced electronics, electrical and fibre optic interconnections in aerospace domain.
Shree Cement Ltd: The company in an exchange filing announced that that it has commenced trial run of its new Clinkerisation Unit (Kiln -3) at Baloda Bazar, near Raipur in Chhattisgarh. This clinkerisation unit shall augment Company's clinker supply to its various grinding units in Eastern region.
Torrent Power: The company has signed agreements to acquire 51 per cent equity of Dadra and Nagar Haveli and Daman and Diu Power Distribution Corporation Ltd. This acquisition will significantly strengthen Torrent's position as the leading Power Distribution Company in the country with a presence in 12 cities spread across 3 States and 1 Union Territory.
NBCC (India): Shares of the state-owned company gained 1.46% to Rs 38.30 after the firm said that it has secured the total business of Rs 104.39 crore in the month of February 2022. The company provides civil engineering construction services.
Unichem Laboratories: The company advanced 3.46% after it received ANDA approval for its Nebivolol tablets from the US drug regulator FDA to market a generic version of Bystolic (Nebivolol) tablets of Allergan Sales. Nebivolol tablets are used for the treatment of hypertension and the tablets will be commercialized from its Ghaziabad plant in Uttar Pradesh.
Shyam Metalics and Energy: The company said that the board has approved setting up of further capacities at its integrated units in Sambalpur and its material subsidiary's plant at Jamuria. An aggregate amount of Rs 990 crore will be arranged from cash flows generated through internal accruals and the projects shall be set up as brownfield expansion in existing land available at respective plants.
Dhampur Sugar Mills Ltd: The company announced that a meeting of the board of directors will be held on Monday (March 21, 2022) to consider the recommendation of an interim dividend for the financial year 2021-22.