Benchmark equity indices pared some losses helped by moderate gains in auto and banking stocks but closed lower than Friday amid weak global cues after the Federal Reserve Chair's announcement of aggressive monetary policy tightening. The Sensex fell 1% to 57276.94 and Nifty was down 0.97% to 17110.15.
Top gainers among Nifty sectoral indices were PSU Bank [5.07%], Bank [0.73%], Media [0.59%], Private Bank [0.51%] and Auto [0.34%]. Top losers were Nifty IT [-3.55%], Pharma [-1.87%], Realty [-1.81%], FMCG [-1.14%] and Infrastructure [-1.01%].
Indian rupee fell 30 paise to 75.07 against the US dollar.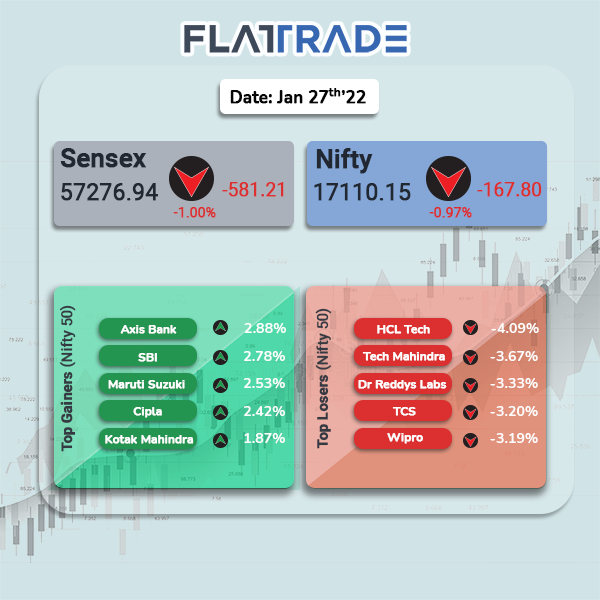 State Bank of India (SBI): A consortium of lenders led by the country's largest bank has agreed to provide loans to Tata Group for the smooth operations of loss-making Air India. Tata Group is expected to formally takeover the airline on Thursday. All large lenders, including Punjab National Bank, Bank of Baroda, and Union Bank of India, are part of the consortium.
Larsen & Toubro (L&T): The engineering conglomerate said that it has entered a memorandum of understanding (MoU) with HydrogenPro AS for manufacturing hydrogen electrolysers in India. This partnership is expected to tap the emerging green hydrogen market. Under this agreement, L&T and Hydrogen Pro will jointly work towards setting up of a joint venture in India for gigawatt-scale manufacturing of alkaline water electrolysers based on HydrogenPro technology for Indian market and other select geographies.
Canara Bank: The lender's net profit rose by 115.8 per cent year on year at Rs 1,502 crore for the third quarter ended December 2021 (Q3FY22) due growth in Net Interest Income (NII) and lower provisions. The net profit was Rs 696 crore in Q3FY21. The bank's NII grew by 14.11 per cent to Rs 6,946 crore in Q3FY22 as against Rs 6,087 crore in Q3FY21.
Colgate-Palmolive India Ltd: The company reported a 2% rise YoY in net profit to Rs 252 crore on a 4% YoY increase in sales to Rs 1,271 crore in Q3 FY22. Total expenses during the reported quarter rose by 4% YoY to Rs 945 crore, due to higher raw material costs.
NTPC: The state-run power giant's arm, NTPC Renewable Energy Ltd (NREL), has invited bids for selection of developers for inter-state transmission system (ISTS)-connected energy storage facility of 3,000 MW capacity at any location in India to meet round-the-clock requirement of renewable energy. The capacity shall be installed under a Capex mode through Global Competitive Bidding Process.
Larsen & Toubro Infotech (LTI): The global technology consulting company has joined hands with IIT Madras for collaborative research in the field of 5G. LTI and IIT Madras aim to innovate in the emerging 5G space and enable 5G frameworks validation, low-frequency RF deployments and use case testing with 5G testbed.
Future Retail: Supreme Court agrees to hear Future Retail's plea against NPA classification deadline on January 31. Future Retail has challenged the event of default notice by its lenders. The 30-day deadline for clearing the dues is expected to expire on January 29. Future Retail has missed paying Rs 3,494 crore worth dues, which was required under the one-time restructuring scheme.
Sun Pharmaceutical Industries: The drug maker said that its subsidiary has launched Cequa, a new treatment for dry eye disease, in Canada. The product is the first dry eye treatment available in Canada that is delivered with nanomicellar (NCELL) technology.
Arvind Ltd: The company's net profit rose 272.42% to Rs 92.77 crore in Q3FY22 as against Rs 24.91 crore during Q3FY21. Sales rose 50.34% to Rs 2275.66 crore in the third quarter of FY22 as against Rs 1513.66 crore in the year-ago period.
Exxaro Tiles: The company's net profit declined 19.01% to Rs 5.75 crore in Q3FY22 from Rs 7.10 crore in the year-ago period. Revenue rose 7.71% to Rs 85.24 crore in the reported quarter as against Rs 79.14 crore in the corresponding quarter of last fiscal.
Thangamayil Jewellery: The company posted a 57.96% decline to Rs 11.31 crore in the quarter ended December 2021 as against Rs 26.90 crore in the corresponding period last fiscal. Revenue rose 3.07% to Rs 630.30 crore in the reported quarter as against Rs 611.51 crore during the same period last year.
Wockhardt: The drug maker reported a consolidated net profit of Rs 1.77 crore for the third quarter ended December 2021, compared with a net profit of Rs 32.4 crore in the same period of 2020-21 fiscal. Income from continuing operations rose to Rs 853.89 crore in the third quarter of FY22 as against Rs 764.02 crore in the same period of the previous fiscal.