Equity indices fell as investors were worried over weak global growth outlook coupled with rising Covid-19 cases. The Sensex and the Nifty dropped 0.94%, each. Broader markets slumped with the Nifty Midcap 100 losing 0.86% and BSE SmallCap falling 0.61%.
Top losers among Nifty sector indices were Energy [-1.3%], Bank [1.03%], Private Bank [-0.95%], PSU Bank [-0.83%%] and IT [-0.77%].
Indian rupee inched up 4 paise to 76.53 against the US dollar on Wednesday.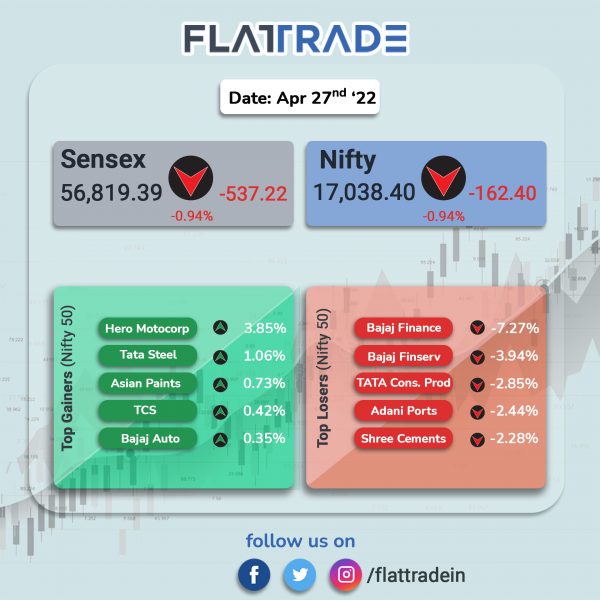 Reliance Industries Ltd (RIL): The energy-to-telecom conglomerate becomes the first Indian company to hit Rs 19-trillion market cap. The shares hit a new high of Rs 2,827.10, up 2 per cent on the BSE in Wednesday's intra-day trade. According to the BSE data, RIL market cap stood at Rs 19.02 trillion in early trade.
Bharti Airtel: Telecom operator has acquired around 7 per cent stake in cloud-based networking solutions provider Cnergee Technologies under the Airtel Startup Accelerator Program. This partial acquisition will enable Airtel to sharpen its NaaS proposition for Small and Medium Businesses (SMBs), who are looking to accelerate their shift to cloud-based applications.
Adani Enterprises: The company incorporates new unit AMG Media Networks. AMG Media Networks will be in the business of publishing, advertising, broadcasting, distributing of content over different types of media networks, according to its stock exchange filing. AMG Media Networks will commence its business operations in due course, according to the statement.
AU Small Finance Bank (AU SFB): The lender reported a net profit of Rs 346 crore in Q4FY22 as against a net profit of Rs 169 crore in Q4FY21. Net interest income (NII) during the quarter increased by 43% YoY to Rs 937 crore. Net interest margin (NIM) was at 6.3% in Q4 FY22 as against 5.7% in Q4 FY21. The board recommended bonus issue in 1:1 ratio and dividend of Re 1 apiece on pre-bonus share capital.
Oil and Natural Gas Corp (ONGC): The company is finding it difficult to ship 700,000 barrels of crude from Russia's Far East, in a growing sign that complex trades involving one of Moscow's biggest partners are being interrupted by Western sanctions, Reuters reported citing sources.
CARE Ratings: Shares of the company plunged 14.34% after the news of resignation of Ajay Mahajan as the Managing Director and Chief Executive Officer (MD & CEO) of the company due to personal reasons. Ajay Mahajan will be relieved from the services as the MD & CEO of the company effective from the close of business hours on May 31, 2022.
TVS Motor Co: The two-wheeler maker has signed MoU With Rapido to collaborate by leveraging synergies in fast-moving mobility market in India. MoU comes amid significant boom in hyperlocal mobility segments like bike-taxi, auto-taxi and delivery, representing $15 billion opportunity.The partnership will cover both two-wheeler and three-wheeler vehicles and extend across ICE and EV segments.
Tata Motors: The automaker has emerged as the lowest bidder in an Indian government tender for 5,450 electric buses, Economic Times reported, citing sources. Tata Motors is awaiting a formal communication from Convergence Energy Services Ltd., a unit of state-run Energy Efficiency Services Ltd., a company spokesperson told the newspaper.
KPIT Technologies: The company's consolidated net profit rose 12.66% QoQ to Rs 78.87 crore in Q4FY22. IT revenue rose on 4.72% QoQ to Rs 651.76 crore in Q4 FY2022. EBITDA rose 5.58% to Rs 121.39 crore during the period under review. EBITDA margin stood at 18.6% in Q4FY22 as against 18.5% in Q3FY22 and 17.2% in Q4 FY21.
Lupin: The drugmaker has announced a partnership with China's leading pharmaceutical firm Yabao Pharma to meet the demand for quality drugs with pediatric formulations in Chinese markets. According to latest Chinese pediatric pharmaceutical market report, the market for pediatric drugs in China has been growing growing at a rate of 9.23% and it is expected to 210 billion CNY ($33 billion).
NTPC: The company has signed an MoU with Energy Vault Holdings to collaborate and formalise a strategic partnership to deploy gravity-based energy storage technology and software solutions of Energy Vault. The technology helps in coal ash utilisation to manufacture composite blocks for the energy storage system.
Syngene International: The company's consolidated net profit fell 7.97% YoY to Rs 147.80 crore in Q4FY22. Its revenue rose 15.10% YoY to Rs 758.10 crore in Q4FY22. The total expenses increased by 14.21% to Rs 593.70 crore in Q4 March 2022 as compared to Rs 519.80 crore in Q4 March 2021.
VST Industries: The company registered a 19.7% YoY increase in net profit to Rs 87.19 crore on an 8.7% YoY rise in net sales to Rs 302.07 crore in Q4FY22. The company said that it could achieve an EBIT margin of 25% in the FY22 helped by better operational efficiencies.
Macrotech Developers (Lodha): The company's consolidated net profit surged 72.4% YoY to Rs 535.46 crore on a 36% YoY jump in net sales to Rs 3,444.56 crore in Q4FY22. Total expenses increased 31.95% YoY to Rs 2714.10 crore in Q4FY22 as compared to Rs 2056.90 crore in the year-ago period.
IIFL Securities: The company reported 2% rise in consolidated net profit to Rs 78.9 crore on a 46% increase in revenue from operations to Rs 346.8 crore in Q4FY22 over Q4FY21. Total expenses in Q4 FY22 were Rs 256.6 crore, a jump of 56% as compared with Q4FY21.
Black Box: The company has fixed May 17, 2022, as record date for the purpose of determining the eligibility of shareholders for the purpose of sub-division /split of each equity share having face value of Rs.10 each, fully paid-up into five (5) equity shares having face value of Rs.2 each fully paid-up.