Benchmark equity indices ended slightly higher amid huge volatility as investors remained cautious due to the Russian-Ukraine war, rising global inflation and higher commodity prices.
Top Nifty sector indices gainers were Pharma [2.46%], PSU Bank [0.92%], Energy [0.76%]. Top losers were Auto [-0.40%] and IT [-0.14%].
Broader indices outperformed benchmark indices, with Nifty Midcap 100 gaining 0.61% and BSE Smallcap advancing 0.90%.
Indian rupee fell 28 pasie to 76.59 against the US dollar.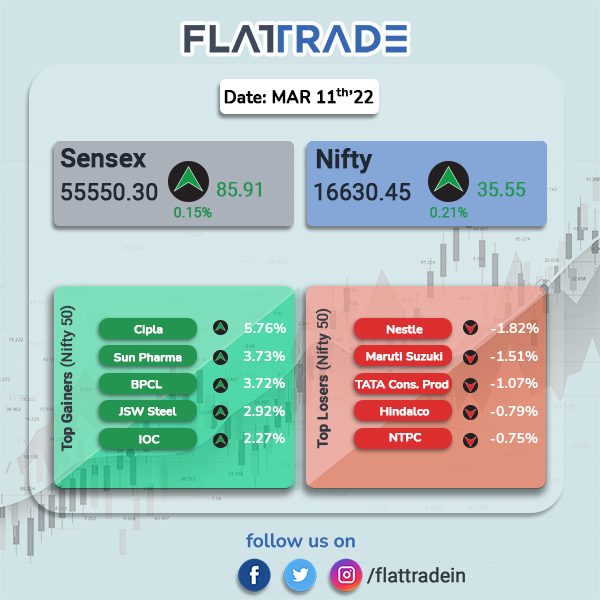 Reliance Industries Ltd: Shareholders of the company voted to transfer its gasification operations into a wholly owned unit, Reliance Syngas, the company said in an exchange filling. The Scheme of Arrangement between Reliance Industries, its shareholders, creditors and Reliance Syngas was placed before the stakeholders for approval. Shareholders voted in favor of the arrangement with 99% of votes.
Titan Ltd: The company has invested $20 million in Great Heights, a Delaware-based company that owns lab-created diamonds brand 'Clean Origin'. Titan will get 17.5% voting rights in Great Heights through the investment. Titan says it will get a "ring-side view of the fast-growing lab grown diamond and direct to consumer sectors through the investment.
Nazara Technologies: Gamings and sports media firm and its Dubai subsidiary said that they will invest Rs 30 crore in Griffin Gaming Partners Fund II over next three years. Nazara will invest Rs 10 crore upfront. Nazara aims to become part of global network of Limited Partners of Griffin and its investee firms.
Cera Sanitaryware: Shares of the company ended higher after ICICI Securities reiterated 'buy' on the stock. The brokerage expects the company to benefit from pick-up in demand from housing segment as well as sanitaryware and faucetware segments are expected to drive revenue growth.
Blue Star: The company's CFO Neeraj Basur has tendered his resignation on March 9, 2022. He will serve his notice period and continue in his current role till May 31, 2022.
G R Infraprojects: The company emerged as L-1 bidder for building transmission system of power evacuation for rural electrification project in Madhya Pradesh. The company will establish Transmission System for Evacuation of Power from RE Projects in Rajgarh (2500 MW) SEZ in Madhya Pradesh through tariff based competitive bidding (TBCB) process on build own operate and maintain (BOOM) basis.
Dish TV: The company's Nomination & Remuneration Committee proposed Rajagopal Chakravarthi Venkateish be appointed as non-executive non-independent director. The committee has advised the management to seek Ministry of Information and Broadcasting's approval.
Meanwhile, the Securities Appellate Tribunal (SAT) has disposed of Dish TV India's plea against a Sebi order that directed the company to disclose the results of its annual general meeting (AGM) that was held on December 30, 2021.
DB Realty: The company's partnership firm secured LoA from municipal corporation of Great Mumbai. The project pertains to construction of 4,000 tenements of carpet area size 27.88 meters on land bearing in Chandivali. DB Realty will receive land and construction transfer of development rights and premium per tenement at Rs 39.6 lakh aggregating to Rs 1,584 crore.
Reliance Infrastructure: Shares of the company surged 9.96% after the company received a favorable verdict related to its pending arbitration with Delhi Metro Rail Corp. The Delhi High Court, on March 10, ordered payment of Rs 6,330 crore of arbitration money to Reliance Infrastructure's unit by May 31.
Mold-Tek Technologies Ltd: The company said that it will consider the proposal to declare interim dividend for FY2021-22 on March 25. The record data for the purpose of interim dividend will be March 24.
Strides Pharma Science Ltd: The company announced that its subsidiary Strides Pharma Global received approval for Colchicine tables USP, 0.6 mg from U.S. FDA. The tablets are indicated for treatment and prevention of gout.