Major equity indices ended in red, led by losses in IT, pharma and FMCG stocks. Investors were also concerned over the ongoing Russia-Ukraine war, mounting sanctions on Russia by the West, elevated commodity prices and higher oil prices that have signalled more aggressive interest rate hikes by the US Fed. The Sensex closed 0.41% lower and the Nifty fell 0.40%.
Top losers among Nifty sector indices were IT [-1%], Pharma [-0.86%], FMCG [-0.77%] and Auto [-0.56%]. Top gainers were Realty [1.22%] and PSU Bank [0.49%].
Indian rupee rose 16 paise to 76.19 against the US dollar on Friday.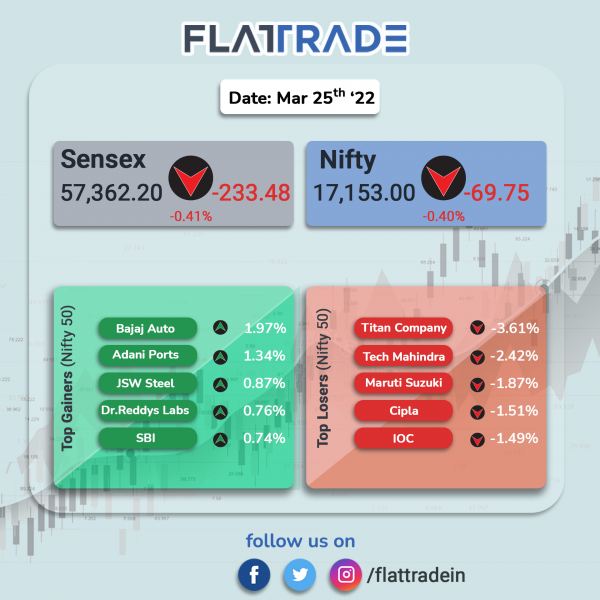 Bharti Airtel: Telecom operator said that it has paid Rs 8,815 crore to the government towards part prepayment of deferred liabilities pertaining to spectrum acquired in the 2015 auction. The prepayment is for instalments due in FY2027 and FY2028, the company said in a statement.
Interglobe Aviation (IndiGo): JPMorgan has upgraded the company from an 'underweight' rating to 'neutral' rating. The firm has raised the target price to Rs 1,825 from Rs 1,400. According to JPMorgan, the peak crude could signal the peak of a downgrade cycle.
State Bank of India (SBI): The lender has teamed up with Capri Global Housing Finance for co-lending business. The collaboration aims to offer housing loans under priority sector to eligible customers at competitive interest rates across Capri's 110 touch points in India.
Housing Development Finance Corporation (HDFC): The mortgage lender has sold 28.90 lakh shares in Hindustan Oil Exploration between July 9 and March 24 of FY22 for Rs 61.04 crore. This amounts to 2.19% of paid-up share capital of Hindustan Oil Exploration.
Mahindra & Mahindra: The company said that it has received the approval of National Company Law Tribunal, Mumbai Bench, for the scheme of merger by absorption of Mahindra Engineering and Chemical Products, Retail Initiative Holdings and Mahindra Retail with Mahindra and Mahindra and their respective shareholders.
Dwarikesh Sugar and Balrampur Chini: Shares of sugar manufacturers fell after Reuters reported that the government is mulling restrictions on sugar exports, citing government and industry source which it did not identify. Government may cap exports at around 8 million tonnes, according to the report
Anupam Rasayan: Global brokerage firm Jefferies initiated a 'buy' rating for the company shares and fixed the target price at Rs 1,040 apiece. Jefferies said in a note that Anupam Rasayan is well-placed to gain from 'China+1' play due to its diversified chemistry expertise and wide customer base.
Torrent Power: The integrated power utility company said that it has completed transaction of acquisition of 100% of the share capital and all securities of LREHL Renewables India SPV 1 (SPV). With the acquisition of 50 MW solar power plant, Torrent Power's total generation capacity, including under development portfolio, will reach to approximately 4.6 GW with renewable portfolio of more than approximately 1.5 GW.
Multi Commodity Exchange of India (MCX): Shares of the company rose after market regulator Sebi allowed exchanges having a commodity derivative segment to facilitate trading in options on commodity indices. The move is part of efforts to have more products in the commodity derivatives market. Exchanges will have to seek a prior approval from the market regulator before allowing trading in this segment.
Zen Technologies: The company has secured an order from Indian Army and the order pertains to the design and development of prototype of Integrated Air Defence Combat Simulator (IADCS). This prototype is to be made ready for User Trial Readiness Review with 30 weeks. After its successful review of the prototype, Indian Army will procure 16 IADCS equipment.
Atul Ltd: The company's board has approves Rs 70 crore share buyback and the buyback is priced not exceeding Rs 11,000 per equity share through the open market route. The buyback of shares is from shareholders, excluding promoters. Share of the company rose nearly 3.8% in intraday to Rs 10,250 apiece on Friday.
Exide Industries: The company's wholly-owned subsidiary, Chloride Metals, has started commercial production at its newly set-up green field manufacturing facility of battery recycling at Haldia, in the state of West Bengal. The recycling plant is spread over an area of more than 21 acres and has a total installed capacity of 1.08 lakh MT p.a.
GTPL Hathway: The company announced that it has partnered with Verimatrix to onboard its Video Content Authority System (VCAS) to protect its Google Android TV-based DVB Hybrid set top box.