Benchmark equity indices fell at the end of the session as investors booked profit in banks and metal stocks. With this, the markets ended lower for the sixth straight day. The Sensex closed 0.26% lower and the Nifty lost 0.16%.
Broader market outperformed major indices. The Nifty Midcap 100 rose 1.03% and the BSE Smallcap advanced 1.28%.
Top gainers among Nifty sector indices were Auto [2.44%], FMCG [1.84%], Pharma [1.65%] and Media [1.08%]. Top losers were Metal [-2.08%], Energy [-1.44%], Financial Services [-1.26%] and Bank [-1.23%].
Indian rupee declined 3 paise to 77.45 against the US dollar.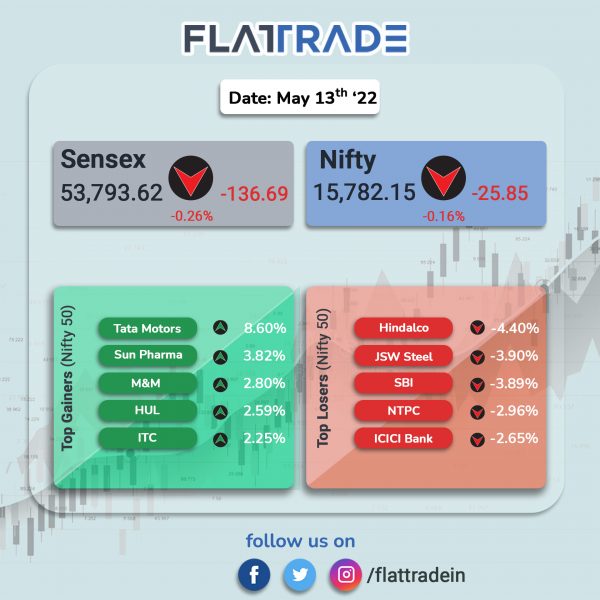 State Bank of India (SBI): The lender reported 41.2% YoY rise in net profit at Rs 9,113.5 crore in Q4FY22. The bank's NII soared 15.26% to Rs 31,198 crore during the quarter, as against Rs 27,067 crore earned in Q4FY21.
Net NPA slipped to Rs 27,966 crore as against Rs 34,540 crore in the previous quarter. The lender also announced dividend of Rs 7.10 per share. Shares of the company closed 3.9% lower as it missed analysts estimates.
Union Bank of India: The lender reported over 8% rise in standalone net profit at Rs 1,440 crore for the quarter ended March 2022, compared with a net profit of Rs 1,330 crore in the same quarter of FY21.
Total income rose to Rs 20,417.44 crore during January-March 2021-22 as against Rs 19,804.91 crore in the year-ago period, the bank said in a regulatory filing.
Net NPAs fell to 3.68% (Rs 24,303.30 crore) from 4.62% (Rs 27,280.52 crore).
LIC Housing Finance (LIC HFL): The mortgage financier increased interest rate on home loans by 20 basis points to 6.9%, from 6.7%, for select borrowers. For borrowers with CIBIL score of 700 and above, the rate hike has been limited to only 20 bps and the revised rates are applicable from Friday.
Bandhan Bank: The private sector bank reported a multi-fold jump in its net profit at Rs 1,902.30 crore in the quarter ended March 2022, as against a net profit of Rs 103 crore in the year-ago quarter.
Total income of the bank in Q4FY22 rose 43% to Rs 3,504.2 crore, as against Rs 2,457.4 crore in the same period last fiscal. Net interest income during the quarter rose 45% to Rs 2,539.8 crore, while non-interest income grew by 38% to Rs 964.4 crore, the bank said.
Matrimony.com: The matchmaking service provider Matrimony.com posted a 15.5% growth in fourth-quarter net profit at Rs 11.7 crore as against Rs 10.1 crore in the same quarter the previous year. Revenue grew 9.4% YoY to Rs 110.6 crore in the quarter under review from Rs 101.1 crore in the year-ago period. The company expects its paid subscription base to grow over one million customers in the current fiscal.
Greaves Cotton: Shares of the company closed 8.3% higher after the company's E-Mobility business turned profitable in Q4FY22. In Q4FY22, the company reported its highest-ever consolidated revenue of Rs 621 crore, up 19 % YoY from Rs 520 crore in Q4FY21. Profit after tax (PAT) grew 22% YoY at Rs 17 crore.
Anupam Rasayan: The firm's consolidated net profit jumped 108% YoY to Rs 46.1 crore with its revenue rising 16.77% YoY to Rs 317.23 crore in fourth quarter of FY22. Its EBITDA climbed 55% year-on-year to Rs 97.28 crore in the reported quarter. The company's board recommended a final dividend of Re 1 per share.