Domestic equity indices recovered in the second half of the trading session to close flat aided by gains in technology heavyweights, realty and infrastructure stocks. The Sensex fell fractionally by 0.02% to 61223.03 and the Nifty inched down 0.01% to 18255.75.
Top laggard were FMCG [-0.71%], Pharma [-0.62%], Auto [-0.37%] and Bank [-0.26%]. Top gainers were Realty [1.15%], IT [0.57%] and Infrastructure [0.29%].
Indian rupee fell 27 paise to 74.15 against the US dollar.
WPI inflation eased to 13.56% in December 2021 compared to 14.23% in November, according to Ministry of Commerce & Industry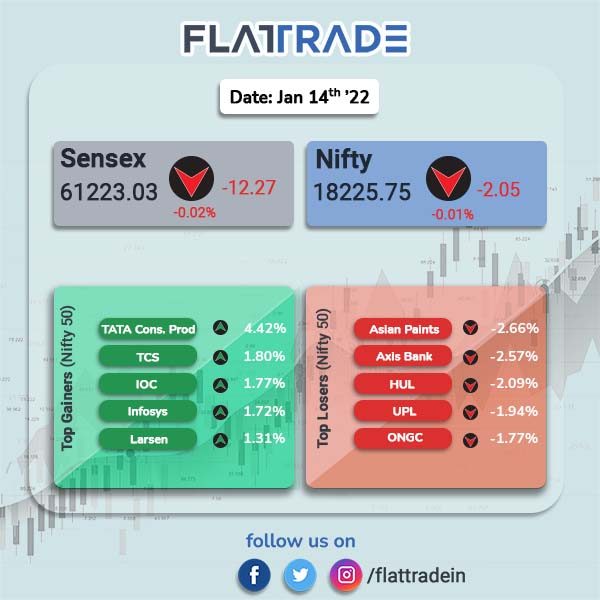 Aditya Birla Fashion and Retail (ABFRL): The company has bought 51% in Masaba Gupta's fashion label 'House of Masaba' for Rs 90 crore. The company said that the acquisition will strengthen its presence in fashion among young and digitally native consumers along with marking a foray into branded beauty and personal care.
Datamatics Global Services Ltd: Shares of the company rose after it entered into a long-term strategic partnership with PSI Services. As part of the deal, Datamatics will provide customer management solutions through remote proctoring, customer support and technical support.
Motherson Sumi Systems: The company shares fell 21% as the stock traded ex-domestic wiring business after the company fixed Jan. 17 (Monday) as the record date to determine shareholders to allot additional shares of domestic wiring harness division.
Jubilant Foodworks Ltd: The company said in an exchange filing that it will consider a proposal for alteration in the capital of the company by sub-division/split of existing equity shares, in its board meeting that is to be held on February 2. The company will also reports its earnings for the quarter ended December on the same day.
Glenmark Pharmaceuticals Ltd: The drugmaker has announced in an exchange filing that its subsidiary Glenmark Specialty S.A. (Switzerland) received FDA approval for Ryaltris nasal spray. The spray is used to treat the symptoms of seasonal allergic Rhinitis in adults and pediatric patients 12 years of age or older.
Aurobindo Pharma Ltd: The company share fell after the company received warning letter from the US health regulator U.S. FDA for its Hyderabad API manufacturing unit. However, Aurobindo Pharma said that the warning letter will not have an impact on existing business and added that it will engage with the US FDA to resolve the issue.
Tata Metaliks: The company's consolidated net profit fell 34.73% sequentially to Rs 35.65 crore in Q3FY22, as against Rs 54.62 crore in the previous quarter. Revenue was up 6.97% QoQ at Rs 689.80 crore, from Rs 644.84 crore in the second quarter of FY22.
REC Limited (REC): The government-owned company has raised $1,175 million from a consortium of seven banks as the Mandated Lead Arrangers and Bookrunners (MLABs), a statement said. The proceeds from this facility will be utilised to fund infrastructure power sector projects as permitted under the ECB guidelines of the Reserve Bank of India.