Domestic markets closed lower in a volatile session weighed by losses in auto, metal and technology stocks as well as due to weak global cues. The Sensex fell 0.90% to 60754.86 and Nifty lost 1.07% to 18113.05.
Broader markets also dropped tracking benchmark indices. Nifty Midcap 100 tanked 2.06%, while BSE Smallcap plunged 1.92%.
Biggest losers among Nifty sectoral indices were Realty [-2.61%], Auto [-2.38%], Metal [-2.26%], Infrastructure [-2.16%] and IT [-1.84%]. Only BSE Bankex index closed in positive territory at 0.16% higher, helped by gains in the four biggest private banks in India.
Indian rupee fell 33 paise to 74.57 against the US dollar.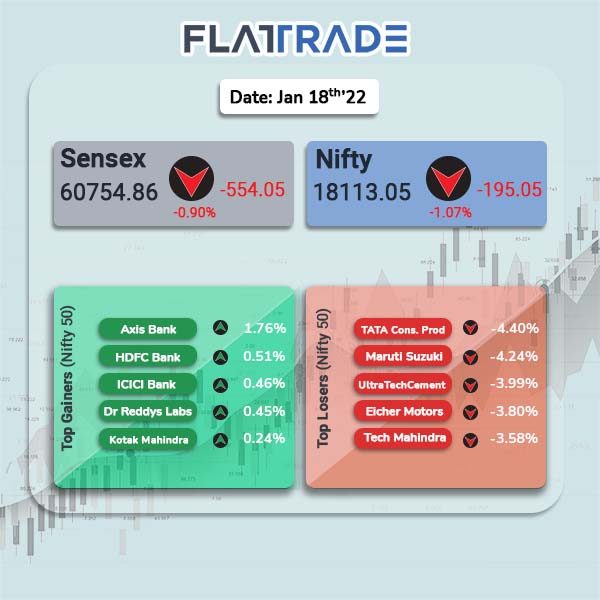 Reliance Industries Ltd (RIL): The company's retail arm Reliance Retail has acquired a 54% stake in domestic robotics company Addverb for about Rs 983 crore, a senior official of the robotic firm said Tuesday. The funds received from Reliance will be used to expand business overseas as well as set up one of the biggest robotic manufacturing facilities in Noida.
Tata Motors: The automaker said that it would marginal hike prices of passenger vehicles from January 19 owing to rising input costs. Average increase of 0.9% to be implemented depending on the variant and model. There will be no impact on prices of cars booked on or before January 18.
Ramkrishna Forgings: The company posted a sequential decline in net profit at Rs 45.12 crore in Q3FY22, down 3.15% from Rs 50.11 crore in the previous quarter. Revenue rose 4.68% QoQ to Rs 606.05 crore, from Rs 578.94 crore in the previous quarter.
The company has declared third interim dividend of Rs 0.50 per equity share of face value of Rs 10 each for FY22. The board has also approved Jan. 28 as the record date for the purpose of payment of interim dividend to the eligible shareholders.
The company's board has also approved sub-division of equity shares from face value of Rs 10 each to face value of Rs 2 each, subject to approval of members. The record date for the share split will be announced soon.
Lupin: The drugmaker has acquired several brands from Anglo-French Drugs & Industries Limited for a lump sum of Rs 325 crore. The acquisition would enable addition of established brands especially in the vitamins, minerals and supplements category, Lupin said. The deal is expected to be completed by March 2022.
Nazara Technologies: The gaming software company will acquire 55% stake in programmatic advertising and monetisation company Datawrkz which is valued at Rs 225 crore. Nazara will acquire 33% stake for Rs 60 crore, in the first tranche by April 22. Nazara reserves an option to acquire an additional 22% in the second tranche, that is expected to close in the fourth quarter of FY23.
Max Healthcare Institute Ltd: The hospital chain operator plans to invest $450 million over the next four years as it aims to add capacity after the country's health care system last year was overwhelmed by the Covid-19 pandemic, Bloomberg reported. The investment will help boost capacity at existing hospitals as well as augment the firm's land holdings.
Inox Wind Ltd: The company said that its board has approved its participation in the proposed initial public offer of Inox Green Energy Services Ltd (IGESL) through an offer for sale of equity shares worth Rs 400 crore.
Dixon Technologies Ltd: The electronic contract manufacturer has signed a joint venture agreement with Imagine Marketing Pvt Ltd. to design and manufacture wireless audio solutions in India. The proposed JV company will be owned 50% by Dixon and 50% by Imagine.
Newgen Software Technologies: The company said that its consolidated net profit increased about 35% YoY to Rs 47.8 crore in Q3FY22. Revenue from operations grew 9.1% to Rs 202.5 crore in the third quarter of 2021-22 from Rs 185.51 crore in the year-ago period. In a separate regulatory filing, Newgen said its board has approved the purchase of 100% of the paid-up equity shares of Number Theory Software.
Easy Trip Planners Ltd: The company announced its exclusive partnership with Flybig in scheduled commuter airline segment. The tickets of Flybig, India's newest regional airline, will be exclusively sold by EaseMyTrip. With this partnership, Easy Trip becomes the first online travel company to evolve into a general sales agent (GSA) for a domestic airline.