Domestic markets fell for the third day in a row as investors were concerned about rising inflation and higher oil prices. Technology and heavyweight stocks weighed on the markets. The Sensex closed 1.06% lower at 59464.62 and Nifty plunged 1.01% to 17757.
Top losers among Nifty sector indices were IT [-1.66%], Pharma [-1.66%], FMCG [-1.15%], Auto [-0.84%] and Financial Services [-0.72%]. Top gainers were Nifty Metal [0.52%] and Nifty Realty [0.23%], BSE Power [1.30%] and BSE Utilities [1.16%].
Indian rupee fell 8 paise to 74.50 against the US dollar.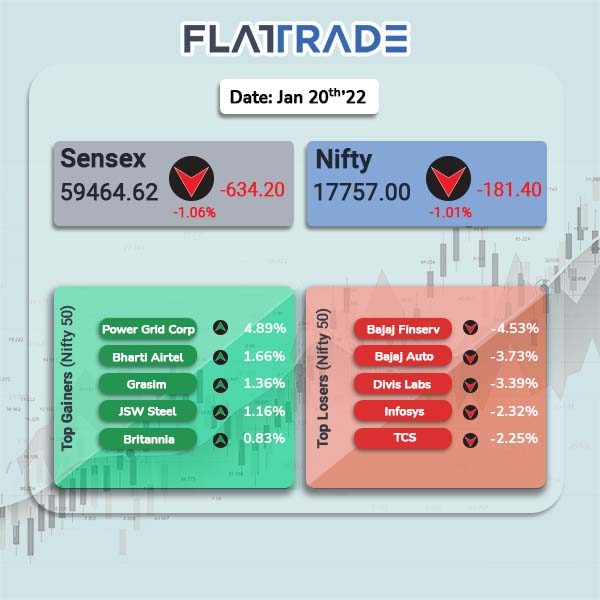 Asian Paints: The paint manufacturer reported 18% decline in consolidated net profit at Rs 1,016 crore for the quarter ending December 31, 2021, compared with Rs 1,238 crore in the year-ago period. Consolidated revenue from operations rose 26% to Rs 8,527 crore from Rs 6,788 crore in Q3FY21. Rising raw material prices and low demand from the automotive sector weighed on the company's profit margin.
Bajaj Finserv: The NBFC reported a 2.6% drop in consolidated net profit to Rs 1255.79 crore in Q3FY22 from Rs 1289.9 crore in Q3FY21. Revenue was up 10% at Rs 17,586.74 crore in the reported quarter from Rs 15,958.53 crore in the year-ago period.
Mastek Ltd: The company reported a net profit of Rs 83.45 crore in Q3FY22, up 2.23% from Rs 81.63 crore in the previous quarter. Revenue rose 3.37% QoQ to Rs 551.91 crore in the reported quarter from Rs 533.93 crore in the previous quarter.
HCL Technologies Ltd: The IT major has expanded its strategic ties with optical solutions leader ams OSRAM to digitize its key business process. It will develop and operate a modern digital foundation through data center, hybrid cloud and enhance end-user experience through increased use of AI, automation, among other tools.
Glenmark Pharmaceuticals Ltd: The company's Swiss subsidiary, Glenmark Specialty S.A. entered into an exclusive licensing agreement with Lotus Pharmaceutical's subsidiary, to commercialise nasal spray Ryaltris in Singapore, Hong Kong and Vietnam. Glenmark will be responsible for the manufacture and supply of Ryaltris while Lotus will be responsible for the commercialisation of the nasal spray.
Cadila Healthcare Ltd: The drugmaker said its group firm Zydus has received final approval from the US health regulator FDA to market its generic version of Vigabatrin tablets to treat babies with infantile spasms and epilepsy in combination with other medications. The approval by the US Food and Drug Administration is for Vigabatrin tablets of 500 mg strength and the drug will be manufactured at its manufacturing facility at Ahmedabad.
Jet Airways: The National Company Law Appellate Tribunal (NCLAT) directed the Kalrock-Jalan consortium, the winning bidder for the bankrupt airline, to share portions of the resolution plan pertaining to claims of employees with the airline's workmen. The Association of Aggrieved Workmen of Jet Airways (India) Ltd had sought a copy of the approved resolution plan and the latest direction has come on a plea filed by the association.
Orient Electric: The company's net profit fell 26.68% YoY to Rs 38.08 crore in the Oct-Dec quarter of FY22. Net sales rose 9.71% YoY to Rs 678.35 crore in Q3FY22.
Hatsun Agro Product: The company's standalone net profit fell 28.92% YoY to Rs 47.84 crore in the third quarter of FY22. Revenue from operations jumped 13.65% on a yearly basis to Rs 1,584.99 crore in Q3FY22.
Oracle Financial Services Software: The company consolidated revenue was down 1% to Rs 1,266.33 crore in Oct-Dec quarter of FY22, compared to Rs 1,280.97 crore in the previous quarter. Net profit fell 3% to Rs 435.34 crore in the reported quarter as against Rs 447.55 crore in the same period last fiscal.
Bank of Maharashtra: The state-run bank's net profit rose 110.70% YoY to Rs 324.63 crore in Q3FY22. Total income rose 8.70% YoY to Rs 3893.23 crore in the reported quarter. Net Interest Income (NII) grew by 16.90% on YoY basis to Rs 1527 crore in Q3FY22 as against Rs 1,306 crore for Q3FY21.
HSIL: Shares of the packaging company rallied for the fourth day after the company announced that it will divest its building products division for Rs 630 crore. The company said the cash proceeds will be utilized towards the pre-payment of existing bank borrowings and to further expand its packaging business.
Max Healthcare Institute Ltd: The hospital chain has has entered into a long term services agreement with Muthoot Hospitals (MHPL) for operations and management (O&M) of approximately 300+ beds hospital, according to regulatory filing, The hospital is being constructed and developed at Sector 10 Dwarka, New Delhi.
UPL Ltd: The company and other shareholders in Sinagro, UPL's associate firm, have announced an agreement in which Bunge will acquire a 33% stake in Sinagro,, to strengthen its grain orientation strategy in Brazil.
HIL: The company's shares rose 9.25% after the company said that its workers have resumed operations at the Balasore plant with effect from 19 January 2022. Last month, the operations at the company's Balasore plant in Odisha was temporarily stopped due to workers strike.