Benchmark Indian equity indices lost earlier gains made during the day and closed lower, dragged by losses in information technology, auto and FMCG stocks. The Sensex closed 0.55% lower at 58340.99 and Nifty ended 0.50% lower 17415.05.
Top loser among sectoral indices were Nifty IT (-1.52%), Nifty Auto (-1.28%), FMCG (-0.99%) and Pharma (-0.61%). Top gainers were Nifty Private Bank (0.47%), Nifty Bank (0.45%), PSU Bank (0.34%) and Energy (0.27%).
Indian rupee inched up 3 paise to 74.40 against the US dollar on Wednesday.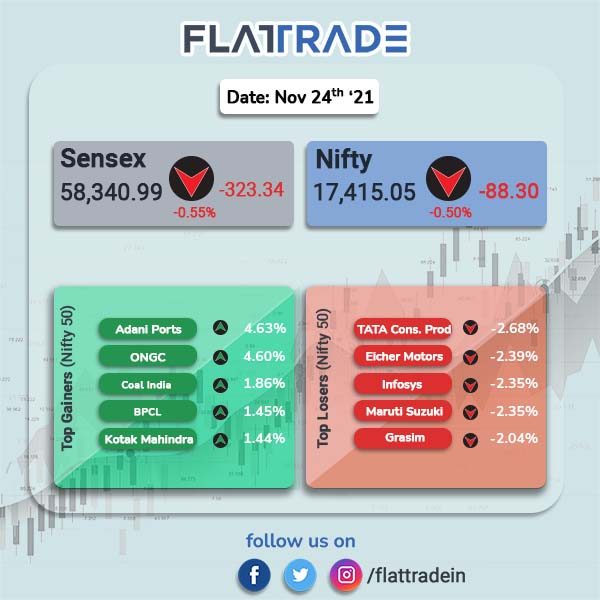 Indian Overseas Bank and Central Bank of India: Shares of the lenders rose after reports that the two financial institutions is likely to be privatised. The Centre has shortlisted CBI and IOB for divestment, according to a report by CNBC TV18. However, in an exchange filing, state-run Indian Overseas Bank said that it has not received any communication regarding privatization from the government. IOB closed 13.64% higher and Central Bank of India jumped 10.46%.
Zee Entertainment Enterprises Ltd: Shares of the company closed over 7% a day after Punit Goenka, MD and CEO, said that Zee and Sony merger is in final stages. Punit Goenka reiterated that the consolidated will benefit the industry as well as the two companies.
Larsen & Toubro Ltd: The infrastructure behemoth has signed an MoU with Tamil Nadu Government to establish 90 Mega Watt capacity data centres and associated units in Kanchipuram, near Chennai, over the next five years. L&T expects to employ around 1,100 people in the project. Tamil Nadu government will provide uninterrupted power supply and other infrastructure support.
Thermax Ltd: The company has won a Rs 830 crore order to set up flue gas desulphurisation systems for a private power company in Uttar Pradesh. FGD systems will be installed to cut down SOx emissions and comply with the air quality standards set for fossil fuel based power plants.
IndusInd Bank: The private sector lender has clarified that has clarified that Shalabh Saxena and Ashish Damani are presently employed with its wholly owned subsidiary Bharat Financial Inclusion (BFIL) as Managing Director & CEO, and Chief Financial Officer, respectively, countering that they have been appointed by Spandana Sphoorty Financial Ltd (SFFL). The bank added that both of them have not tendered their resignation from the services of BFIL.
Ipca Labs and Lyka Labs: The board of Ipca Labs has approved the acquisition of 26.574% of the paid-up share capital of Lyka Labs for Rs 97.89 crore. Ipca is entering into a joint management control agreement with the promoters of Lyka Labs.