Benchmark equity indices closed higher after five days of losses, helped by gains in auto, banking and FMCG stocks. The Sensex closed 0.64% higher at 57858.15 and Nifty rose 0.75% to 17277.95.
Broader markets also closed higher tracking benchmark indices. Nifty Midcap 100 rose 1% and BSE Smallcap rose 0.81%.
Top gainers among sectoral indices were Nifty Auto [2.32%], Bank [2.05%], Realty [1.82%], FMCG [1.23%] and Metal [1.19%]. Nifty IT fell 0.33%.
Indian rupee fell 22 paise to 74.78 against the US dollar.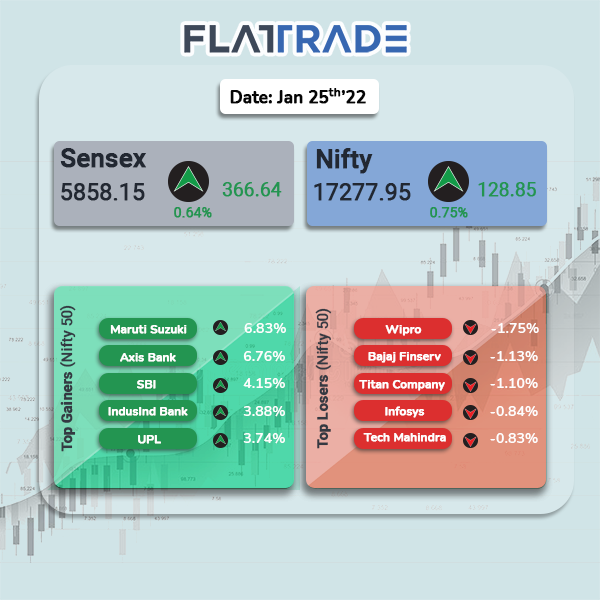 Reliance Industries Ltd: The company is in talks with investors to raise $3 billion in equity to fund its renewable energy business, Mint reported citing sources. The discussions led by Manoj Modi are at a preliminary stage. Funds would go to Reliance New Energy Solar Ltd., the news report said.
Future Retail Limited: The independent directors of Future Retail have accepted the bailout offer of Reliance Industries and rejected the proposal of US e-commerce giant Amazon for investment in FRL, Business Standard reported. "It (Reliance's offer) helps FRL to meet almost all FRL's liabilities and in the process helps protect the investment of small shareholders and jobs of over 25,000 employees," said FRL's letter, dated January 25, 2022, which Business Standard has reviewed.
Maruti Suzuki: The company's revenue fell 1% at Rs 23,246 crore in Q3FY22 versus Rs 23,457.8 crore in the year-ago period. Net profit fell 48% to Rs 1,011.3 crore in the reported quarter from Rs 1,941.4 crore in the year-ago period. EBITDA was down 30% to Rs 1,559 crore in Q3FY22 from Rs 2,226.1 crore in Q3FY21.
SpiceJet Ltd: The Supreme Court agreed to hear a plea by the airline on Friday, challenging a Madras High Court order which declined to interfere with a company court's order admitting a winding up petition against the airline. Senior advocate Mukul Rohatgi, representing SpiceJet, mentioned the matter before a bench headed by Chief Justice N.V. Ramana.
Bharti Airtel: The telecom operator said it has commissioned a new 21-megawatt solar power plant in Buldhana district of Maharashtra to reduce its carbon footprint and contribute to the global efforts to curb the effects of climate change. The company expects the solar-powered unit to reduce 25,517 tonnes in carbon emissions annually.
Hindustan Aeronautics Ltd: The company received an income tax refund of Rs 109.58 crore including an interest of Rs 25.96 crore for the Financial year 2006-07. MAT Credit of Rs 216.87 crore has also been made available to the company, which will be carried forward and adjusted against future tax liabilities.
Bharat Petroleum Corporation Ltd (BPCL): The public-sector enterprise emerged as a successful bidder in six geographical areas (GA) in 19 districts, to set up City Gas Distribution (CGD) networks in the recently concluding 11th bidding round of PNGRB. BPCL has committed to over Rs 22,000 crore for development of 23 GAs, including Rs 10,000 crore for the six new GAs.
Pidilite Industries: The company's net profit declined 18.86% to Rs 358.49 crore in the quarter ended December 2021 as against Rs 441.83 crore in the year-ago period. Revenue rose 24% to Rs 2850.72 crore in the quarter ended December 2021 compared with Rs 2299.02 crore in the same period last year.
IndiaMart InterMesh: The B2B e-commerce company reported a 14.6% QoQ decline in its net profit to Rs 70.2 crore from Rs 82.2 crore in the previous quarter of FY22. Revenue marginally increase by 3.1% to Rs 188.1 crore in the reported quarter from Rs 182.4 crore in the second quarter of current fiscal. The company said supplier storefronts grew to 7 million with a net addition of 5,833 subscribers during the quarter.
Federal Bank: The private-sector lender posted a 28.96 per cent year-on-year rise in net profit to Rs 521 crore in the third quarter of FY22 on lower provisioning and marginal improvement in net interest income. Net profit was Rs 404.1 crore in Q3 of FY21. Net interest income (NII) rose by seven per cent YoY to Rs 1,539 crore in Q3FY22 from Rs 1,437 crore in Q3FY21.
Cartrade Tech: The company's net loss stood to Rs 23.36 crore in the quarter ended December 2021 as against net profit of Rs 18.16 crore in the corresponding qyarter last fiscal. Revenue rose 14.75% to Rs 88.78 crore in Q3FY22 compared with Rs 77.37 crore in Q3FY21.
Sterlite Technologies Ltd: The company secured an order worth Rs 170 crore from the country's largest power distribution company, Power Grid Corporation of India Ltd. Sterlite will deliver a customised unified network management system, with automation capabilities to Power Grid, which will help in reducing system outages and generate performance analytics for the Central Electricity Authority.
Ramco Cements: The company's revenue was up 16% YoY at Rs 1,552.50 crore as against Rs 1,343.89 crore in the year-ago quarter. Net profit fell 63% at Rs 75.62 crore in the reported quarter from Rs 206.71 crore in the corresponding quarter of last fiscal.