India's benchmark stock indices erased early gains and closed lower, dragged by losses in metal, banking, auto and energy stocks as investors awaited the country's GDP data, which will be reported after market hours. The Sensex closed 0.34% lower to 57064.87 and Nifty closed 0.41% down to 16983.20.
BSE Consumer durable rose 2.26%, BSE Infotech was up 0.95% and BSE Realty gained 0.69%. Top losers were BSE Metal (-2.34%), Energy (-1.04%), Bankex (-0.85%) and Auto (-0.85%).
Indian rupee fell 6 paise to 75.16 against the US dollar on Tuesday.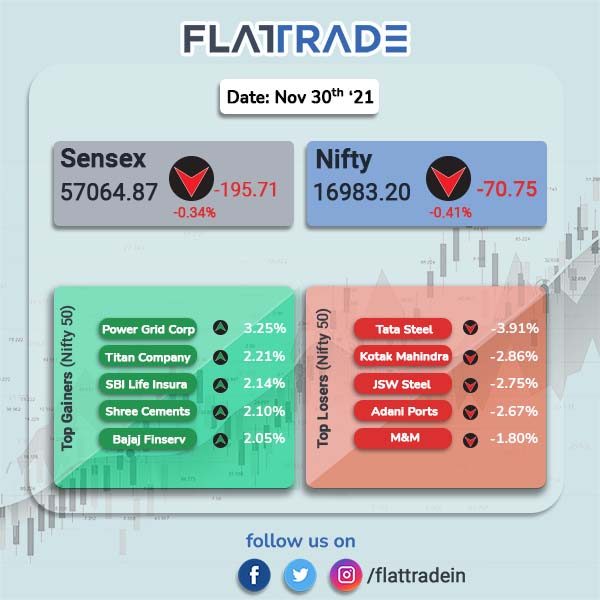 Tata Consultancy Services Ltd: The IT major helped Australia's energy retailer AGL in transforming the customer experience. TCS used its digitally-powered, data driven integrated operating model that leveraged TCS Cognix for this purpose. With the help of Cognix, AGL harnessed hidden insights from large amount of customer data.
Infosys Ltd: The IT major said in an excahnge filing that it will transfer Daimler's High Performance Computing (HPC) workloads to one of Europe's greenest data centers, Lefdal Mine Datacenter in Norway. Infosys said that the shift to Green Data Center as a Service (DCaaS) is a vital step in supporting Daimler's "Ambition 2039", a sustainability mission to become carbon dioxide neutral by 2039.
Ratnamani Metals: Shares of the company closed 8.2% higher on Tuesday, a day after the company made an announcement that it has received new domestic orders aggregating to Rs 297.87 crore from the oil & gas sector. The orders are expected to be executed between February 2022 and January 2023.
TeamLease Services: Shares of the company soared 9.21% on Tuesday, after the company said hiring intent has touched a high of 41% in the October-December quarter. The company added that the findings from its platform reflect the positive economic sentiment and consumer confidence.
Dilip Buildcon: Shares of the company closed 7.66% higher after the company was declared as L-1 bidder for the tender floating by Rail Vikas Nigam. The company will consruct tunnels in the Bhanupali-Bilaspur-Beri new railway line in Himachal Pradesh. The bid project cost is Rs 636.98 crore and the project is expected to be completed in 24 months.
Edelweiss Financial Services Ltd: Shares of the company rose nearly 4.5% in intraday trading after the company approved the public issue of secured, redeemable, non-convertible debentures of face value of Rs 1,000 each for an amount aggregating up to Rs 200 crore. The issue comes with an option to retain over-subscription up to Rs 300 crore agreegating up to Rs 500 crore, well within the shelf limit of Rs 1,000 crore.
Sun Pharmaceutical Industries Ltd: The pharma company's wholly owned subsidiary DUSA Pharmaceuticals reached a settlement with Biofrontera in its lawsuit alleging misappropriation of trade secrets, tortious interference of contract and unfair trade practices. Under the terms of the settlement, DUSA Pharma will receive $22.5 million from Biofrontera.