Major equity indices rebounded after Wednesday's fall, helped by gains in auto and IT stocks. The Sensex rose 0.86% and the Nifty 50 advanced 0.93%.
Broader markets outperformed benchmark indices. The Nifty Midcap 100 index climbed 1.2% and the BSE Smallcap jumped 1.18%.
Top Nifty sectoral gaines were Auto [4.39%], IT [1.96%], Realty [1.66%], Pharma [1.58%] and Media [1.52%]. Nifty Energy fell 0.42%.
Indian rupee rose 9 paise to 78.30 against the US dollar on Thursday.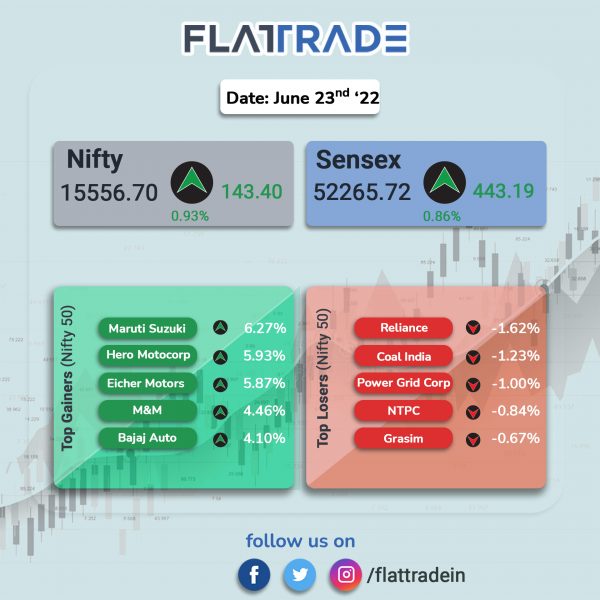 Reliance Industries Ltd (RIL): The conglomerate is assessing new technologies for making electrolyzers in its efforts to produce low-cost green hydrogen in the country, according to Bloomberg news. The company also plans to bid for any production-linked incentives the government may offer to encourage the technology, Kapil Maheshwari, president for new energy at Reliance, said at the BloombergNEF summit in New Delhi.
Vodafone Idea: The telecom company has opted for a four year moratorium on payment of Rs 8837 crore in AGR dues in addition to one exercised last year. Similarly, the telecom company has the option to convert interest on deferred amount into additional equity to government. The amount is subject to revision on account of disposal of various representations and final amount has to be paid in six equal instalments after end of moratorium in March 2026.
Tata Motors: The company said that a detailed investigation is currently being conducted to ascertain the facts of the recent isolated EV fire incident. It added that this is the first incident after more than 30,000 EVs have cumulatively covered over 1 million km across the country in nearly 4 years.
Larsen & Toubro (L&T): The hydrocarbon division of the company has secured three offshore packages from an overseas client. The company classified the contracts as 'large' which means that the order value is in the range of Rs 2,500 crore-Rs 5,000 crore. The scope of the order comprises of engineering, procurement, construction, and installation for various new offshore jacket structures.
Dish TV and YES Bank: Bombay Hight Courts's division bench upheld Yes Bank's right to vote at Dish TV's EGM on June 24. Dish TV's promoter entity World Crest has made no case that Yes Bank's voting right must be curtailed, high court bench says.
Route Mobile: Shares of the company closed over 8% after the company the company announced that it will consider a proposal for buyback of fully paid-up equity shares of the company on June 28.
Kalpataru Power Transmission: The company and its arms have bagged new orders worth Rs 2,290 crore. The company is a leading global engineering, procurement and construction player in the power and infrastructure contracting sector.
Acrysil: The company announced doubling of supply of quartz kitchen sinks to Ikea Supply AG (Switzerland). The production will start from the end of July 2022 and supply will begin from August.
Macrotech Developers: The realty major announced its entry into the Bengaluru market and has formed a joint venture to develop its first housing project with an estimated sales bookings value of Rs 1,200 crore. In a regulatory filing, Macrotech Developers said it will acquire 100% equity of G Corp Homes to make foray into the Bengaluru market.
Emami Realty: The company has projected that real estate demand will remain robust despite economic headwinds, and is aiming at a 50% jump in sales to Rs 750 crore in the current fiscal, a top company official said. The developer, which has a land bank of around 2,500 acres in 7-8 cities in the country, will leverage the resource for new projects and explore monetisation of a part of it in the next few years.
Supertech Ltd: The realty firm said that it plans to raise about Rs 300 crore to expedite construction activities at its ongoing projects across the Delhi-NCR market. Supertech said that it has resumed construction in full swing at all its projects after the orders of the National Company Law Appellate Tribunal (NCLAT).
GMR Power and Urban Infra: Shares of the company jumped 5% after it announced that it has acquired 100% stake in GMR Green Energy (GGEPL) from GMR Solar Energy, a fellow subsidiary of the company.
BLS International Services: The company has been selected by Directorate of Registration and Stamp Revenue, Govt. of West Bengal for computerization and e-Governance of Registration offices in West Bengal in PPP mode in Presidency Zone. The project will include deployment of manpower, management and maintenance of manpower & hardware for 5 years and BLS will process 700,000 transactions per annum.