Dalal Street ended lower weighed by weak sentiments and losses in metal stocks. The Sensex dropped 1.35% and the Nifty 50 fell 1.44%.
In broader markets, the Nifty Midcap 100 index lost 1.63% and the BSE Smallcap fell 1.11%.
Top Nifty sectoral losers were Metal [-4.87%], Media [-3.5%], Energy [-2.32%], Realty [-2.19%] and Pharma [-1.32%]. All sectoral indices closed in the red.
Indian rupee fell 3 paise to 78.39 against the US dollar on Wednesday.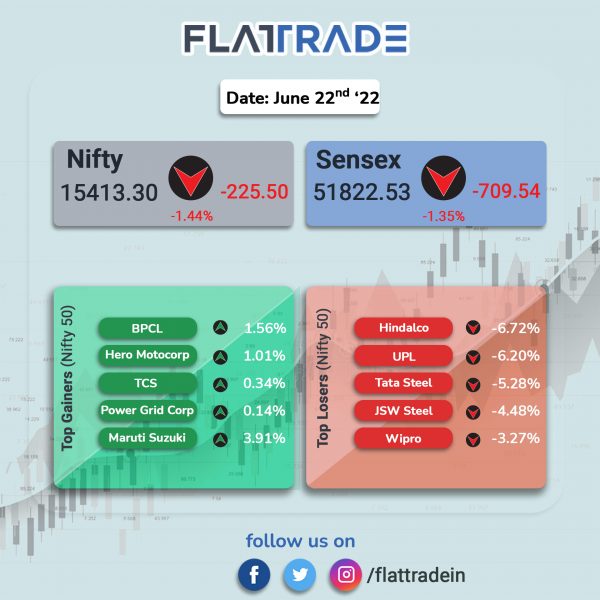 Tata Steel: The company and Thyssenkrupp lost their fight against a European Union antitrust veto of their proposed landmark joint venture three years ago, after Europe's second-highest court rejected their arguments, according to Reuters news report. Both the companies had sought to tackle over-capacity and other challenges in the steel industry via the joint venture but the European Commission said the deal could result in price hikes.
Meanwhile, the company has not made any purchase of PCI coal from Russia post its April announcement of severing business ties with Russia amid the ongoing conflict with Ukraine, a company spokesperson said on Wednesday.
Tata Consultancy Services (TCS): The IT services company has helped Aadhar Housing Finance digitally enhance its business operations using the TCS Lending and Securitization platform. The future-ready platform hosted on the TCS Enterprise Cloud, has powered Aadhar Housing Finance's shift to centralized processing and an analytics-based approach across the business, improving processes, and controls.
Delhivery: The logistics firm said that it plans to expand its infrastructure in the two key cities of Bhiwandi in Greater Mumbai and Bengaluru. The company is collaborating with Welspun on a 700,000 sq ft mega-gateway in Greater Mumbai and with GMR for a one million-plus sq ft facility in Bengaluru. These fully-automated large integrated trucking terminals will be operational by 2023 and will increase Delhivery's processing capacity to meet the customer demand from the South and West.
Telecom companies: The Department of Telecommunications (DoT) has scrapped the 3% floor rate on spectrum usage charge (SUC) ahead of the launch 5G spectrum bids at the end of next month, according to IANS news report. This would help telcos to cut their 5G spectrum payouts.
Greenlam Industries: The company will Buy Bloom Dekor's laminate manufacturing plant in Gujarat. A total investment of Rs 51 crore will be required for the acquisition, which will be financed through internal accruals. The proposed capacity will be operationalised by the second quarter of FY23.
Jain Irrigation: Shares of the company zoomed more than 16.8% in intraday trading after the company announced that its subsidiary Jain International Trading B.V. and Temasek-owned Rivulis entered into definitive transaction agreements. Jain Irrigation's international irrigation business will be merged with Rivulis and The cash proceeds will be utilised for 45% debt reduction in Jain Irrigation.
Jain International business will hold 22% stake in the merged entity, while Temasek will hold the balance 78%. The company will also be able to release its corporate guarantee worth Rs 2,275 crore to bondhonders and lenders.
Elecon Engineering Company (EECL): Shares of the company closed 4% higher after teh company said that it has obtained the credit rating for bank facilities of Rs 500 crore of the company from the credit rating agency ICRA. The ratings was given on the back of its leadership position in the transmission products segment i.e. gears with a sizeable market share of around 38 per cent in India, supported by significant manufacturing capacities, an expansive geographic presence and an established presence in the material handling equipment segment.
Dr. Reddy's Laboratories: JM Financial has given a 'buy' call on the company with a target price of Rs 5,685 apiece as the brokerage firm believes the pharma company's diversified revenue mix is likely to offer more sustainable earnings visibility over the medium to long term. Moreover, Europe and emerging market expansion-driven growth under Horizon 1 is expected to outpace revenues from the US.
Alembic Pharmaceuticals: In an exchange filing, the company said its business de-grew in May and April due to higher base in its anti-infective segment a year ago. However, the company's speciality segments continued to show a robust momentum on the back enhanced operational momentum and strong new product launches, according to its exchange filing.
Dish TV: The company's promoter entity argued before the Bombay High Court division bench against Yes Bank's right to vote at June 24 EGM. Senior Advocate Navroz Seervai argued on behalf of World Crest, Dish TV's promoter entity. Single judge bench denied interim relief without considering arguments based on Supreme Court's PTC Financial judgment.
Dixon Technologies: Shares of the company fell after Morgan Stanley gave an 'underweight' rating cut its earnings estimates for the electronics manufacturing services company by 2-5% over FY23-26. According to the brokerage, there are major headwinds including competition and return on equity contraction. Additionally, rising commodity prices also pose a risk to the margin of the original design manufacturing business.
Matrimony.com: The company has approved a share buyback worth Rs 75 crore at Rs 1,150 per equity share. The total number of shares to be bought back will be up to 6,52,173.The record date to determine eligible shareholders will be July 4. Shares of the company jumped nearly 14% in intraday trading, but pared some gains to close at 5.43% higher.
Cyient: The technology solutions company announced the launch of an AI-powered framework for automated system and software testing (CyFAST), to accelerate end-to-end test automation. The platform enables end-to-end test automation across web, mobile, desktop, and embedded application and hardware devices as well as provides a comprehensive environment for managing testing projects, the company said.
JMC Projects (India): The company has secured new orders worth Rs 874 crore. The orders include construction of elevated viaduct & five elevated stations of Kanpur Metro Rail Project worth Rs 459 crore and civil works for a Data Centre and B&F Projects in India for Rs 415 crore.