Major stock indices ended lower after investor sentiments were dampened after Lok Sabha passed the Finance Bill 2023 with over 45 amendments. The Sensex fell 0.69% and the Nifty dropped 0.77%.
In broader markets, Nifty Midcap 100 index tanked 1.17% and BSE Smallcap slumped 1.37%.
Top losers were Media [-2.38%], Realty [-2.33%], Metal [-2.27%], PSU Bank [-2.14%] and Oil & Gas [-1.42%]. All other Nifty sectoral indices clsoed in the red.
Indian rupee fell 22 paise to 82.48 against the US dollar on Friday.
The government has hiked the Securities Transaction Tax (STT) on futures and options contracts, following amendments to the Finance Bill, 2023, passed by lower house of the parliament on Friday. STT has been hiked by 23.52% on the sale of options and 25% on the sale of futures contracts.
According to the amendments to the Finance Bill, STT on the sale of options has been hiked to Rs 2,100 on a turnover of Rs 1 crore against an earlier applicable levy of Rs 1,700. On the sale of futures contracts, the STT has been hiked to Rs 1,250 on Rs 1 crore of turnover against the earlier levy of Rs 1,000. On the options side, the STT is charged on the premium and not the strike price.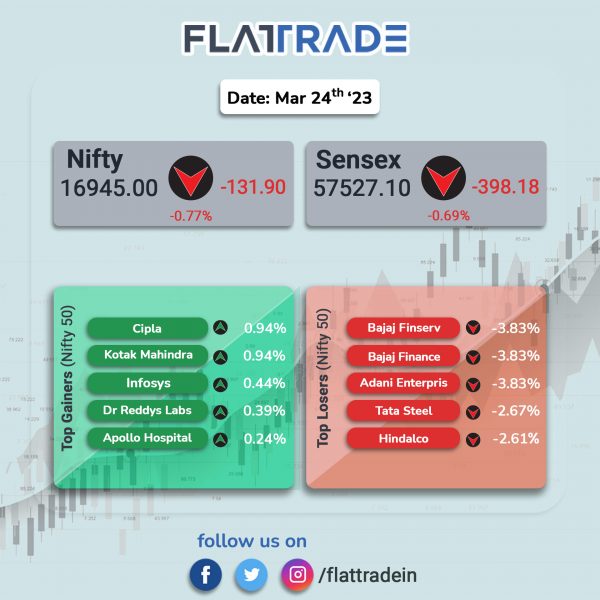 Insurance Companies: Shares of insurance companies declined in trade after the government passed Finance Bill 2023 with amendments in the Lok Sabha. As per the amendment, annual premiums exceeding five lakh rupees will be taxed post March 31, 2023.
Power Grid: The company's board has approved plans to raise Rs 600 crore via unsecured, non-convertible, non-cumulative, redeemable, taxable bonds on a private placement basis by securitising the cashflows of its special purpose vehicle for 10 years from FY2032 to FY2033. The base issue size is Rs 100 core with a greenshoe option of Rs 500 crore. The interest will be paid on quarterly basis and the bonds are redeemable at par in 40 equal installments.
Asset Management Companies (AMCs): Shares of AMCs such as HDFC AMC, UTI AMC, Aditya Birla Sun Life AMC, etc., declined after the Indian government decided to treat the gains arising from debt mutual funds as short-term capital gains via an amendment to the Finance Bill. The amendment is likely to impact all debt funds negatively as high net worth retail investors may move to safe havens like bank fixed deposits.
Life Insurance Corporation of India (LIC): The insurer is planning to impose caps on its debt and equity exposure to companies, two sources said, in a bid to lower concentration of risk following criticism of its investment in Adani group companies, accordign to a Reuters news report. LIC is looking to have 'boundary conditions' on its investments that would limit its exposure to scrips, Reuters reported citing sources.
Tata Motors: The automaker is planning to launch exclusive showrooms just for EVs, according to a report by The Economic Times (ET). Tata Passenger Electric Mobility (TPEM), Tata Motors' electric vehicle (EV) subsidiary, plans to firm up its EV channel strategy – including design, location, and the number of outlets within the first quarter of FY24, the report said. The report said that the first of these showrooms will likely come up in Delhi-NCR.
Bharti Airtel: The telecom company announced that its 5G service is available to customers in 500 cities in the country. Airtel added 235 cities to its network, making it one of the largest roll-outs to date.
Indian Railway Catering and Tourism Corporation (IRCTC): The company said that it has signed memorandum of understanding (MoU) with Uttarakhand Civil Aviation Development Authority (UCADA) for a period of 5 years. Under the MoU, helicopter ticket booking service will be provided to the pilgrims of Shri Kedarnath Dham on behalf of UCADA. IRCTC will be providing a website (mobile responsive) for booking helicopter tickets.
Happiest Minds Technologies: The IT firm announced its strategic global partnership with Pimcore, an open source digital platform that aggregates, enriches, and manages enterprise data and provides up-to-date, consistent, and personalized experiences to customers. Pimcore's deep expertise in data management, experience management, and eCommerce will create a powerful alliance, helping businesses fast track their digital transformation initiatives.
Cera Sanitaryware: The company had entered into Memorandum of Understanding (MOU) for divestment of entire stake in equity and preference shares held in Anjani Tiles, a subsidiary company, with Anjani Vishnu Holdings (AVHL), acquirer Company. With this development, Anjani Tiles ceases to be the subsidiary of the company with effect from 23 March 2023.
Wardwizard Innovations & Mobility: The company has commenced the operations of a lithium-ion battery assembly line with a capacity of 1 GWh/year. The company further plans to expand its R&D operations and production of electronic components in the EV Ancillary Cluster.
Emami: The FMCG company announced that its board has approved a share buyback of upto Rs 186 crore at a price not exceeding Rs 450 per equity share via open market route through the stock exchange mechanism. The company will buyback up to 41.33 lakh equity shares of face value of Rs 1 each, representing about 0.94% which is less than 25% of the existing paid up equity capital of the company as on 31 March 2022.
Zydus Lifesciences: The company has received final approval for Doxepin Hydrochloride Capsules USP, 150 mg (USRLD: Sinequan Capsules) from the USFDA. Doxepin Hydrochloride capsule is indicated to treat mental and mood problems such as depression and anxiety. It helps improve moods and feelings of well-being, relieves anxiety and tension, helps sleep better and increases the energy level. The capsules had an annual sales of $2.11 million in the US, according to IQVIA MAT January 2023.
Shreeji Translogistics: The company has bagged bagged orders from Bharat Heavy Electricals in Full Truck Load (FTL) segment. This order win strengthens the company's dominant market position by providing value added services and cost-efficient solution for transportation.
J. Kumar Infraprojects: The company and AICPL through a JV has received an order for the construction and remoting existing Baiyappanahalli Depot for Bangalore Metro Rail Project- Phase- 2A.