Dalal Street ended lower as investors remained cautious amid broader sell-off across sectors. The Sensex slipped 0.07% and the Nifty fell 0.20%.
In broader markets, the Nifty Midcap 100 index fell 0.35% and the BSE Smallcap index dropped 0.79%.
Top losers were Media [-1.68%], Realty [-1.21%], Auto [-0.97%], IT [-0.88%], and Metal [-0.79%]. Top gainers were Bank [0.35%], Private Bank [0.34%], and Financial Services [0.27%].
Indian rupee gained 18 paise to 82.19 against the US dollar on Tuesday.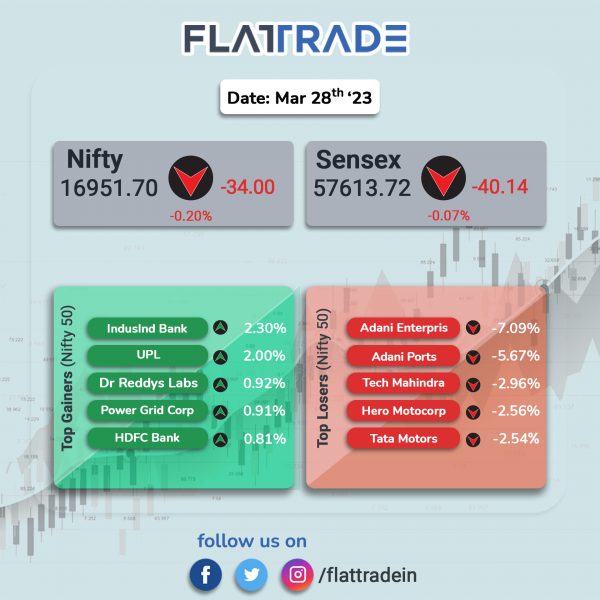 Solar PV Module Manufacturers: The Indian Government has allocated 39,600 MW Of domestic solar PV module manufacturing capacity under PLI (Tranche-II) to 11 companies with an outlay of Rs 14,007 crore under the production-linked incentive scheme, according to a press release by Ministry of Power. JSW, Reliance, ReNew, and Tata Power Solar are among the winning bidders. The Tranche-II is expected to bring in an investment of Rs 93,041 crore. It will also generate a total of 1,01,487 jobs with 35,010 getting direct employment and 66,477 being indirectly employed, the press release said.
Adani Group: The conglomerate was seeking to renegotiate terms of outstanding loans worth $4 billion taken last year to buy cement firms ACC and Ambuja Cements, The Economic Times reported citing sources. The group is also reportedly seeking conversion of another $1 billion mezzanine loan tranche to senior secured debt. At present, this $1 billion mezzanine loan has a maturity of 24 months but the group wants to extend the repayment schedule up to five years.
IDBI Bank: The lender announced that its board has approved the appointment of Smita Harish Kuber as chief financial officer (CFO) and key managerial personnel with effect from 1 April 2023. Kuber's appointment follows the resignation of P. Sitaram, executive director (ED) and CFO due to attaining the superannuation. Smita Kuber is a qualified chartered accountant and has more than 25 years of banking experience.
LTIMindtree: The company said that it has been selected as the strategic sourcing partner by Hellenic Bank, a leading financial institution in Cyprus. The company will enable Hellenic Bank to meet their resource capacity demands in an efficient and timely manner.
Embassy Office Parks REIT: The company has agreed to buy Embassy Business Hub for Rs 334.8 crore. Embassy REIT will acquire the rights, title and interest of sellers in Embassy Construction Private, developer of Embassy Business Hub. It will also get exclusive ownership rights to approximately 1.4 million square feet of leasable area. Embassy REIT plans to primarily fund the acquisition through debt at 8.1% interest cost per annum.
Transformers and Rectifiers (India): The company said it has received orders worth Rs 184 crore for transformers from one of the central utility. With this order, the company's order book as on date stands at Rs 1555 crore.
G R Infraprojects: The company said that it has been emerged lowest bidder (L1) bidder for two projects in Karnataka. The project includes construction of 4/6 lane bypass for Belagavi Karnataka on HAM Mode Package1. The cost of project is Rs 897.37 crore and the construction is expected to be completed within 912 days from appointed date and the operation period is 15 years from commercial operation date.
Further, the company has also bagged order for construction of four lane in Belgaum – Hungund Raichur section of NH‐748A in Karnataka on hybrid annuity mode (Package‐5). The cost of project is Rs 716.47 crore and the project will be completed within 730 days from appointed date and the operation period is 15 years from commercial operation date.
Sterlite Technologies: The company announced that it has signed an amended and restated agreement to transfer its telecom products and software business as an asset sale to Skyvera LLC. The transaction will be effected by Skyvera LLC through its Indian subsidiary. The aggregate consideration for sale of identified assets and intellectual property is $15 million. Skyvera LLC is an affiliate of TelcoDR, which is a US-headquartered global acquirer of telecommunication software businesses that operates and transforms the telco software companies.
Carysil: The company renewed their contract with US-based Karran Inc. for supplying quartz kitchen sink worth about $68 million over the period of five years. The five-year contract is about Rs 550 crore and the contract starts from FY24.
Zydus Lifesciences: The drug maker said that it has received final approval from the USFDA for Levothyroxine Sodium injection and Doxepin Hydrochloride capsules. Levothyroxine Sodium Injection is indicated for the treatment of myxedema coma. The drug will be manufactured at the group's injectable manufacturing facility at Jarod, near Vadodara, Gujarat.
Further, the company has also received final approval for Doxepin Hydrochloride Capsules USP from the USFDA. The said drug is recommended for the treatment of Psychoneurotic patients with depression, anxiety, and psychotic depressive disorders. The drug will be manufactured at the group's formulation manufacturing facility in Moraiya, Ahmedabad, Gujarat.
Aditya Birla Capital: The company in an exchange filing said that it has received board approval for sale of its entire 25.65 lakh shares or 50.002% stake in Aditya Birla Insurance Brokers (ABIBL), to Edme Services, which is part of the Samara Capital Group and an affiliate of Samara Alternate Investment Fund. Infocyber India, the other shareholder of ABIBL, will also sell its 25.64 lakh shares, or 49.998% of the company, to Edme Services. The total enterprise value of the transaction is set at Rs 455 crore on a cash-free and debt-free basis, with closing adjustments subject to the terms of the share purchase agreement (SPA).
Paras Defence and Space Technologies: The company announced it has secured regulatory license for establishing an industrial undertaking to manufacture certain industrial items. The company has secured license from the Department for Promotion of Industrial & Internal Trade, Ministry of Commerce & Industry, Government of India. The license is for establishing an Industrial undertaking for manufacturing of Red Dot Reflex Sights, Electronic Fuzes comprising of electronics, sensors, mechanical parts excluding Explosive content, Rugged COTS System and Rugged Networking & Communication. The license will be valid for 15 years.
Gujarat Ambuja Exports (GAEL): The company announced commissioning of 1200 tons per day Maize processing greenfield project at Malda in West Bengal. With this, the company has a total Maize processing capacity of 4,000 tons per day.
Avanti Feeds: The company's board has approved acquisition of 16.70 million equity shares, representing 50% of the share capital of Srivathsa Power Projects Private Limited (SPPPL) at a price of Rs 2.30 per share, according to its regulatory filing. Post this acquistion, SPPPL would become 100% subsidairy of the Avanti Feeds.