Benchmark indices pared gains in the second half of the session due to heavy selling in Banking, Realty and Oil & Gas stocks. The Sensex fell 0.59% and the Nifty was down 0.42%.
In broder markets, the Nifty Midcap 100 inched up 0.07% and the BSE Smallcap index edged up 0.10%.
Top losers were Media [-1.22%], PSU Bank [-1.21%], Bank [-0.91%], Realty [-0.85%] and Private Bank [0.85%]. Top gainers were Metal [1.8% and Pharma [0.31%]
Indian rupe fell 10 paise to 82.59 against the US dollar on Wednesday.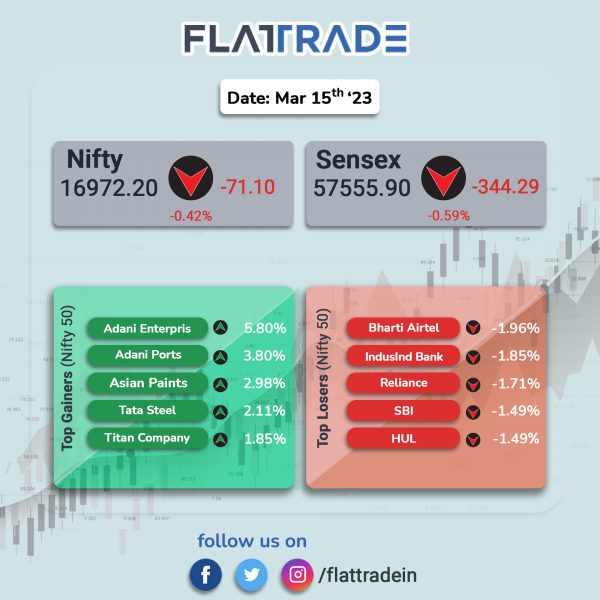 KPIT Technologies: The company announced its partnership with Honda to realize the journey of Honda's Software-Defined Mobility (SDM). KPIT's deep domain and software expertise in the areas of autonomous driving, vehicle electrification, in-vehicle infotainment systems and platform software will help Honda to continue to provide various services and enhanced value to customers around the world in the future, KPIT Technologies said in a statement.
Nazara Technologies: In a regulatory filing, the company said that Kiddopia Inc and Mediawrkz Inc have been given unrestricted access to the entire amount of $7.75 million (approx. Rs 64 crore) that was held at SVB. Nazara Technologies is a diversified gaming & sports media platform with presence in India and across emerging & developed global markets.
Ramkrishna Forgings and Titagarh Wagons: Both the companies as a consortium has emerged as the lowest bidder for supply of forged wheels to the Ministry of Railways. The consortium has to manufacture and supply around 15,40,000 wheels to the Indian Railways over a period of twenty years.
NBCC (India): The company said that it has secured a contract worth Rs 500 crore for construction of Government Medical College and Hospital at Karaikal in Puducherry. The nature of contract is Project Management Consultant (PMC) on deposit work basis, the company said.
KPI Green Energy: The company received the commissioning certificate from Gujarat Energy Development Agency (GEDA) for capacity of 31 MWdc solar power project under its Captive Power Producer (CPP) segment. The power from the said solar project would be supplied to Creative Technologies (5 MWdc), Colourtex Industries (5 MWdc) and Aether Industries (16 MWdc).
Sonata Software: The company announced that it has been selected as one of the TOP SI partners of the newly launched cloud solution developed by Bayer for the agri-food industry. The B2B platform offers a cloud-based infrastructure and ready-to-use digital capabilities, available for businesses and organizations from start-ups to global enterprises to license and build on for their own internal or customer-facing digital solutions. It connects agricultural data and services, makes them accessible and drives traceability along the whole food production value chain.
EKI Energy Services: The company has signed a consultancy service contract for carbon credits project of Kochi Metro Rail Project (KMRL). The contract has been signed against a tender secured by EKI for providing carbon credit advisory services to KMRL. Under the contract, EKI will ensure development and assistance for Validation, Registration, Verification, Issuance and Trading of carbon credits projects of Kochi Metro Rail Project.
Equitas Small Finance Bank: The lender has partnered with Royal Challengers Bangalore (RCB) as their 'Proud Banking Partner' for the 2023 season of T20 League. The RCB team will don the Equitas Small Finance Bank logo on the lead trousers as part of the team's jersey.
Paras Defence and Space Technologies: The company said that it has entered into an MoU with Israel-based CONTROP Precision Technologies to expand their business in the Indian and Global Defence sector. CONTROP Precision Technologies (CONTROP) is a privately owned company that specializes in the development and production of electro-optical and precision motion control systems for surveillance, defense and homeland security applications.Under the MoU, Paras and CONTROP intend to form a joint venture company (JV) in India for manufacturing electro-optic systems for various applications.
Balu Forge Industries (BFIL): The company announced that it has secured a major trial order to supply Powertrain sub-assemblies to a tractor manufacturer based out of the middle east. Under the contract, BFIL will supply a range of powertrain sub-assemblies. These components will be used in the production of engines that will power a variety of tractors. The trial order initially comprises of supplying 10,000 sets of sub-assemblies & there is scope to increase the same to over 50,000 annually. BFIL has already started the supply under the said contract and the company is hopeful of generating more sales in the coming quarters.
Welspun Corp: The company's board has approved the amalgamation of Welspun Metallics with Welspun Corp, by way of merger by absorption pursuant to a scheme of arrangement under the provisions of Sections 230 – 232 and other applicable regulatory requirements.
Housing & Urban Development Corp (HUDCO): The company's board has approved Annual Resource plan for raising of funds up to a maximum of Rs 18,000 crore during FY24 through issue of bonds/ debentures, subject to regulatory approvals.
Cyient: The company has announced the opening of a Center of Excellence (CoE) to strengthen its partnership with iBASEt to drive digital transformation in the aerospace and heavy equipment industries. iBASEt and Cyient are investing in creating cutting-edge solutions and accelerators for the MES (Manufacturing Execution System) and MRO (Maintenance, Repair, and Overhaul) industries, brought together by a global team of SMEs, techno-functional consultants, developers, and test engineers with considerable experience.
Apollo Pipes: The company's board has approved the appointment of Arun Agarwal as an additional director with immediate effect and designated him as Joint Managing Director for a term of three years w.e.f. 1 April 2023. The board has accepted the resignation of Sanjay Gupta, Chairman and Non-Executive Director of the company, and Gupta ceases to hold the said designation effective from 14 March 2023.
Deccan Gold Mines: The company has entered into a strategic alliance agreement with AK Corporation FZCO (AKC) and both the companies will work as strategic partners in construction of processing plant focused on gold mining industry. The company has also inked a strategic alliance agreement with Kartikay Exploration and Mining Services, Nagpur (Kartikay). Under this Agreement, both the companies will work as strategic partners in the execution of mineral exploration and drilling work.
B.L. Kashyap & Sons: The company has secured two new orders for construction, civil and structural works.The current order book stands at about Rs 2089 crore. One order is worth Rs 89 crore (excluding GST) for construction of Business Park Campus at Bengaluru and the other order is worth Rs 69 crore (excluding GST) for construction of residential complex at Bengaluru.