Benchmark stock indices closed lower as investor were worried about more rate hikes after the latest US jobs report and weak global cues. The Sensex fell 0.55% and the Nifty 50 index dropped 0.50%.
In broader markets, the Nifty Midcap 100 index rose 0.96% and the BSE Smallcap index was up 0.49%.
Top gainers were Media [0.78%], FMCG [0.56%], Realty [0.52%] and PSU Bank [0.25%]. Top losers were Metal [2.2%], Energy [0.71%], IT [0.61%], Financial Services [0.41%] and Bank [0.3%]
Indian rupee fell 90 paise to 82.72 against the US dollar on Monday.
The Reserve Bank of India's Monetary Policy Committee (MPC) meeting commenced Monday (February 6). The threeday deliberations of the rate setting panel will conclude with the Central Bank's announcement on Wednesday (February 8). The central bank is expected to increase the repo rate by 25 basis points.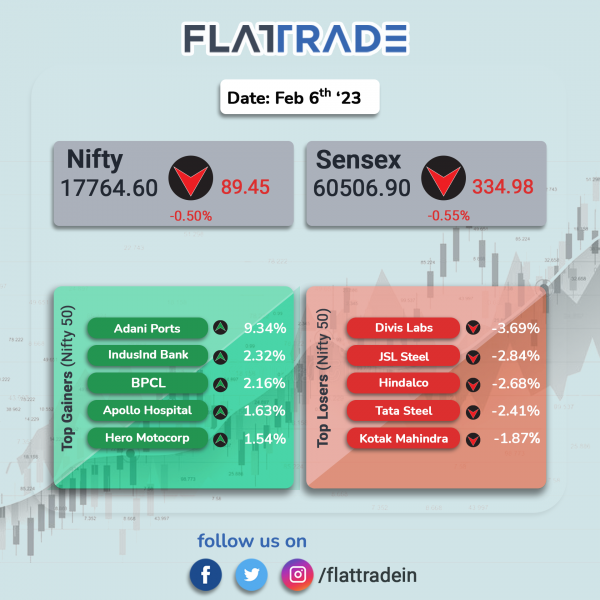 Reliance Industries Limited (RIL) and Ashok Leyland: Both the companies have unveiled India's first Hydrogen Internal Combustion Engine (H2ICE) powered Heavy Duty truck. The vehicle was flagged off by Prime Minister Narendra Modi today in Bangalore at the India Energy Week. The Ashok Leyland H2ICE heavyduty truck range (1935Tonne) is powered by Hydrogen, a renewable and clean energy source, maintaining overall architecture similar to a conventional dieselbased combustion engine thus helping quicker migration to cleaner energy sources at relatively lower cost.
Indian Oil Corp (IOC): The PSU (public sector undertaking) will sign a memorandum of understanding with sustainable fuel tech provider LanzaJet to produce sustainable aviation fuel at its Panipat refinery in northern India, Reuters reported citing the company's chairman. The company has a tie up with LanzaTech for converting waste gas to ethanol, and U.S.based LanzaJet will be helping in upgrading ethanol to jet fuel. By 2030, 2% of aviation fuel will be sustainable aviation fuel, Chairman S. M. Vaidya told Reuters on the sidelines of India Energy Week in Bengaluru.
Adani Group: Adani promoters have posted amounts to prepay a $1.1 billion facility ahead of its maturity in September 2024. About 16.8 crore shares in Adani Ports, 2.75 crore shares in Adani Green and 1.17 crore shares in Adani Transmission will be released as part of this repayment. Pledge removed in light of "recent market volatility and in continuation of the promoters' commitment to reduce the overall promoter leverage.
Manappuram Finance: The NBFC registered 50.3% YoY growth in profit at Rs 392.2 crore for quarter ended December FY23 as impairment on financial instruments dropped by Rs 54 crore for the quarter. Revenue from operations for the quarter at Rs 1,714 crore increased by 15.5% over a yearago period.
Praj Industries: The engineering company has recorded 68.2% YoY increase in profit at Rs 62.31 crore for quarter ended December FY23 driven by strong sales. Revenue for the quarter jumped 55.4% YoY to Rs 910 crore. EBITDA at Rs 86.16 crore increased by 69% and margin at 9.46% expanded by 75 bps over a yearago period. The company won order worth Rs 944 crore during the quarter, and its total order stood at Rs 3,380 crore as on December 2022.
Dalmia Bharat Sugar and Industries: The company has recorded a 8% yearonyear increase in profit at Rs 65.2 crore for threemonth period ended December FY23 due to better operating performance. Revenue for the quarter at Rs 600 crore declined by 2.2% YoY. On the operating front, EBITDA increased by 20% to Rs 112.5 crore and margin rose by 347 bps YoY to 18.75% for the quarter.
Shipping Corporation of India: The state-owned entity has registered a profit at Rs 279.54 crore for quarter ended December FY23, falling 10.3% compared to yearago period. Revenue for the quarter grew by 4.8% to Rs 1,500 crore compared to corresponding period of last fiscal.EBITDA increased by half a percent to Rs 467.4 crore and margin fell 135 bps YoY to 31.15%.
Thyrocare Technologies: The diagnostic chain operator has recorded a 31.6% yearonyear decline in profit at Rs 14.7 crore Q3FY23, due to lower operating income. Revenue for the quarter grew by 9.1% YoY to Rs 128 crore.
Intellect Design Arena: The company has recorded a consolidated profit at Rs 62 crore for quarter ended December FY23, down 38.5% compared to corresponding period last fiscal. Revenue for the quarter was at Rs 547 crore, up by 7.6% over a yearago period. EBITDA fell 27.3% YoY to Rs 97 crore and margin dropped 850 bps YoY to 17.68% for the quarter on increase in employee expenses.
Engineers India: The PSU said its consolidated profit declined 60.4% yearonyear to Rs 16.1 crore for threemonth period ended December FY23, weighed by weak operating performance. Revenue from operations stood at Rs 842.2 crore for the quarter grew by 22% over a yearago period. EIL has received EPCM services contract for setting up gas based greenfield 4000 TPD urea and 2300 TPD ammonia complex.
Varun Beverages: The PepsiCo bottler said its consolidated net profit rose to Rs 74.75 crore in the quarter ended December 2022 from Rs 16.49 crore during the quarter ended December 2021. Sales rose 27.67% to Rs 2214.24 crore in the quarter ended December 2022 as against Rs 1734.34 crore during the previous quarter ended December 2021. For the full year,net profit rose 115.75% to Rs 1497.43 crore in the year ended December 2022 as against Rs 694.05 crore during the previous year ended December 2021.
Easy Trip Planners (EaseMyTrip): The company reported a 4.16% rise in consolidated net profit to Rs 41.7 crore for the third quarter ended December 2022. The company had posted a consolidated net profit of Rs 40.03 crore in the corresponding quarter of the last fiscal. Its consolidated revenue from operations during the period under review stood at Rs 136.15 crore against Rs 86.56 crore in the yearago period. The growth was driven by strong volume growth in the air and hotels segment, the company said. Air segment registered a revenue of Rs 111.57 crore during the quarter under review as against Rs 86.13 crore in the yearago period, while hotel packages revenue stood at Rs 23.7 crore, the company said.
Affle (India): The company said that its consolidated profit after tax (PAT) jumped 14.8% YoY and 17.6% QoQ to Rs 69 crore in Q3FY23. Affle reported a consolidated revenue from operations of Rs 376.1 crore in Q3 FY23, an increase of 10.8% YoY and an increase of 6.1% QoQ. EBITDA stood at Rs 80.4 crore, an increase of 18.7% YoY and 11.1% QoQ.
Info Edge (India): The company announced that Startup Investments (Holding) (SIHL), a whollyowned subsidiary of the company has agreed to invest about Rs 4 crore in Printo Document Services. Printo is a printondemand platform for personal and business print and corporate merchandise in India.