Market Opening - An Overview
Nifty futures on the Singapore Exchange were trading 0.19% lower at 16,237.5, signalling that Dalal Street was headed for a negative start on Wednesday.
Asian shares were mixed on weak economic data from China and higher inflationary concerns. Japan's Nikkei 225 rose 0.64%, Topix rose 0.65%. China's Hang Seng fell 0.79% and CSI 300 dropped 0.98%.
Indian rupee fell 11 paise to 77.56 against the US dollar on Tuesday.
The subscription for the initial public offering (IPO) of Ethos Limited will open today. The price band is fixed at Rs 836-Rs 878 per equity share.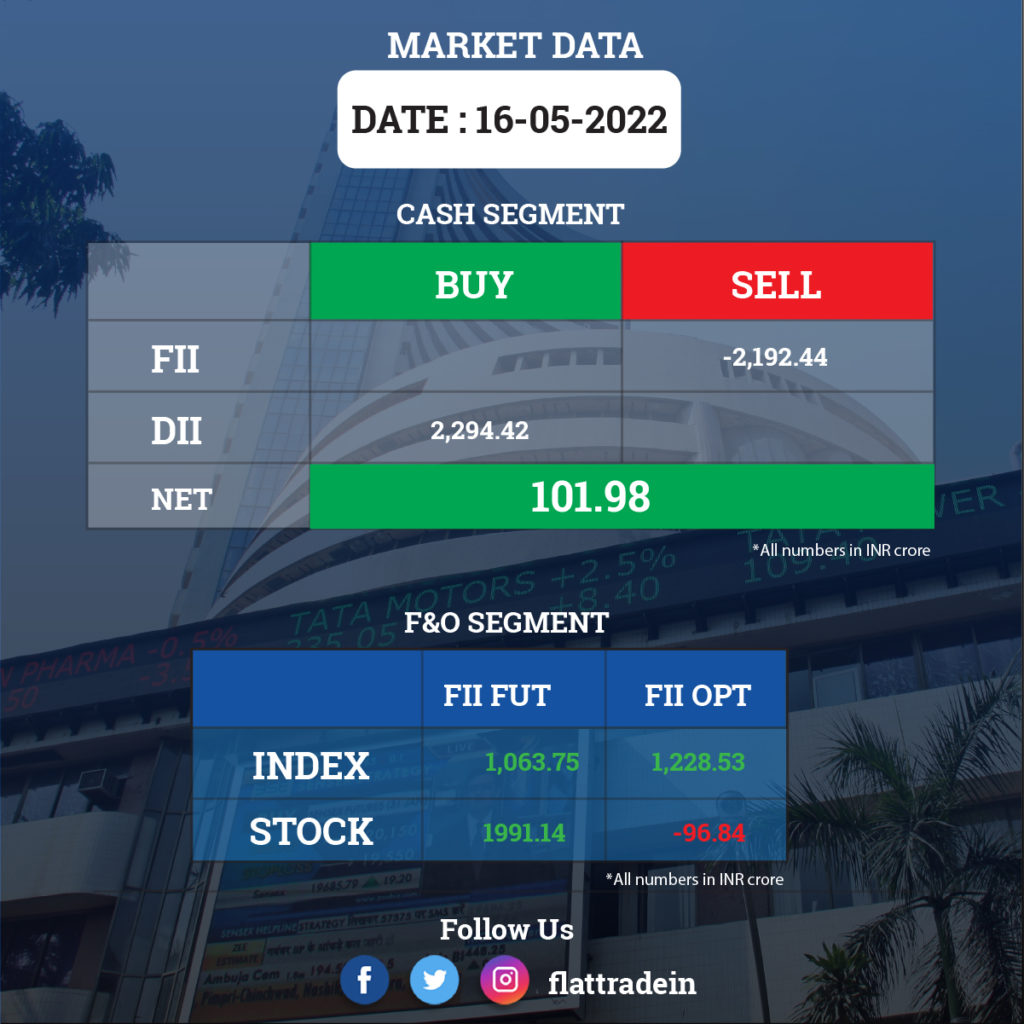 ITC, InterGlobe Aviation, Pidilite Industries, Aditya Birla Fashion and Retail, Arvind, Barbeque Nation Hospitality, Brookfield India Real Estate Trust REIT, Finolex Industries, GIC Housing Finance, GMR Power and Urban Infra, GTL, Indraprastha Gas, Indian Overseas Bank, JK Lakshmi Cement, LIC Housing Finance, Lupin, Manappuram Finance, NDTV, Route Mobile, Shyam Metalics, Shriram Asset Management and Westlife Developments will report their Jan-Mar 2022 quarter results on May 18.
Bharti Airtel: The telecom firm nearly tripled its consolidated net profit for the fourth quarter of FY22, as sharp tariff hikes since November 2021 boosted its average revenue per user (ARPU). Consolidated net profit increased to Rs 2,008 crore in the March quarter from Rs 759 crore in the year-ago period. Revenues for the quarter grew 22% YoY to Rs 31,500 crore. Airtel continues to have the highest ARPU at Rs 178 from Rs 163 in the December quarter.
Indian Oil Corporation Ltd (IOCL): The oil marketing company's consolidated net profit for the quarter ended March stood at Rs 6,645.72 crore, down 26.37% from Rs 9,026.49 crore in the same quarter last year due to a margin squeeze in petrochemicals and losses on auto fuel sales. Its revenue from operations climbed 26.13% to to Rs 2.09 lakh crore, from Rs 1.65 lakh crore in the corresponding quarter last year . The board approved a bonus issue of 1:2 for its shareholders.
Bharat Petroleum Corp Ltd (BPCL): The government is considering selling up to a quarter of state-run refiner after failing to attract suitors for the whole firm, Reuters reported citing two officials. New Delhi is considering inviting bids for a 20%-25% stake in BPCL, instead of an outright sale of its entire 52.98% holding, according to the two government officials. The officials said discussions about the plan were in the early stages.
Maruti Suzuki India (MSI): The carmaker said its shareholders have approved the appointment of Hisashi Takeuchi as Managing Director and CEO. In a regulatory filing, the auto major said 99.89% of votes polled through a postal ballot were in favour of the appointment of Takeuchi as MD and CEO.
TVS Motor Company: The two-wheeler manufacturer has announced the sale of Intellicar Telematics Pvt Ltd, bought in December 2020, to Fabric IOT Pvt Ltd for Rs 45 crore. The divestment is part of the value creation initiatives on its digital portfolio.
HDFC: the Mortgage lender launched a spot offer on WhatsApp to provide an in-principle home loan approval for buyers within 2 minutes. HDFC's Spot Offer on WhatsApp' is a platform that will enable prospective borrowers to get an in-principle home loan approval instantly, the company said.
Dr Lal Pathlabs: The diagnostic chain reported lower-than-expected earnings for the March quarter. Net profit for the quarter stood at Rs 61.30 crore, down 23% year-on-year. Revenue rose 13% YoY to Rs 486 crore. Total cost rose 24% year-on to Rs 414 crore.
IRB Infrastructure Developers: The company reported a 79% jump in its consolidated net profit to Rs 175 crore for the quarter ended March 2022 against Rs 97.45 crore in the year-ago period. Its total income during the reported quarter rose to Rs 1,682.72 crore from Rs 1,650.40 crore in the year-ago period. Total cost fell 6% to Rs 1380 crore.
DLF: The realty company said its net profit for the Jan-Mar 2022 quarter fell 16% year-on-year to Rs 405 crore from Rs 481 crore. Revenue during the quarter under review dropped 9% from a year ago to Rs 1,550 crore. Total cost declined 10% YoY to Rs 1,340 crore in Q4FY22.
Steel Authority of India Ltd: The company has supplied 4,300 tonnes of special steel for India's indigenous navy warships INS Udaygiri' and INS Surat', an official said. The entire quantity of steel has been supplied from SAIL's Bokaro, Bhilai and Rourkela Steel Plants, the official added.
Motilal Oswal Financial Services: The company announced buyback of its 14.55 lakh equity shares at a price of Rs 1,100 per unit for an aggregate amount not exceeding Rs 160 crore. The buyback represents 0.98% of the total paid-up equity share capital of the company as on March 31, 2022, it said in a statement. The company has fixed May 27, 2022 as the record date for the purpose of determining the entitlement for buyback.
RBL Bank: The lender said it has raised $100 million (about Rs 770 crore) through its first issuance of Basel III-compliant unsecured and subordinated tier 2 bonds. The tier 2 bond issuance increases the bank's total Capital Adequacy Ratio to 17.85 per cent, the bank said.