Market Opening - An Overview
Nifty futures on the Singapore Exchange were trading 0.75 % lower at 17,583, signalling that Dalal Street was headed for a negative start on Thursday.
Asian shares were trading lower after the US Federal Reserve increased key benchmark interest rates and hinted at more aggressive rate hikes than investors had expected. Japan's Nikkei 225 index dropped 0.97% and Topix was down 0.64%. Hang Seng lost 1.7% and CSI 300 index fell 0.64%.
The Indian rupee fell 22 paise to 79.97 against the US dollar on Wednesday.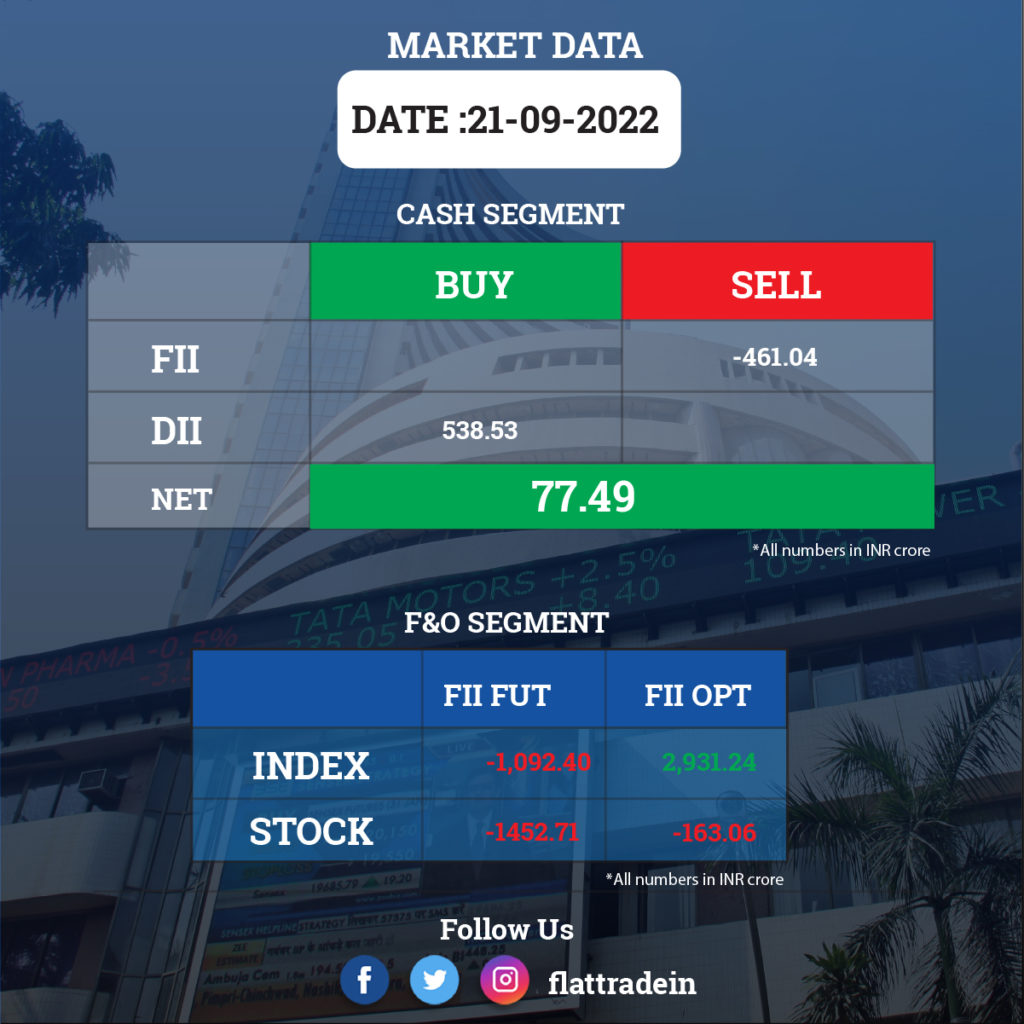 Reliance Industries Ltd (RIL): The company's retail arm, Reliance Retail, is in advanced talks to get the rights for beauty retailer Sephora in India, the Mint newspaper reported citing two people familiar with the matter. Sephora's operations will transfer from Arvind Fashions Ltd to Reliance Retail if an agreement is reached, according to the report.
The company's CFO Alok Agarwal plans to sell 2.25 lakh shares between May 10 to August 31, 2023. He also will gift 1.25 lakh shares between May 10 to May 31, 2023.
Adani Ports And Special Economic Zone: The company has bagged a Rs 25,000 crore project to develop Tajpur deep sea port in West Bengal. The greenfield project will see Rs 15,000 crore utilised toward port development and the rest toward building related infrastructure.
Meanwhile, Avantika Singh Aulakh, VC and CEO, Gujarat Maritime Board, has resigned from Adani Port's board.
State Bank of India (SBI): The lender has raised Rs 4,000 crore Basel III compliant Tier 2 bonds at coupon rate of 7.57%. The bonds have a tenor of 15 years with a call option after 10 years and on anniversary dates thereafter.
Wipro: The IT major has terminated the services of 300 staff members who were found working for its rivals while still being on the company's payroll, the firm's executive chairman Rishad Premji said, according to a PTI report. Premji was speaking at an All India Management Association's event.
Punjab National Bank: The public sector lender has raised Rs 658 crore by issuing Basel III compliant additional Tier-1 bonds at a coupon rate of 8.3% per annum, on a private placement basis.
Solar PV Module Manufacturers and Renewable Energy Producers: The Union Cabinet approved a Rs 19,500-crore production linked incentive scheme on 'national programme on high efficiency solar PV modules'. The Centre, in an official release, noted that the scheme will bring direct investment of around Rs 94,000 crore and lead to direct employment of about 1,95,000 persons and indirect employment of around 7,80,000.
SpiceJet: The aviation regulator DGCA has extended the 50% limit on SpiceJet's number of flight departures until October 29 as a matter of 'abundant caution'. The airline will be subjected to "enhanced surveillance" during this period, DGCA said.
IDBI Bank: The bank offloaded its entire stake 20 crore equity shares in Ageas Federal Life Insurance Company to partner Ageas Insurance International NV. With this sale, IDBI Bank's shareholding in Ageas Federal Life Insurance Company now stands at nil.
PB Fintech: The company will invest Rs 650 crore in Policybazaar Insurance Brokers and Rs 250 crore in Paisabazaar Marketing And Consulting.
Ashoka Buildcon: The company has received a contract order for the construction of a new BG line from South Western Railway. The project includes electrical and telecommunication works in engineering, procurement and construction (EPC) mode. The cost of the project is Rs 258.12 crore and its completion period is 24 months from the date of the appointed date.
Future Enterprises Ltd (FEL): The debt-ridden company said it has defaulted on payment of interest on non-convertible debentures totalling Rs 15.73 crore. The due date for payment was September 20, 2022, according to its regulatory filing. "The Company is unable to service its obligations in respect of the interest on Non-Convertible Debentures…," it said. The debentures are secured and have a coupon rate of 9.60 per cent per annum.
Kirloskar Oil Engines (KOEL): The company said the board members have appointed Anurag Bhagania as Chief Financial Officer of the company with effect from September 22. Meanwhile, the company also acquired a 24% stake in La-Gajjar Machineries (LGM). It had acquired a 76 percent stake in LGM in 2017 with an agreement that the balance holding will be acquired by KOEL over a 5-year period.