Market Opening - An Overview
Nifty futures on the Singapore Exchange were trading 0.05% lower at 17251 signalling that Dalal Street was headed for a marginally lower start on Friday.
Asian shares were trading higher after investor worries over the banking sector turmoil subsided. The nikkei 225 index gained 0.82%, the Topix advanced 0.9%. The Hang Seng jumped 1.85% and the CSI 300 index rose 0.36%.
Indian rupee fell 15 paise to 82.34 against the US dollar on Wednesday.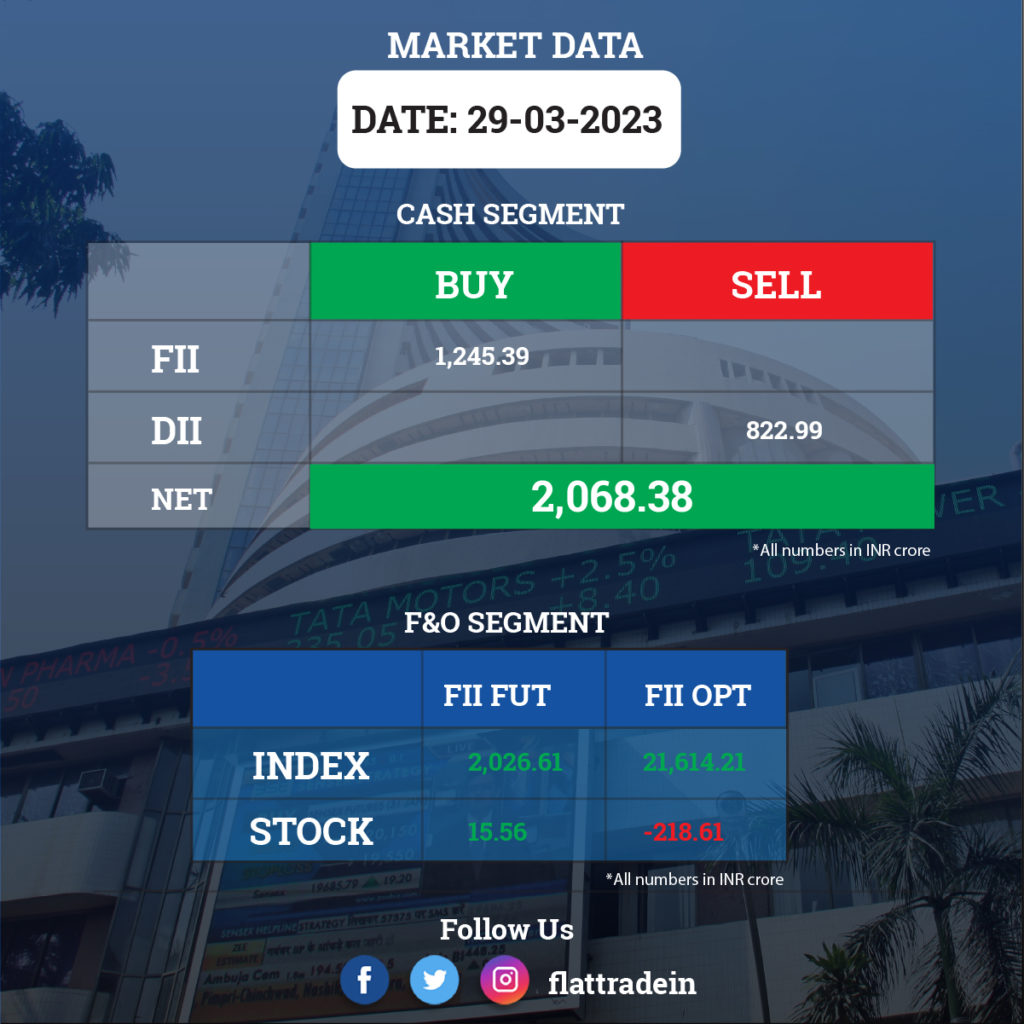 Reliance Industries (RIL): The company has acquired 70% equity share capital of Sintex Industries, according to resolution plan by NCLT. Sintex Industries will be jointly controlled and managed by RIL and ACRE (Assets Care & Reconstruction Enterprise). Sintex has allotted equity shares worth Rs 600 crore and optionally fully convertible debentures worth Rs 900 crore to Reliance Industries. The acquisition of Sintex will help expand the textile business portfolio of Reliance.
Meanwhile, lenders and shareholders of Reliance Industries Ltd (RIL) will meet on May 2 to demerge the firm's financial services business.
Hero MotoCorp: The two-wheeler maker said it has elevated Niranjan Gupta as its new chief executive officer. Gupta, currently designated as chief financial officer, head-strategy and M&A, takes over as the CEO with effect from May 1, 2023, according to an exchange filing. Pawan Munjal will continue as executive chairman and whole-time director on the company's board, it added. The company said it will announce a new CFO in due course of time.
Bharat Electronics (BEL): The Ministry of Defence has signed 10 contracts worth Rs 5,498 crore with Bharat Electronics for Indian Armed Forces. A contract worth Rs 1,982 crore is for procurement of automated air defence control and reporting system 'Project Akashteer' for Indian Army. Another contract of Rs 412 is for acquisition of Sarang electronic support measure systems and associated engineering support package for Indian Navy.
Punjab National Bank (PNB): The bank will raise Rs 12,000 crore through AT-1 bonds for Rs 7,000 crore and Tier-II bonds for Rs 5,000 crore in one or more tranches. The bank also sold its entire shareholding in Asset Reconstruction Company (India) to Avenue India Resurgence for an undisclosed cash consideration.
Bharti Airtel: The company's subsidiary — Nxtra Data — has signed an agreement to acquire 5.4% additional stake in Avaada MHAmravati for captive power consumption under electricity laws.
Tata Consumer Products: The company reappointed reappointment L Krishnakumar as whole-time director, designated as executive director and group CFO, for seven months, effective April 1, 2023.
Tejas Networks: The company appointed Anand Athreya as CEO and MD designate of the company after Sanjay Nayak expressed his desire to seek voluntary retirement from post of CEO and MD of the company. Athreya will join the company on April 3, 2023 and will be appointed as CEO and MD after all regulatory and shareholder approvals.
Tata Power: Tata Power Solar Systems, a wholly-owned subsidiary of the company, received the letter of award of Rs 1,755 crore to set up a 300 MW solar project for NLC India in Rajasthan.
Asian Paints: The board of the company will meet on May 11 to consider and approve the final dividend for the current fiscal as well as the financial results for the quarter and year ended March 2023.
HDFC: The mortgage lender entered into an agreement to sell 19.36 lakh shares of Next Gen Publishing, representing 16.13% shareholding, for Rs 1.7 crore.
JK Cement: The company expanded grey cement capacity by 2 million tonnes per annum by increasing capacity at Mangrol, Muddapur, Jharli and Aligarh facilities by 0.5 MTPA each. The overall grey cement capacity of the company now stands at 20.67 MTPA.
GR Infraprojects: The infrastructure company has emerged as a L-1 bidder for the construction of a four-lane access-controlled greenfield highway in the Mahabubabed district in Telangana on Hybrid Annuity Mode (HAM). Further, the company has also received a Letter of Award from NHAI for five road projects worth Rs 4,454 crore in Karnataka, Maharashtra, and Uttar Pradesh.
Aether Industries: The pharma company has executed a Letter of Intent with Saudi Aramco Technologies Company. Aether said the Letter of Intent was regarding the preliminary terms over the finalization of a detailed licensing agreement towards the manufacturing and commercialization of the Converge polyols technology and product series, the manufacturing process.
Sansera Engineering: The automotive components manufacturer has entered into a definitive agreement for a strategic investment in MMRFIC Technology (MMRFIC) which manufactures sub-systems for next-generation radars by leveraging machine learning with artificial intelligence. Sansera would invest Rs 20 crore in MMRFIC for a 21 percent stake.
Jain Irrigation Systems: Subsidiary Jain International Trading BV (JITBV) closed the transaction to merge the international irrigation business with Rivulis. Merged entity – Rivulis – In alliance with Jain International – will create a global irrigation and climate leader – being the second largest in the world with $750 million in revenues. Jain (Israel) BV (a step-down subsidiary of JITBV) will hold a strategic minority stake of 18.7 percent in Rivulis Pte Ltd post merger.
JSW Steel: Ministry of Coal has declared JSW Steel as a preferred bidder in an auction for two coal mines in Chattisgarh & Jharkhand. It is the preferred bidder for the Sitanala coking coal block in Jharia Coalfield in Jharkhand with projected coal resources of 108.85 million tonnes and Parbatpur Central Coking Coal Block in Jharia Coalfield with 235.718 million tonnes. The company is the preferred bidder for Banai & Bhalumuda coal block in Mand-Raigarh coalfield in Chattisgarh with projected coal resources of 1,376.057 million tonnes.
Lupin: The US Food and Drug Administration (USFDA) has issued a Form-483 with 10 observations for the company's Pithampur Unit-2 manufacturing facility. The said facility was inspected by the USFDA from March 21 to March 29.
Shree Renuka Sugars: The company has commenced ethanol production from expanded capacity at Athani (from 300 KLPD to 450 KLPD) and Munoli plants (from 120 KLPD to 500 KLPD).
Godrej Properties: The company increased its stake to 74% from 25.1% in both Wonder City Buildcon and Godrej Home Constructions, making them its subsidiaries.
Bandhan Bank: The lender will transfer loans from banking units and SEL written-off portfolio with outstanding of Rs 2,614.03 crore and non-performing assets worth Rs 2,316.32 crore to asset reconstruction company for Rs 369.20 crore and Rs 370.62 crore, respectively.
Mahindra Lifespaces Developers: The company has transferred 9.24 acres of residential land in Chennai's Mahindra World City to Alliance Group. The land parcel will be developed as a multi-storey residential project under the latter's brand Urban Rise.
Lumax Industries: The company has appointed Ravi Teltia as vice president and chief financial officer of the company, with effect from April 1, 2023, after Shruti Kant Rustagi stepped down from the office. Meanwhile, Kenjiro Nakazono resigned as a whole-time director of the company, effective April 7, 2023.
JSW Energy: JSW Neo Energy, a wholly-owned subsidiary of the company, has completed the acquisition of 1,753 MW of renewable energy assets from Mytrah Energy (India).