Market Opening - An Overview
Nifty futures on the Singapore Exchange were trading 0.34% higher at 17,789.50, signalling that Dalal Street was headed for a positive start on Wednesday.
Asian equities were trading lower after the Federal Reserve chair reiterated fighting inflation will require higher interest rates for a longer time. The Nikkei 225 index fell 0.56% and Topix was down 0.08%. The Hang Seng fell 0.16% and the CSI 300 index slipped 0.03%.
Indian rupee rose 3 paise to 82.7 against the US dollar on Tuesday.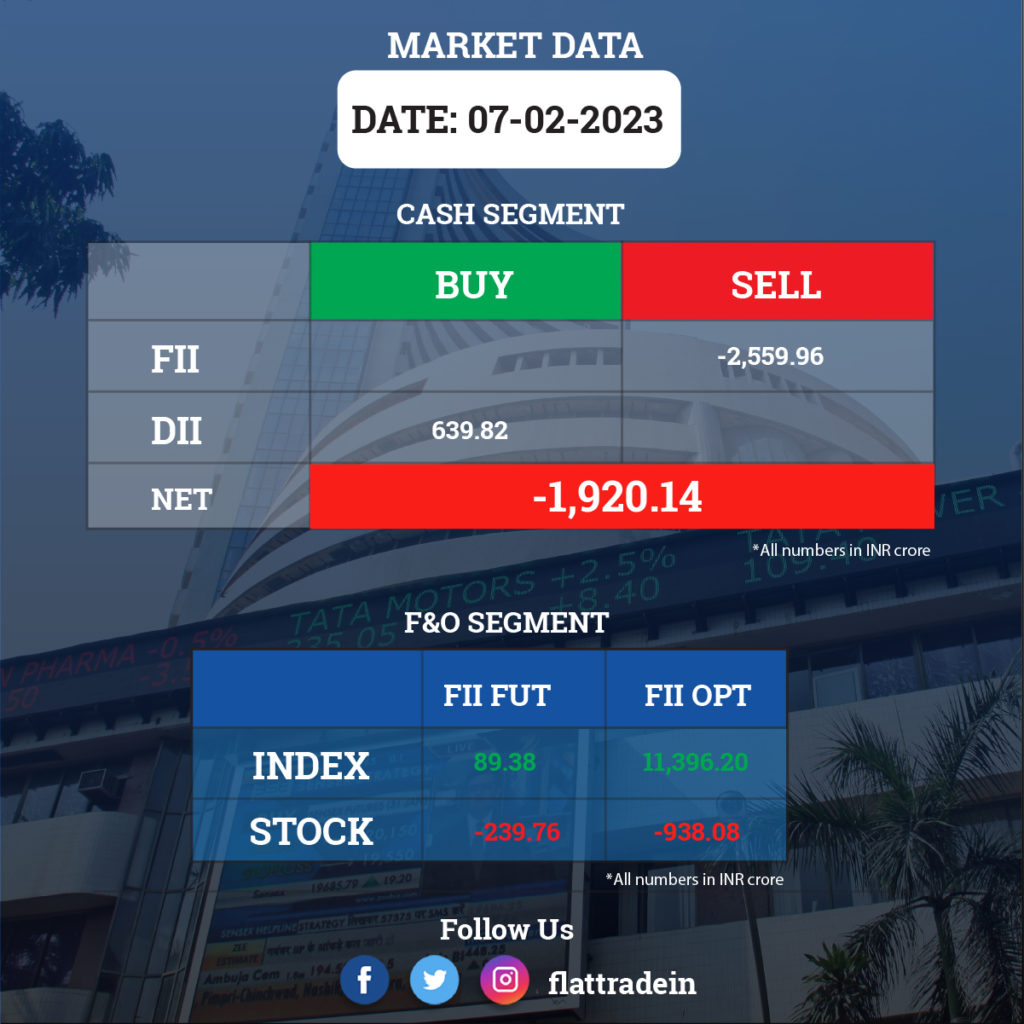 Shree Cement, Adani Power, Adani Wilmar, Cummins India, Escorts Kubota, Dreamfolks Services, Endurance Technologies, Equitas Small Finance Bank, GATI, Gujarat Pipavav Port, Graphite India, HG Infra Engineering, Honeywell Automation India, IRCON International, ITD Cementation India, Minda Corporation, Samvardhana Motherson International, Narayana Hrudayalaya, Oberoi Realty, Piramal Enterprises, Speciality Restaurants, Symphony, Tracxn Technologies, Trent, and Windlas Biotech will report their quarterly earnings today. 
Hero MotoCorp: The two-wheeler major has recorded a 3.6% YoY increase in standalone profit at Rs 711 crore for the quarter ended December FY23. Revenue was at Rs 8,031 crore in the reported quarter, up by 1.9% from the year-ago period. EBITDA fell by 3.7% YoY to Rs 924 crore with the margin declining 70 bps for the quarter. The company announced an interim dividend of Rs 65 per share.
Bharti Airtel: The telecom operator has reported a 26% decline sequentially in consolidated profit at Rs 1,588 crore for the three-month period ended December FY23, impacted by licence fee provision. Revenue from operations for the quarter grew by 3.7% QoQ to Rs 35,804 crore, with average revenue per user climbing by Rs 3 to Rs 193 for the quarter. On the operating front, EBITDA increased by nearly 5% QoQ to Rs 18,453 crore with a margin expansion of 101 bps for the same period.
Ambuja Cements: The company reported a consolidated net profit of Rs 488 crore for the three months ended December 2022. The profit was higher by 13%, compared with Rs 431 crore in the same quarter last year. Revenue from operations rose 4% to Rs 8,036 crore for the third quarter as against Rs 7,710 crore in the corresponding quarter of last year. The company's EBITDA fell 6% YoY to Rs 1,138 crore during the quarter under review. EBITDA margins fell to 14.6%, compared with 16.2% a year ago. The company reported volume growth of 7% quarter-on-quarter at 13.7 MTPA, supported by an increase in blended cement (clinker factor reduced from 60.1% to 59.5%), better route planning and higher operational synergies with its subsidiary, ACC.
Adani Green Energy: The renewable energy arm of the Adani Group has registered a 110% YoY increase in consolidated profit at Rs 103 crore for the December FY23 quarter despite weak operating performance and exceptional loss, supported by other income and strong topline. Revenue for the quarter at Rs 1,973 crore increased by 41% YoY, while EBITDA fell 18.2% YoY to Rs 853 crore with the margin declining 3,127 bps to 43.23% for the same period.
Sobha: The south-based real estate firm has reported a 48% YoY decline in consolidated profit at Rs 31.8 crore for the quarter ended December FY23. Revenue surged 40% YoY to Rs 868.2 crore for the quarter, with a highest-ever quarterly sales volume of 1.48 million square feet, up 12% YoY and best average price realisation of Rs 9,653 per square feet, up 22% YoY. However, EBITDA fell 41% YoY to Rs 88.8 crore for the quarter with a margin of 1,393 bps YoY to 10.22% in the same period.
PC Jeweller: Consortium of four banks – IDBI Bank, Indian Bank, Bank of India and Karur Vysya Bank – has issued their loan recall notices to the company. The legal proceedings between State Bank of lndia (lead bank) and the company are continuing, and the next date of hearing is on February 28. The company's showrooms (barring three – Preet Vihar, Pitampura and Kingsway Camp – in Delhi) are operational.
Aurobindo Pharma: The company's step-down subsidiary Aurolife Pharma has received approval from the US Food and Drug Administration to manufacture and market the Diclofenac sodium topical solution. Diclofenac sodium topical solution is used in the treatment of osteoarthritis of the knees. The product is expected to be launched in Q1FY24, and has an estimated market size of around $487 million for 12 months ending December 2022, according to IQVIA.
Kalyan Jewellers: The company reported a 10.34% YoY increase in its consolidated profit after tax to Rs 148.43 crore for the quarter ended December 2022. The company reported a net profit of Rs 134.52 crore in the same quarter of the previous fiscal year. Kalyan Jewellers registered a 13% increase in consolidated revenue at Rs 3,884 crore during the October-December 2022 period, which stood at Rs 3,435 crore in the year-ago period. Its EBITDA were recorded at Rs 327 crore compared to Rs 299 crore in the same quarter of the previous year.
Thermax: The energy and environment solutions provider has registered 59% YoY growth in profit at Rs 126.2 crore for the quarter ended December FY23, driven by good performance in all three segments (energy, environment and chemical) and last year's margins were affected by higher commodity and freight costs, which have now stabilised. Revenue climbed 27% YoY to Rs 2,049 crore for the quarter, while EBITDA at Rs 161 crore for the quarter grew by 42.4% with a margin expansion of 86 bps compared to the year-ago period. As on December 2022, Thermax Group had an order balance of Rs 9,859 crore, up 33% YoY, but order booking for the quarter was 10% lower at Rs 2,204 crore.
Tata Teleservices (Maharashtra): The company's net loss narrowed to Rs 279.79 crore on year in the fiscal third quarter on the back of lower operating expenses, and marginally lower finance costs and depreciation. Net loss for the same quarter last fiscal was Rs 302.30 crore. The company, which announced its December quarter numbers Tuesday, saw a marginal dip in revenue from operations at Rs 281.90 crore as compared to Rs 284.22 crore in the same period last fiscal. EBITDA was up 8.25% to Rs 128.13 crore from Rs 118.36 crore in Q3FY22. EBITDA growth was driven by 8.58% decrease in operating expense at Rs 140.23 crore against Rs 153.40 in the December 2021 quarter.
CreditAccess Grameen: The company reported a 85.3% YoY surge in third quarter net profit at Rs 217 crore, beating market expectations. The rise in profit was backed by robust business growth and lower credit cost. Its net interest income rose by 38% at Rs 567 crore. Total income grew by 32% at Rs 910 crore. Impairment of financial instruments dipped by 24% at Rs 89.4 crore. Pre-provision operating profit increased by 38.7% YoY at Rs 380 crore. Net interest margin for the quarter was 11.9%, which is 44 basis points higher than the NIM in the year ago period but 11 bps lower than what it was in the preceding quarter. The gross NPA ratio was at 1.7% at the end of December 2022, as against 6% in the year-ago period.
BSE Ltd: The company reported a 16% decline in net profit to Rs 51.6 crore in three months ended December 2022. In comparison, the exchange had posted a net profit of Rs 61.3 crore in the year-ago period, BSE said in a statement. However, the bourse's revenue from operations grew 6% to Rs 204 crore in the quarter under review from Rs 192.8 crore in the October-December quarter of the preceding fiscal. In addition, the board of BSE has approved the divestment of 2.5% stake of BSE in Central Depositary Services Ltd due to regulatory norms. The exchange's mutual distribution platform, BSE StAR MF, saw the total number of transactions surge by 37% to reach 6.86 crore during the quarter ended December 2022, from 5.02 crore in the same period last year.
ONGC: Oil and Natural Gas Corporation Limited (ONGC) is in talks with global oil majors to infuse state-of-the-art technologies in its aggressive exploration push in deepwaters of India. ONGC held discussions with the American oil and gas giant ExxonMobil, the Norwegian energy multinational Equinor, the American oil services conglomerate Baker Hughes, and the French research organization Institut Francais du Petrole on various issues like Technology, and deepwaters.
NDTV: The media company said that its profit had more than halved in the third quarter on weak advertising demand. The broadcaster's consolidated net profit decreased to Rs 12.9 crore in the third quarter from Rs 27.6 crore a year before. Revenue fell 9.4 per cent YoY to Rs 105.4 crore for the quarter.
Deepak Nitrite: The company's net profit slipped 13.8 per cent to Rs 209.1 crore as against Rs 242.5 cr a year ago. Revenue rose 15.6 per cent YoY to Rs 1,991.1 crore. Operating margin came lower at 15.8 per cent as compared to 20.4 per cent the previous year.
Rail Vikas Nigam: The company (RVNL) has emerged as the lowest bidder (L1) for the North Western Railway project worth Rs 69.48 crore. The letter of award is awaited.
The Phoenix Mills: The company has reported a net profit of Rs 176 crore as against Rs 988 crore in the year-ago period. Revenue from operations stood at Rs 683 crore for the December quarter, compared with Rs 425 crore in the year-ago period.
Union Bank of India: The state-owned lender plans to raise funds through the sale of certificates of deposit maturing in one year, Reuters reported. The state-run lender will offer a yield of 7.72% on the issue and has received commitments worth around Rs 1500 crore so far.
Bayer CropScience Ltd (BCSL): The company posted a 58.60% increase in its net profit for the December quarter of fiscal year 2023 at Rs 134.5 crore. It had posted a net profit of Rs 84.8 crore during the corresponding quarter of the previous fiscal year. In a regulatory filing, Bayer CropScience said its revenue from operations rose 4.82% to Rs1,037.9 crore during the December quarter as against Rs 990.1 crore in the same period a year ago.