Market Opening - An Overview
Nifty futures on the Singapore Exchange were trading 0.28% lower at 18,612.50, signalling that Dalal Street was headed for negative start on Thursday.
Asian shares were trading higher after the US House of Representative overwhelmingly passed the debt ceiling bill to raise the federal debt limit. The Nikkei 225 index rose 0.29% and the Topix gained 0.43%. The Hang Seng advanced 0.68% and the CSI 300 index climbed 0.58%.
Indian rupee remained little changed at Rs 82.73 against the US dollar on Wednesday.
India's Gross Domestic Product (GDP) growth rate rose for the first time in three quarter to 6.1% in January-March, the Ministry of Statistics and Programme Implementation said. The GDP rose at 4.5% in the preceding three months and 4% in the year-ago quarter. For FY23, the statistics ministry's first provisional estimate has pegged the GDP growth at 7.2%, 20 basis points higher than the second advance estimate of 7%.
Meanwhile, the growth in eight core infrastructure industries moderated to 3.5% in April 2023 on an annual basis after hitting a five-month low of 3.6% in March 2023 due to a decline in the output of crude oil, natural gas, refinery products and electricity.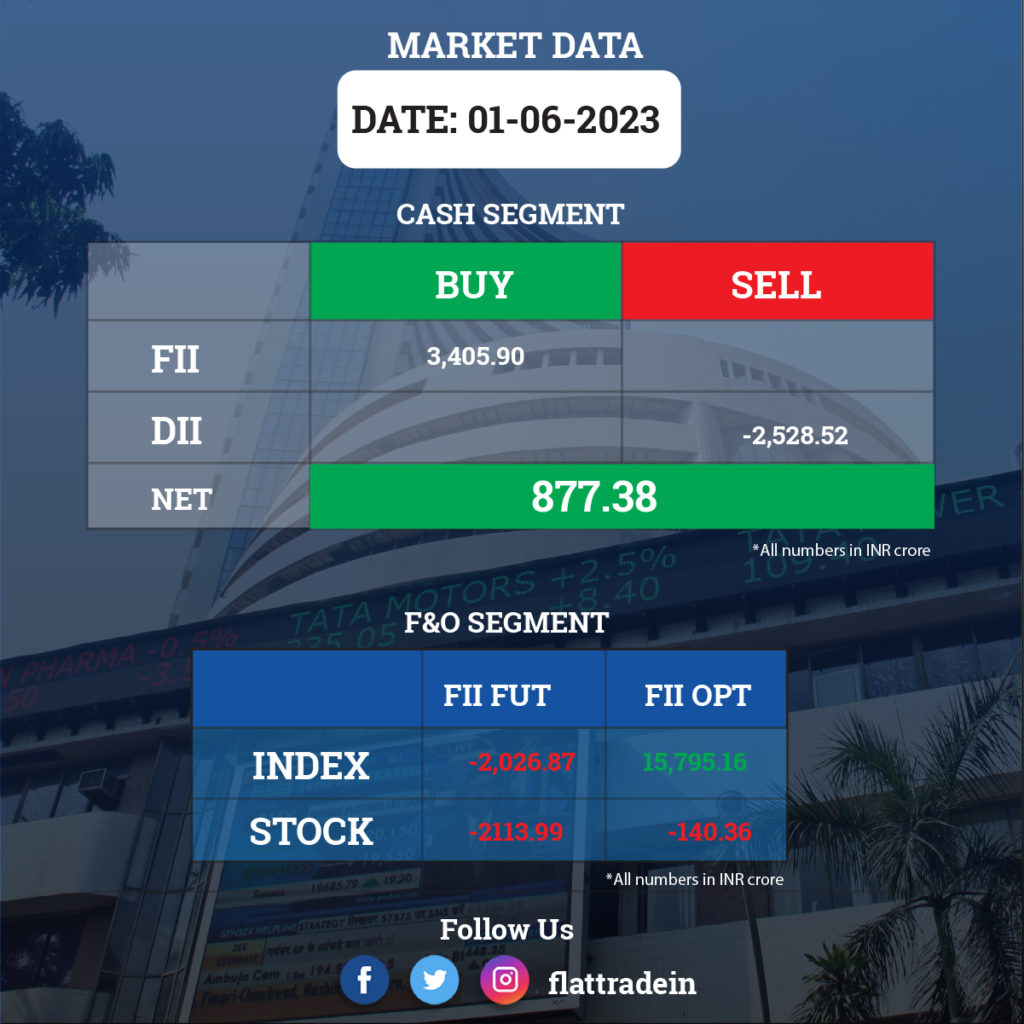 Coal India: The Government of India plans to sell 9.24 crore equity shares or 1.5% stake in the coal mining company on June 1 and June 2. It also has an option to additionally sell another 9.24 crore shares in the company, in case the oversubscription option is exercised. The offer for sale issue will open on June 1 for non-retail investors and retail investors can participate in the offer on June 2. The floor price of the offer has been fixed at Rs 225 per share, which is at a 6.7 percent discount to Wednesday's closing price of Rs 241.
Mahindra & Mahindra (M&M): The automaker's subsidiary Mahindra Holdings (MHL) completed the sale of 30% stake of Mahindra Susten Pvt. Ltd. (MSPL) to 2452991 Ontario Limited (2OL), a wholly owned subsidiary of Ontario Teachers' Pension Plan Board. As on date MHL holds 70% of the paid-up equity share capital of MSPL. Additional sale of 9.99% stake of Mahindra Susten will be completed by March 31, 2024.
Vedanta: Vedanta Resources, the parent company of mining giant Vedanta, said it has further repaid $400 million of loans, cutting gross debt to $6.4 billion.
South Indian Bank (SIB): The bank said its board of directors has approved the panel of candidates for the position of the Managing Director & Chief Executive Officer (MD & CEO) of the bank. The bank will be submitting its application to Reserve Bank of India with the names of the candidates, seeking approval for the appointment of the new MD & CEO. The bank also appointed General Manager Nandakumar G as the head of inspection and vigilance department and head of internal audit and chief of internal vigilance, effective June 1.
HFCL: The company will spend Rs 470 crore to expand current optical fibre capacity to 33.9 million fibre kilometer per annum from 10 million fibre kilometer per annum at its manufacturing facility in Telangana.
HDFC Life Insurance Company: Promoter entity Abrdn (Mauritius Holdings) 2006 Limited has exited the life insurance company by selling entire 3.56 crore shares or 1.66% stake, to various investors, at an average price of Rs 570.60 per share. The stake sale was worth Rs 2,036.7 crore. With the stake sale, abrdn will hold nil equity shares in the company.
MOIL: The state-owned manganese ore mining company has increased prices for some of manganese ore grades (BGF452, CHF473 and GMF569) by 10 percent, with effect from June 1. The company has maintained the prices of ferro grade, SMGR, fines and chemical grades, and also electrolytic manganese dioxide price for June.
Tata Motors: The company is planning to buy back external commercial bonds worth $250 million from bond holders.
Bank of India: The bank hiked marginal cost of funds-based lending rates by five basis points across tenures, effective June 1.
Laurus Labs: The company will acquire additional 7.24% stake in Immunoadoptive Cell Therapy for Rs 80 crore. Some promoters and senior management of the company will also acquire 0.54% stake in ImmunoACT for Rs 4 crore through secondary purchases. The company already holds 26.62% stake in ImmunoACT. Post the deal, Laurus Labs' stake in ImmunoACT will increase to 33.86%.
Vinati Organics: The company bought additional 65.97 lakh shares of subsidiary Veeral Organics for Rs 6.59 crore.
Lemon Tree Hotels: The company will acquire 9.67 lakh compulsorily convertible preference shares of Fleur Hotels from APG Strategic Real Estate Pool NV at Rs 505 apiece, resulting in a total outgo of Rs 48.84 crore.
Steel Authority of India: Amarendu Prakash has joined the company as chairman with effect from May 31, 2023.
Rainbow Children's Medicare: R Gowrisankar has resigned as Chief Financial Officer (CFO) of the healthcare company due to personal reasons with effect from May 31. The company has appointed Vikas Maheshwari as CFO of the company with effect from June 1.
Gati: Pirojshaw Aspi Sarkari has stepped down as the chief executive officer of Gati to take charge as managing director and CEO of material subsidiary Gati-Kintetsu Express, effective immediately. Shashi Kiran Shetty, chairman and managing director of Gati, has been appointed as non-executive chairman of Gati-Kintetsu Express.
PNC Infratech: Bhupinder Kumar Sawhney has stepped down as chief financial officer of the company on health grounds with effect from closing of business hours of May 31, 2023.
Goldstone Technologies: GTL is partnering with Quantron AG, a German e-mobility major, to establish a joint venture to address the high potential fleet management market. The fleet management market is valued at around $70 billion or Rs 5.8 lakh crore by 2032. By focusing on zero-emission transport, the JV aims to offer OEM-agnostic mobility as a service (MaaS) solutions, addressing efficiency and digitalization challenges.