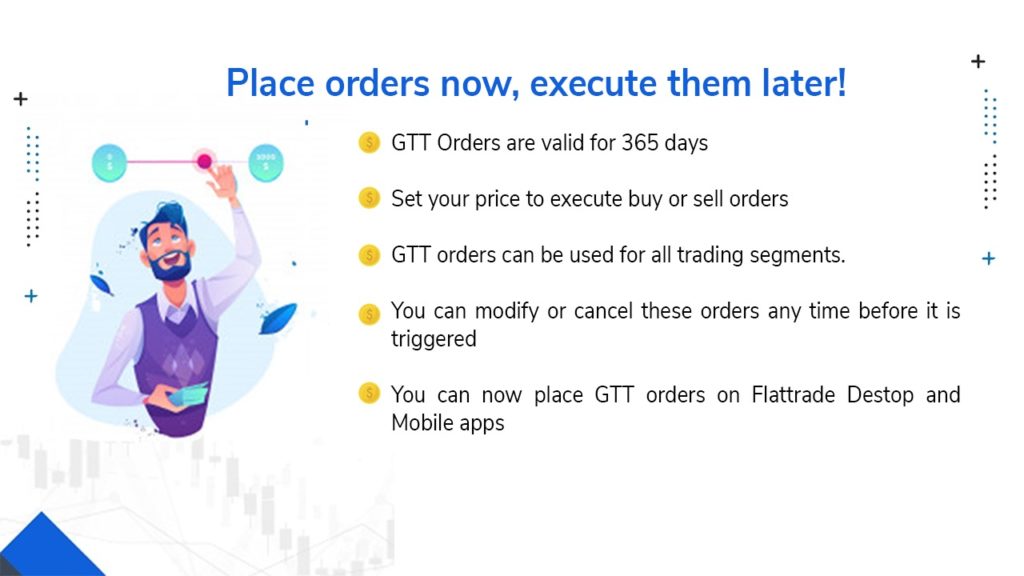 GTT orders can be placed for all the segments of trading. GTT allows the investor to execute a purchase or sell order with a specific set price. GTT is valid for a year until it is triggered. Good till triggered orders does not require margin while placing the order, however, margin is validated when the order is triggered.
In case of options orders, investor can place a GTT order with a strike price to trigger the options order. However, the GTT order will the validated upon trigger by the exchanges.
For example, an investor wants to buy ABC share at a price of Rs.2000 where the market price is Rs.2500. The investor can place GTT order at a buy price of Rs.2000 and the order stays in the system until the price criteria is satisfied. Once the share price drops to Rs.2000, the GTT order is triggered and the purchase order is executed.
Benefits of FLATTRADE GTT orders:
GTT orders can be placed for all trading segments
GTT orders can be placed any time including trading holidays
GTT orders can be modified or cancelled at any time before it is triggered
No margin required while placing GTT orders an Margin is validated only at the time of triggering the orders
GTT orders can be placed through both our Desktop application and FLATTRADE mobile apps
GTT orders can be placed for the validity – day or GTT