Data released by India's government agencies showed inflation being at elevated levels due to rising food inflation and unfavourable base.
India's benchmark inflation rate, measured by the Consumer Price Index (CPI) rose to a seven-month high of 6.01 per cent on a yearly basis in January 2022, data released by the Ministry of Statistics and Programme Implementation showed. The CPI-based retail inflation was 4.06 percent in January 2021 and 5.66 per cent in December 2021. The RBI has forecast that CPI inflation will average 5.7 percent in the first quarter of 2022.
The Consumer Food Price Index stood at 5.43 per cent in January 2022 as against 4.05 percent in the preceding month of December 2021. The latest inflation number based on CPI has breached the upper threshold level of 6 per cent set by the India's central bank.
According ICRA rating agency , the sequential increase in the CPI inflation in January 2022 was driven by food and beverages, clothing and footwear, while pan, tobacco and intoxicants, fuel and light, miscellaneous items and housing displayed some softening in prices.
The rating agency expects a change in stance in June 2022, followed by two repo rate hikes of 25 basis points each in August 2022 and October 2022, guided by ICRA's view that inflation will not moderate appreciably in H1 FY2023.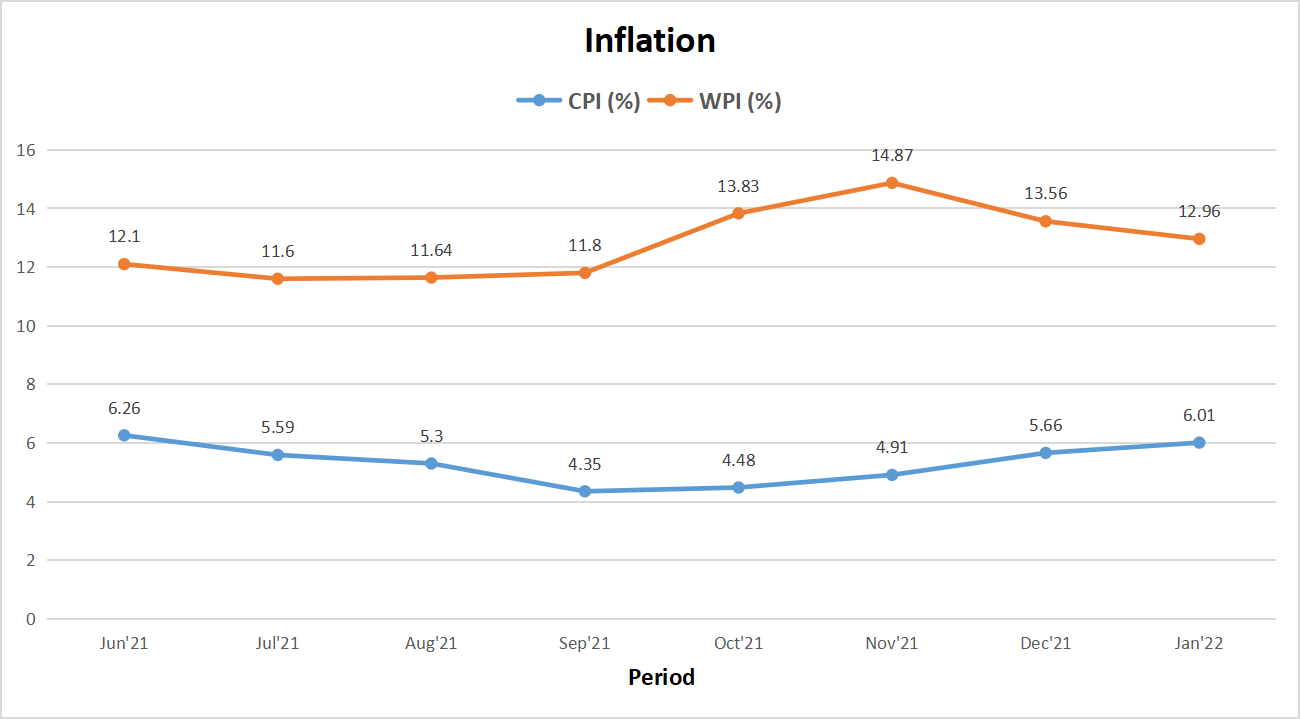 *For enlarged image, right click on the chart and click open image in a new tab

Meanwhile, inflation based on Wholesale Price Index (WPI) remained at double digits in January for the 10th month in a row, as firms struggle with rising input costs. Wholesale prices in January 2022 rose 12.96% from the year-ago period, but was less than December's 13.56% and November's 14.87% rise in 2021, government data showed.
The high rate of inflation in January, 2022 is primarily due to rise in prices of mineral oils, crude petroleum & natural gas, basic metals, chemicals and chemical products, food articles etc as compared the corresponding month of the previous year, according to government release.
To read about inflation, click here
To read about relationship between inflation, interest rate and other asset classes, click here