Indian indices closed lower on Friday amid heavy selling across sectors with metals being the worst hit. The Nifty closed 0.71% lower to 16,450.50 and Sensex slipped 0.54% to 55,329.32.
Indian rupee slipped 14 paise to close at 74.39 against the US dollar on Friday.
Among Nifty sectoral indices, top losers were Metals (-6.43%), PSU Bank (-3.44%), Pharma (-2.56%), Auto (-1.62%) and Bank (-1.46%). FMCG (2.27%) was the only sector which ended in the green.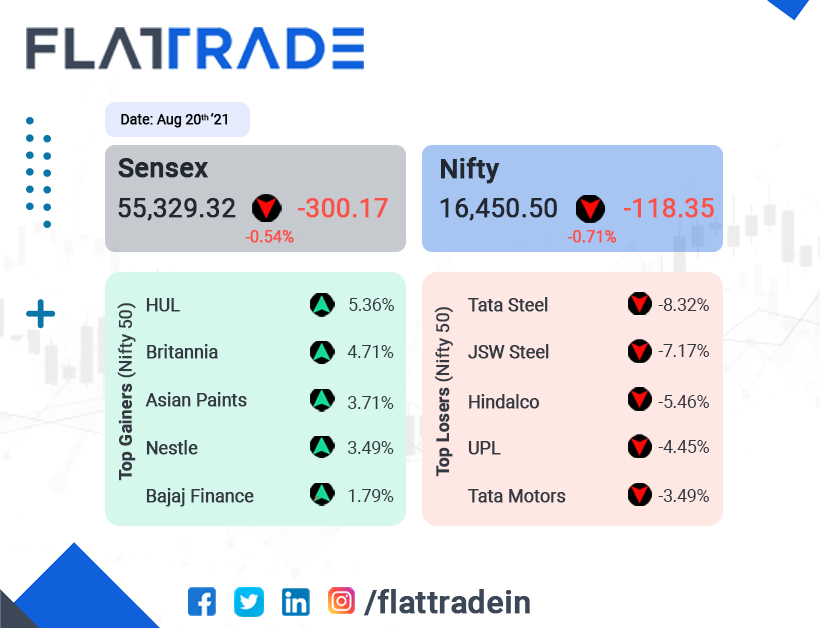 Hindutan Unilever: Shares of the FMCG major hit a record high of Rs 2630 on the Bombay Stock Exchange in intraday trade and its market capitalisation crossed Rs 6 trillion mark as the  company expects strong recovery in the rural market and analysts expect faster growth in its nutrition and discretionary portfolio. Shares of the company closed 5.36% higher at Rs 2619.40.
Ujjivan Small Finance Bank: Shares of the lender plunged 18.76% to close at Rs 19.70 after hitting a record low of Rs 19.40 on Friday after the bank announced Nitin Chugh will be resigning as MD and CEO of the company with effect from September 30. Meanwhile, the bank added four directors to the board including two independent directors.
Aarti Industries: The company's shares fell 2.84% to close at Rs 930.05  on Friday after the company said it was hiving off its pharma unit as a separate company. The new company will be called Aarti Pharmalabs. For every 4 fully paid up equity shares of Rs 5 each held in Aarti Industries, shareholders will receive 1 fully paid up equity shares of Rs 5 in Aarti Pharmlabs.
CarTrade Tech: The company had a tepid response on its stock market debut and its shares plunged about 9% to Rs 1476, from an issue price of Rs 1618 amid a fall in benchmark indices and risk-off sentiments among investors. Analyst are suggesting investors who have been allotted the shares to hold on to it and they are also recommending new investors to avoid fresh buying in the stock. Shares of the company closed 7.23% lower to Rs 1501.05.
Natco Pharma: The drugmaker's shares fell 5% on Friday in intraday trade after the company announced that a US district court has ruled against the company and its partner Alvogen in a patent litigation related to AbbVie's Imbruvica. Natco said it will review the judgement and appeal the judgement, adding, it will continue to defend its stance.