Benchmark stock indices closed higher, helped by gains in RIL, ITC, FMCG, energy and capital goods stocks. The Sensex closed 0.27% higher at 58807.13 and the Nifty ended 0.27% higher at 17516.85.
Top sectoral gainers in BSE were Capital Goods [1.98%], FMCG [1.46%], Energy [1.38%], Telecom [1.14%] and Industrials [1.08%]. Top losers were BSE Bankex [-0.53%], Finance [-0.39%] and Consumer Durables [-0.27%].
Indian rupee fell 7 paise to close at 75.52 against the US dollar on Thursday.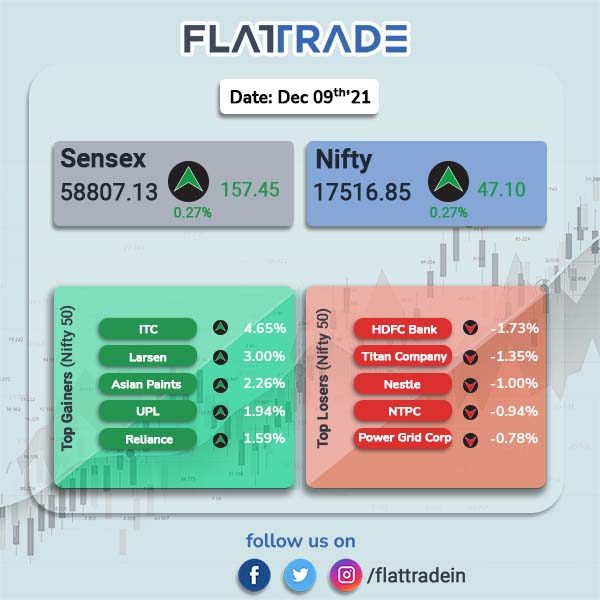 Paytm: Shares of the company closed 2.61% higher after the company's payments bank received Scheduled Bank status from Reserve Bank of India (RBI) and has been included in the Second Schedule to the Reserve Bank of India Act, 1934. The bank can participate in government and other large corporations issued Request for Proposals (RFP), primary auctions, fixed-rate and variable rate repos, and reverse repos, along with participation in Marginal Standing Facility. It would also be eligible to partner in government-run financial inclusion schemes.
Vodafone Idea Limited: Shares of the company closed over 14% after a Business Standard report on Wednesday said that the company has raised money to pay bondholders as the due date approaches. The report said that the company has managed to raise funds for the payment of bondholders' interest of about Rs 6,000 crore on time from December 13 to March 2022.
Biocon: The Indian drugmaker is in talks with US-based Mylan for a merger of their biosimilar businesses, according to CNBC-TV18 reports, citing people it did not name. Biocon is looking for a controlling stake in the merged business and both the companies may even float an IPO of biosimilar business after the merger. Biocon and Mylan have declined to comment, the report added.
Tata Motors: The automaker has lined up an investment of more than Rs 7,500 crore in the next 4-5 years to strategise a road map for the commercial vehicle business, with electric vehicles at its core, people in the know said, according to a report by Economic Times. The company aims to lead the EV segment in the commercial market as it did with conventional powertrains before, Girish Wagh, executive director–commercial vehicle business unit, told the newspaper.
Dr Reddy's Laboratories: The drugmaker said that it has launched Valsartan tablets, which is used for treatment of high blood pressure and heart failure, in the US market. The tablet is the generic therapeutic equivalent of Diovan, approved by the US Food and Drug Administration, the company said in a regulatory filing. In other news, Dr Reddy's and Prestige BioPharma Ltd, a Singapore-based firm, announced that the two companies have entered into a binding agreement for an exclusive partnership for the supply and commercialisation of the former's proposed Trastuzumab biosimilar in select countries in Latin America and Southeast Asia.
Airtel: The telco launched 'Airtel India Startup Innovation Challenge' in partnership with Invest India that will let early-stage technology companies demonstrate differentiated solutions. The challenge invites early-stage Indian startups to demonstrate solutions for 5G, IoT, Cloud Communications, Digital Advertising and Digital Entertainment.
Maruti Suzuki: The automaker said that its premium hatchback Baleno has crossed the cumulative sales milestone of 10 lakh units. The company's Senior Executive Director (Marketing and Sales) Shashank Srivastava said since its launch, Baleno has enjoyed leadership in the premium hatchback segment and commands a market share of over 25 per cent.
TVS Motor Company: The two-wheeler maker said that it has partnered with Grupo Q to strengthen its presence in Central America. As a part of this association, Active SA Motors, a subsidiary of Grupo Q, will facilitate the opening of three flagship outlets and about 50 dealerships for TVS Motor in a phase-wise manner across Nicaragua and Costa Rica. Active Motors will also support TVS with dedicated sales, service, spares and customer relationship management (CRM).
Karur Vysya Bank: The private-sector lender said it will cut its base rate and benchmark prime lending rate to 7.75 per cent and 12.75 per cent, respectively, with effect from December 15. The lender will cut its base rate by 0.25 per cent to 7.75 per cent and also revise the benchmark prime lending rate (BPLR) by 25 basis points to 12.75 per cent.