Benchmark equity indices closed higher in a volatile session, aided by metal, pharma and energy stocks. The Sensex closed 0.14% higher to 61235.30 and the Nifty rose 0.25% to 18257.80.
Top gainers were Nifty Metal [3.48%], Pharma [1.57%] and Energy [1.23%]. Top losers were Nifty Realty [-0.72%], Bank [-0.67%] and Private Bank [-0.61%].
Indian rupee gained 3 paise to 73.88 against the US dollar.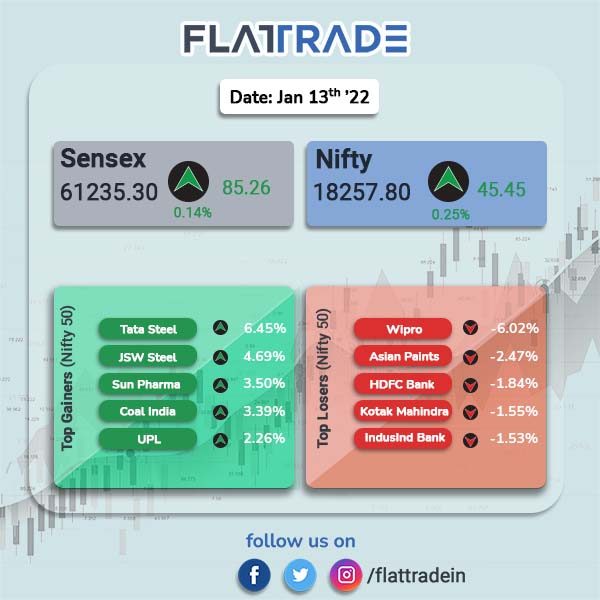 Adani Group: The conglomerate and Posco have signed a non-binding agreement to explore business cooperation opportunities, including the establishment of a green integrated steel mill at Mundra, Gujarat. The investment is estimated to be as much as $5 billion. The agreement also hints at further collaboration at group business level in sectors such as renewable energy, hydrogen, logistics.
Vedanta Group: The group is willing to spend $12 billion to acquire Bharat Petroleum Corp, said Anil Agarwal, Chairman of Vedanta Group in an interview to Bloomberg. He added, "We are not going to bid aggressively, but we will put the right price." The market cap of the company is about $11 billion to $12 billion, so this is the amount of investment we are looking at.
TVS Motor Company: The two-wheeler maker announced a strategic partnership with Swiggy to accelerate electrification in commercial mobility segment. TVS Motor and Swiggy will test the implementation of TVS Motor's electric vehicles for food delivery.
ITD Cementation India Ltd: The company has secured orders worth Rs 4,600 crore from Chennai Metro Rail, Adani Ahmedabad International Airport and Sikkim University. With this, the company has bagged orders worth Rs 6,500 crore in FY22 till date.
CESC Ltd: The company's net profit fell 21.7% on a sequential basis to Rs 184 crore in Q3FY22. Revenue also declined by 20.5% QoQ to Rs 1662 crore in the report quarter.
AurionPro Solutions Ltd: The company secured an order from a joint venture of Tata Power and Odisha Government that pertains to the setting up and operationalisation of data centre. The project is valued at nearly Rs 8 crore and it is expected to be delivered over six months in two phases.
Nazara Technologies: The diversified gaming and sports media company's subsidiary Nodwin Gaming has acquireed Superhero Brands for Rs 4.9 crore. Superhero is engaged in the business of manufacturing and selling licensed character merchandise.
Ujjivan Small Finance Bank: The RBI has approves appointment of Ittira Davis as MD & CEO of the bank and the appointment is approved for a period of one year from January 14. Nitin Chugh stepped down as MD & CEO of Ujjivan Small Finance Bank on September 30 last year.
Equitas Small Finance Bank: The lender in its business update said that the gross advance in Q3 rose 3% QoQ to Rs 19,642 crore. Total deposits were down 1% QoQ to Rs 18,094 crore. The bank's CASA ratio stood at 50.80% in Q3 vs 45.30% in Q2 of FY22.
Pricol: Shares of the company closed 7.7% higher after rating agency ICRA reaffirmed ratings of instruments of the company with a stable outlook. ICRA said that it has factored in Pricol's strong revenue and margin growth in FY2021 and H1 FY2022.