Benchmark stock indices snapped a six-day losing streak and ended higher helped by gains in in bank, auto and power stocks. The Sensex rose 0.34% and the Nifty gained 0.38%.
The broader indices outperformed their larger peers with S&P BSE MidCap gaining 1.5% and S&P BSE SmallCap rising 1.15%
Top gainers among Nifty sector indices were PSU Bank [2.91%], Realty [2.61%], Auto [2.27%], Private Bank [1.54%] and Energy [1.22%]. Top losers were IT [-0.75%], FMCG [-0.35%] and Pharma [-0.17%].
Indian rupee was flat at 77.44 against the US dollar on Monday.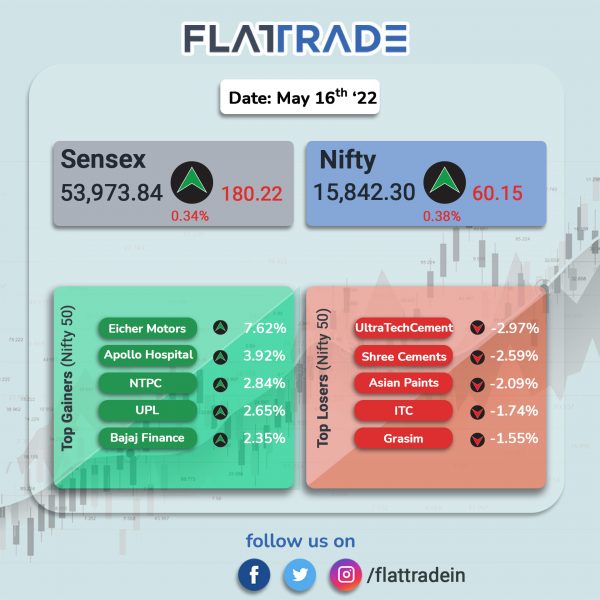 HDFC Bank: The lender has received an approval from the Reserve Bank of India (RBI) for setting up a step-down subsidiary through HDFC Securities. The subsidiary will offer broking and clearing services in International Financial Services Centre (IFSC) at GIFT City, on terms as prescribed by the RBI.
Bharat Forge: The company reported a 9.3% increase in its consolidated net profit at Rs 231.86 crore in the fourth quarter ended March 2022, driven by higher revenue. The company had posted a consolidated net profit of Rs 212.12 crore in the same period of the preceding fiscal. Revenue from operations during the quarter under review stood at Rs 3,573.09 crore as against Rs 2,082.85 crore in the year-ago period. The board has recommended a final dividend of Rs 5.50 per equity share.
Tata Power: The company's subsidiary Tata Power Solar secured an order of 300 Mega Watt solar project worth Rs 1,731 crore from NHPC. The project is located in Rajasthan and it will be developed under CPSU scheme of IREDA. The project will be completed in 18 months and aims to generate 750 million units annually. Solar cells and modules made in India would be used in the project installation.
Mindtree: The IT services company and global financial technology provider Finastra announced a partnership to bring Finastra's 'Fusion Payments To Go' payments technology in banks in the UK and Ireland, the Nordics, as a managed service. Mindtree will host Finastra's payments solution in the cloud and handle technology integration across the bank's existing solutions.
Paytm: The company's associate firm Paytm Insuretech Pvt. terminated the share purchase agreement to acquire 100% of Raheja QBE General Insurance Company. This comes after the share sale and purchase transaction were not consummated within the time period envisaged by the parties.
Supriya Lifescience: The company said that the European Directorate for the Quality of Medicines and Healthcare (EDQM), France and Italian Medicines Agency (AIFA), Italy completed joint audit of the company's API facility in Ratnagiri in Maharashtra. The inspection was conducted between May 9 and May 13, 2022.
Balkrishna Industries: Shares of the company rose 8.6% after it reported robust results. The company's consolidated revenue rose 30.83% to Rs 2,374.21 crore in Q4FY22 as against Rs 1,814.74 crore in the year-ago period. Its net profit fell 1.34% to Rs 374.84 crore in the reported quarter compared with Rs 379.95 crore in the year-ago period. The company's board recommended a final dividend of Rs 4 per share.
Triveni Engineering & Industries: The company reported 28.4% YoY rise in consolidated net profit to Rs 109.17 crore in Q4FY22. Revenue from operations fell 7.8% to Rs 1,070.03 crore in Q4 FY22 over Q4 FY21. EBITDA improved by 1.7% to Rs 177.66 crore in Q4FY22 from Rs 174.72 crore in Q4 FY21.
Century Plyboards (India): The company's net profit rose 9.37% to Rs 91.03 crore in the quarter ended March 2022 as against Rs 83.23 crore in Q4FY21. Sales rose 21.21% to Rs 895.26 crore in the quarter under review as against Rs 738.62 crore in the year-ago period.