Benchmark stock indices swung between negative and postive zones, finally, ending near the lows of the day weighed by losses in metal and energy stocks. On the daily chart, the Nifty formed a doji pattern. The Sensex fell 0.19% and the Nifty dropped 0.38%.
Smallcap and Midcap stocks bore the brunt of negative global cues. The Nifty Midcap 100 declined 1.87% and BSE SmallCap tumbled 2.11%.
Top losers among Nifty sector indices were Metal [-5.2%], Energy [-3.59%], Realty [-2.94%], IT [-1%] and PSU Bank [-0.79%]. Top gainers were Private Bank [0.755], Bank [0.60%], Financial Services [0.54%] and FMCG [0.49%].
Indian Rupee rose 13 paise to 77.33 against the US Dollar on Tuesday.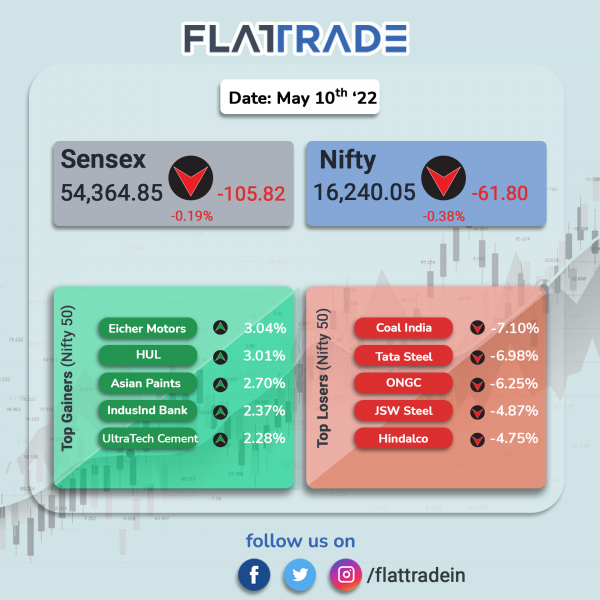 Asian Paints: The paint company's consolidated net profit was nearly flat at Rs 874.05 crore in Q4FY22, compared with Rs 868.89 crore in the year-ago period. This was due to higher input costs which weighed on operating profit margin. Revenue rose 19% to Rs 7,892.67 crore in Q4FY22 from Rs 6,651.43 crore in the corresponding peroid last fiscal.
Canara Bank: The state-owned lender is investigating a fraud in its housing finance unit Can Fin Homes, after a whistleblower complaint highlighted irregularities in certain accounts, Reuters reported citing sources. Fake income tax return documents had been submitted for those accounts, the source said. An internal committee was still probing the matter to find out more about the nature of the fraud.
MRF Ltd: The tyre manufacturer reported a 50.26 per cent decline in consolidated profit at Rs 165.21 crore for the fourth quarter ended March 2022, due to high input costs. It had posted a consolidated profit of Rs 332.15 crore in the same period of previous fiscal. The consolidated revenue from operations in the fourth quarter stood at Rs 5,304.82 crore in the quarter under review, as against Rs 4,816.46 crore a year-ago period.
Sun Pharmaceutical Industries Ltd: The drug manufacturer said that the US health regulator has issued a 'Form 483' with ten observations after inspecting its Halol-based manufacturing plant in Gujarat. The company said that it is preparing a response to the observations, which will be submitted to the US FDA within 15 business days.
Ramkrishna Forgings: The company bagged a multi-year export order worth Rs 105 crore per year from a leading trailer manufacturer in the U.S. The order pertains to supply of trailers for trucks and buses in the U.S. and the supplies are expected to commence from CY2023.
Rainbow Children's Medicare Limited: The company's shares made a weak stock market debut on Tuesday. The scrip got listed at Rs 510 apiece on the NSE, a discount of about 6% as compared to its IPO issue price of Rs 542 per share. Shares of the company closed Rs 450.20 apiece.
Ajanta Pharma: The drugmaker's consolidated revenue rose 15% to Rs 870 crore in Q4FY22 as against Rs 757 crore in the year-ago period. Net profit fell 5% YoY at Rs 151 crore from Rs 159 crore. EBITDA declined 20% to Rs 207 crore in the reported quarter from Rs 259 crore in the corresponding period of last year. The company's board has approved bonus issue of 1 new share of Rs 2 each for every 2 shares held by the shareholder.
CMS Info Systems Ltd: The company has posted a 14 per cent year-on-year (yoy) increase in net profit at Rs 64 crore in Q4FY22, compared with a net profit of Rs 56.1 crore in Q4FY21.The company's revenues from operations in Q4FY22 rose by 8 per cent to Rs 444.1 crore from Rs 410.3 crore in the year-ago period. Its operating margins improved by 280 basis points to 26.4 per cent in the fourth quarter of FY22.
Cipla: The drugmaker said it has launched a COVID-19 RT PCR testing kit in the country in partnership with diagnostics firm Genes2Me. It will be responsible for the distribution of RT Direct kits in India and has commenced supply of the same, it added.
Polycab India: The company's consolidated net profit increased to Rs 322.15 crore in Q4FY22 from Rs 269.31 crore in the year-ago period. Its consolidated net revenue rose to Rs 3969.98 crore in the reported quarter from Rs 2,942.74 crore in the corresponding period last fiscal. The company recommended a dividend of Rs 14 per equity share of face value of Rs 10 each for FY22, subject to shareholders' approval.