Benchmark stock indices staged a recovery helped by gains in RIL, pharma and metal stocks. The Sensex closed 2.91% higher and the Nifty surged 2.89%.
In broader markets, Nifty Midcap 100 rose 2.2% and BSE Smallcap climbed 2.13%.
Top gainers in Nifty sectoral indices were Media [4.47%], Realty [4.21%], Metal [4.2%], Pharma [3.69%] and PSU Bank [3.02%]. All indices closed in positive territory.
Indian rupee was spiked 17 paise to 77.54 against the US dollar on Friday.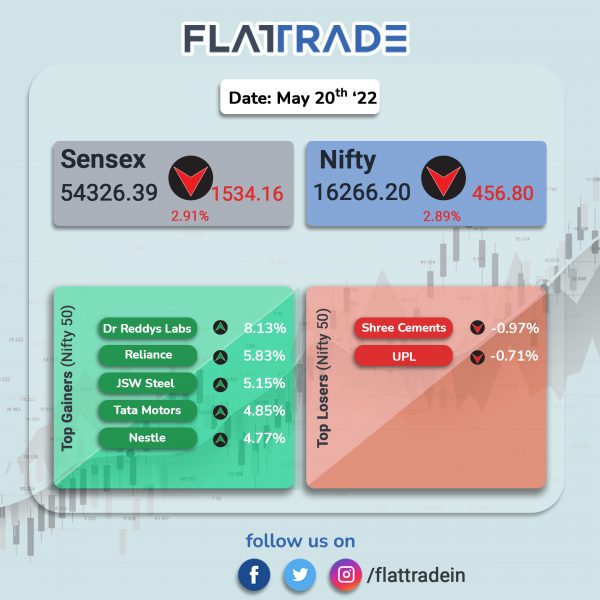 HDFC: The mortgage lender has informed the exchanges that the total foreign shareholding in the company as of May 13, 2022 was 68.56% of its total issued and paid-up share capital. The company has issued this clarification in response to queries from several investors seeking information on its aggregate foreign shareholding.
NTPC: The state-owned company has successfully commissioned the second part capacity of 35 Mega Watt out of 92 Mega Watt Kayamkulam Floating Solar PV project at Kayamkulam, Kerala. The first part capacity of 22 Mega Watt has already been declared on commercial operation on March 31. The standalone installed and commercial capacity of NTPC now stands at 54,651.68 Mega Watt.
Hindustan Aeronautics Ltd (HAL): Shares of surged 4.42%, after the company announced that it was granted 'Type Certification of first Indigenous Light Transport civil passenger aircraft Hindustan 228-001' by DGCA.
Zydus Lifesciences: The company's consolidated net profit dropped 41% to Rs 397 crore in Q4FY22 as against Rs 679 crore in the year-go period. Its revenue was up 5% to Rs 3,864 crore in the reported quarter from Rs 3,670 crore in the year-ago period. The company's board recommended a final dividend of Rs 2.5 per share of face value Re 1 each. It also approved buyback of shares up to Rs 750 crore.
IRB Infrastructure Developers: Shares of the company rose 9.92%, after the company received a nod to begin work for widening a national highway passing through Punjab and Himachal Pradesh. The bid project cost is Rs 828 crore. The project will be completed in 730 days and company will have operating rights for 15 years from the date of completion.
Welspun Corp: Shares of the pipe manufacturer zoomed 17.23% after the company announced it has won its largest order worth Rs 5,000 crore in the United States. The order pertains to the supply of 3,25,000 Mega Tonnes of large diameter coated pipes for transporting natural gas to Houston. The pipes will be produced from the company's plant at Little Rock. The order will be executed over a period of 12 months, starting H2FY2022-23.
Glenmark Pharma: The company's U.S. subsidiary received the final approval from the U.S. FDA for manufacturing Abiraterone Acetate tablets USP, a drug to treat prostrate cancer.
Prudent Corporate Advisory Services: Shares of the company listed at Rs 650 apiece on the NSE, a premium to its IPO price of Rs 630. Shares of the company closed at Rs 561.75 below its issue price.
Bajaj Hindusthan Sugar: The company's net profit declined 17.15% to Rs 99.26 crore in the quarter ended March 2022 as against Rs 119.80 crore in the same quarter ended March 2021. Sales declined 19.20% to Rs 1615.92 crore in the quarter under review as against Rs 1999.92 crore in the year-ago period.
Wheels India: The company's net profit rose 9.08% to Rs 27.86 crore in the quarter ended March 2022 as against Rs 25.54 crore in the year-ago period. Sales rose 29.25% to Rs 1101.33 crore in the reported quarter as against Rs 852.07 crore during the corresponding quarter last fiscal.