Benchmark indices ended higher with modest gains as stocks related to banks and oil & gas advanced. The Sensex rose 0.15% and the Nifty 50 index gained 0.13%. In broader markets, Nifty Midcap 100 index closed 0.26% higher and the BSE Smallcap was up 0.54%.
Top gainers among Nifty sectoral indices were Media [1.14%], PSU Bank [1.02%], Bank [0.64%], Oil & Gas [0.54%] and Financial Services [0.51%]. Top losers were Metal [-0.40%] and IT [-0.14%].
Indian rupee  fell 18 paise to 81.85 against the US dollar on Wednesday.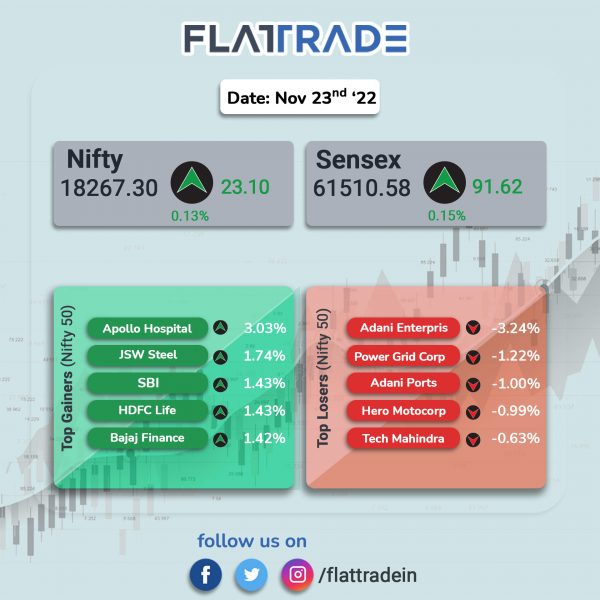 Reliance Industries (RIL) and Adani Power: The two companies are competing to buy the assets of Lanco Amarkantak Power, according to a report in The Economic Times. Both the companies will participate in an auction for the assets of the distressed thermal power firm undergoing corporate insolvency. The auction is scheduled to take place on November 25. Further, a consortium of Power Finance Corp and REC will also participate in the bidding process, Economic Times reported citing three people.
Adani Enterprises: The company is planning to launch a follow-on public offering (FPO) to raise Rs 20,000 crore in fresh capital. The company's board will meet on Friday (November 25) to approve the proposal.
KPIT Technologies: Shares of the company soared over 7% in intraday trade after the company was selected by Renault Group as a strategic software scaling partner for next-generation SDV programs.
IndiGo: The airline has inaugurated its second maintenance repair and overhaul (MRO) facility at Bengaluru's Kempegowda International Airport. The 13,000 sq.metre hangar is built on five acres of land and is the second largest maintenance facility at the airport. The carrier has signed a 20-year pact with the Bengaluru International Airport. The facility can accommodate up to 2 narrow body aircraft at the same time and it will also have support infrastructure, including an engine Quick Engine Change (QEC) shop warehouse and engineering offices for all repair and maintenance work.
Tata Teleservices: The company's unit, Tata Tele Business Services (TTBS), has announced a strategic expansion of its cloud communication suite Smartflo with WhatsApp Business Platform. The move is expected to offer enhanced business communication solution through WhatsApp Business Platform, ensuring a seamless and superior customer experience. Smartflo, along with WhatsApp Business Platform, will provide an integrated omnichannel solution that includes different channels and methods of connecting with customers and integrating them.
Aurobindo Pharma: The drug maker on Wednesday said that its unit has entered into a licensing pact with Evive Biotech to commercialise Ryzneuta in the US market. The product, a novel dimeric G-CSF long-acting fusion protein without pegylation, is currently under late-stage review by the US Food and Drug Administration for chemotherapy-induced neutropenia (CIN). Moreover, Evive's Marketing Authorization Application (MAA), and New Drug Application (NDA) for Ryzneuta are currently under review by European and Chinese regulators.
Zydus Lifesciences: The drug has maker has received the final approval from the USFDA to market Famotidine Injection, which is indicated to treat ulcers. This medication is also used to treat certain stomach and throat (esophagus) problems such as erosive esophagitis, gastroesophageal reflux disease-GERD and Zollinger-Ellison syndrome. According to recent IQVIA MAT data, Famotidine Injection had annual sales of $1.9 million in the US.
Mahindra and Mahindra Financial Services: The NBFC's vehicle leasing and subscription arm, Quiklyz, signed memorandum of understandings (MoUs) with five last mile mobility players to deliver 1000 electric 3-wheelers. Quiklyz plans to deliver these leased vehicles over the next six months, spread across India. Quiklyz has already provided leasing solutions to over 1000 electric vehicles over the last 12 months including passenger vehicles and three-wheelers.
Dynacons Systems & Solutions: Shares of the company rose after it won an order worth Rs 14.07 crore from Bharat Sanchar Nigam Ltd for a period of five years. The project is for the design, setting up, installation, testing, and support of Cyber Security Solution for Rajkot Smart City project.
Time Technoplast: Shares of the company gained after the company said the restructuring of overseas business is progressing "very well". In an exchange filing, Time Technoplast said that its management is confident of closing the deal and receiving the sale proceeds this year. The proceeds will be used for debt repayment, capex of composite cylinders and shareholder benefits.
DCW Ltd: Shares of the company rose after it announced plans to double its chlorinated polyvinyl chloride or CPCV capacity. The specialty chemicals company said it will double the CPVC capacity by adding another 10KT capacity. DCW added that it also plans to increase the capacity utilisation of its Synthetic Iron Oxide Pigment (SIOP) plant to 100%. The company is investing around Rs 125 crore on both of these projects. CPCV project is expected to be commissioned in second-half of FY24, and SIOP to be completed by Q1 of FY24.
Inox Green Energy Services: The company had a weak stock market debut. The company shares opened at Rs 60 apiece compared to a issue price of Rs 65. The shares hit a high of Rs 64 and a low of Rs 58.35 per share. Shares of the company closed at Rs 59.10 apiece.
Precision Wires India: The company said that it has fixed Thursday, December 22, 2022, as the record date for the proposed bonus issue of shares. On 10 November 2022, the company's board had approved a proposal to issue 1 bonus equity share for every 2 equity shares held by the shareholders of the company. The bonus issue is subject to the approval of shareholders which is being obtained by way of postal ballot through remote e-voting. The result of postal ballot will be declared on December 14, 2022.
Easy Trip Planners: The company's board has approved the allotment of 1,30,37,40,000 equity shares of face value of Re 1/- each as fully-paid up bonus equity shares, in the ratio of three equity shares for every one existing equity share held on the record date. The record date was November 22, 2022.