Market Opening - An Overview
Nifty futures on the Singapore Exchange were trading 0.46 per cent higher at 18,337.50 signalling that Dalal Street was headed for a positive start on Thursday.
Asian shares were trading higher after minutes of the Fed's recent monetary policy meeting showed support for tapering interest rate hikes. Japan's Nikkei 225 index rose 1.32 per cent and the Topix index gained 1.34 per cent. Hang Seng gained 1.04 per cent and the CSI 300 index advanced 0.55 per cent in early trade.
Indian rupee fell 18 paise to 81.85 against the US dollar on Wednesday.
Keystone Realtors will make its stock market debut on the BSE and NSE on November 24. The issue price has been fixed at Rs 541 per share.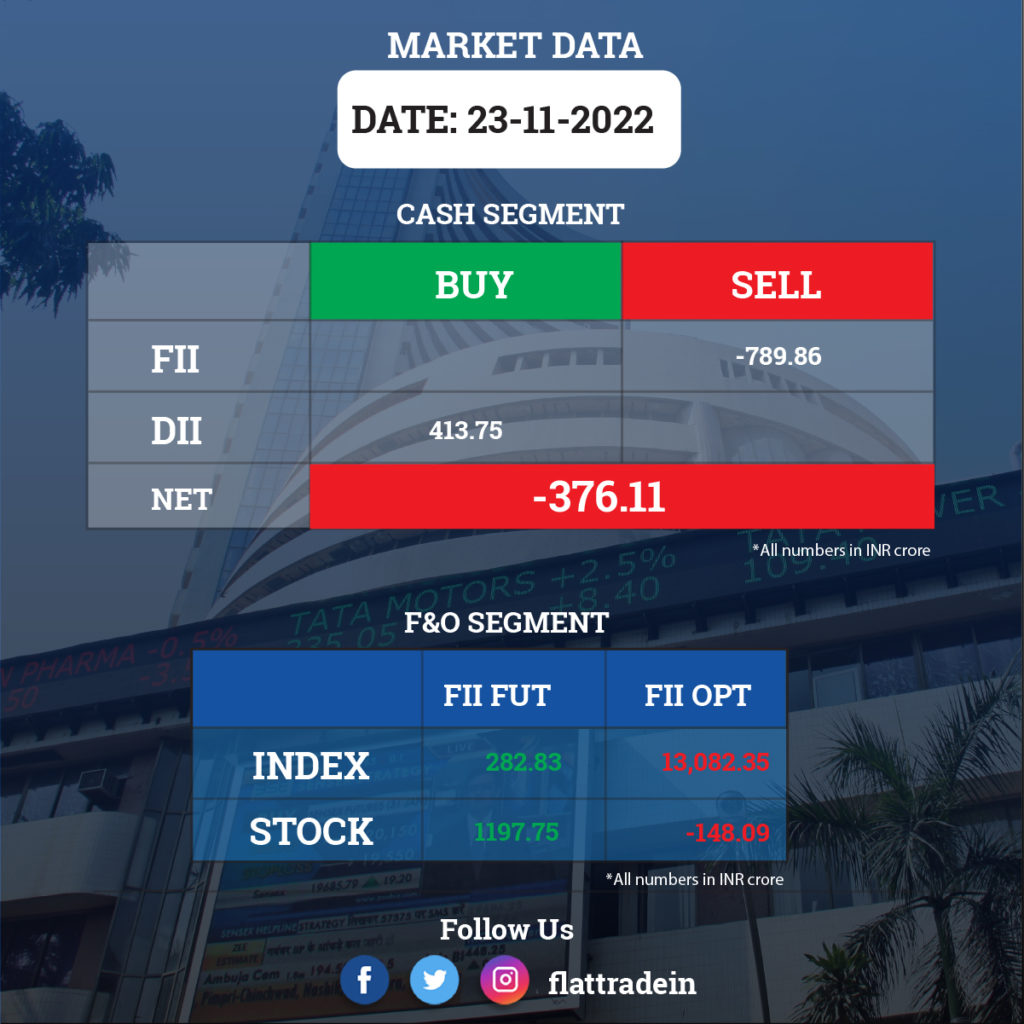 Tata Consultancy Services (TCS) and ITI: The IT major and the state-run ITI have submitted their bids for the roll-out of Bharat Sanchar Nigam Limited's commercial 4G network, The Economic Times reported. The deal pertains to supply of equipment for one lakh 4G sites for BSNL across the country. TCS has partnered with C-DoT, which will provide indigenously developed 4G core solution, upgradable to 5G technology by next year.
Tata Power: India's apex court dismissed the company's challenge to the Maharashtra Electricity Regulatory Commission's (MERC's) decision to award a Rs 7,000-crore transmission project near Mumbai on a nomination basis to Adani Electricity, Business Standard reported. The court upheld the order by the Appellate Tribunal for Electricity (APTEL) in this case and directed all State Electricity Regulatory Commissions (SERCs) to frame guidelines on tariff determination in accordance with Section 61 of the Electricity Act and the national policy.
Biocon: The biotechnology company has entered into a commercialization agreement with Zentiva in Europe for its vertically integrated, complex formulation, Liraglutide, a drug-device combination for the treatment and management of Type 2 diabetes and obesity.
ACC Cement: The company said that its promoter entity, Ambuja Cements, had released the non-disposal undertaking (NDU) on shares of ACC, according to a Business standard report. The company had created the NDU on over 93.9 million shares, or over a 50.05 per cent stake, in ACC in September. When it comes to an NDU, one can sell the stocks, unlike pledging that prevents sale of shares.
InterGlobe Aviation: IndiGo CarGo operated its first international flight between Kolkata and Yangon in Myanmar. The A321 P2F freighter aircraft carried general cargo with a payload of more than 19,000 kg. Recently, it had carried a cargo between Delhi and Mumbai.
Mahindra & Mahindra Financial Services: Life Insurance Corporation of India bought additional 2.01 per cent shares in the NBFC through an open market transactions, increasing the shareholding to 7.02 per cent from 5.01 per cent earlier.
Can Fin Homes: The NBFC said its board of directors will hold a meeting to consider a proposal for payment of interim dividend for FY23, on November 28. They will also fix record date for payment of interim dividend. 
IIFL Wealth Management: Investor General Atlantic Singapore Fund Pte Ltd sold 15.12 percent stake in the company via off market transactions on November 22. With this, General Atlantic's shareholding in the company reduced to 5.84 percent, from 20.96 percent earlier.
HEG: Life Insurance Corporation of India offloaded more than 2 percent equity stake or 7.76 lakh shares in HEG via open market transactions. With this, LIC reduced its shareholding in the company to 4.84 percent, from 6.85 percent earlier.
HG Infra Engineering: The company has received a letter from Adani Road Transport regarding declaration of appointed date as November 3, by Authority for project in Uttar Pradesh. The company will execute civil and associated works on engineering procurement & construction basis for development of an access-controlled six lane road project in Uttar Pradesh on DBFOT (toll) basis under PPP. The project will be completed within 820 days from appointed date.
Voltamp Transformers: Nippon India Mutual Fund has bought additional 3 lakh shares in the company at an average price of Rs 2,650 per share, whereas Nalanda India Fund offloaded 4.2 lakh shares at an average price of Rs 2,651.56 per share. Nippon Life India already held 5.47 per cent stake and Nalanda India Fund had 7.79 per cent shareholding in the company as of September 2022.
Fino Payments Bank: Investor Capri Global Holdings has picked 1.58 per cent stake or 13.19 lakh shares in Fino Payments Bank via open market transactions. These shares were bought at an average price of Rs 228.77 per share.