Benchmark indices surged over 1% on broad-based buying after the Fed's minutes hinted at slowing down the pace of interest rate hikes. The Sensex surged 1.24% and the Nifty 50 index rose 1.19%.
In broader markets, Nifty Midcap 100 index closed 0.44% higher and the BSE Smallcap was up 0.42%.
Top gainers among Nifty sectoral indices were IT [2.63%], Oil & Gas [1.1%], PSU Bank [0.95%], Energy [0.89%], FMCG [0.88%]. All the other indices closed in the green.
Indian rupee strengthened by 21 paise to 81.63 against the US dollar on Thursday.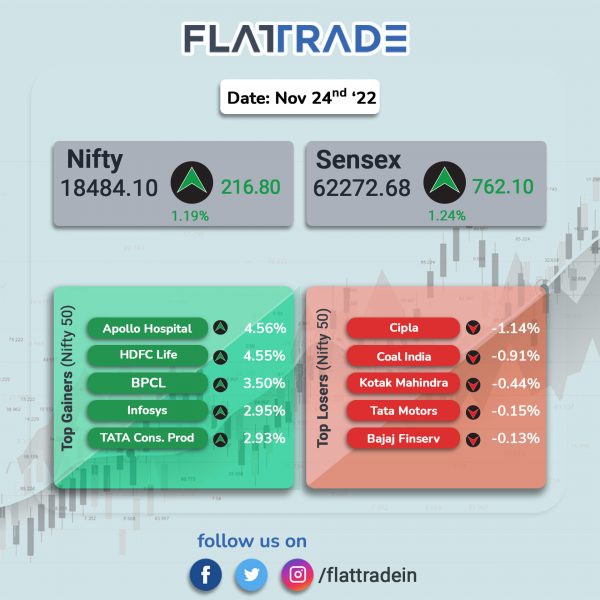 Tata Consumer Products (TCPL): The company will buy Bisleri International for an estimated Rs 6,000-7,000 crore, The Economic Times reported. Ramesh Chauhan, chairman of Bisleri International, does not have a successor to take Bisleri to the next level, the report added. Chauhan had earlier sold brands like Thums Up, Gold Spot, and Limca to Coca-Cola. Bisleri, which is India's largest packaged water company, is expected to have a turnover of Rs 2,500 crore with a profit of Rs 220 crore in FY23.
Indian Oil Corp (IOCL) and Chennai Petroleum Corp (CPCL): Shares of both the companies rose after ICICI Bank said it will invest Rs 50,000 as seed capital to buy 10% stake in a joint venture of IOCL and CPCL. The joint venture will implement a 9 MMTPA refinery at Nagapattinam, Tamil Nadu in which IOCL and CPCL will hold 50% equity stake (25% each) and balance would be held by other partners. The refinery will produce petroleum and petrochemical products such as polypropylene. Meanwhile, Axis Bank will also invest Rs 50,000 to hold 10% shareholding in the target entity through acquisition of 5,000 equity shares of face value Rs. 10 each. HDFC Life Insurance has inked a pact to acquire 11% total paid‐up capital in the joint venture for Rs 55,000.
Adani Group: The Kerala government's Rs 7,500 crore Vizhinjam Seaport, being developed by the group has been facing deadlock due to protest by the locals led by the leadership of the Latin Catholic Archdiocese, PTI news reported. The state government has appealed to the church authorities to end the protest as it was crucial for bringing changes to the industrial and economic sector of the country, the report added. The protesters allege that the project will adversely affect the livelihood of the fishermen, coastal eco-system and the ecology of the Western Ghats due to mining of granite stones for the same.
Larsen & Toubro (L&T): The construction major announced that its construction arm has secured 'significant' orders for its heavy civil infrastructure business. According to the company, the value of the significant project is estimated to range between Rs 1,000 crore and Rs 2,500 crore. The company said that its heavy civil infrastructure business of L&T Construction has secured an order from Greenko group for development of an off stream pumped storage project in Madhya Pradesh.
The project is expected to meet a pumped storage capacity of 10,080 megawatt-hours. It envisages creation of an upper reservoir near Khemla block village, (about 75 kiometers from Neemuch, Madhya Pradesh) while the existing Gandhisagar reservoir will be the lower reservoir.
IOL Chemicals and Pharmaceuticals: Shares of the company rose over 8% in intraday trade after the Government of India granted patent for developing drugs used to treat high blood pressure and heart failure. The company received the patent for an "improved safe process for preparation of Sartan drugs of formula I," it said in a regulatory filing. The company added that Valsartan, Losartan, Irbesartan, Olmesartan, Candesartan and other Sartan drugs are a class of medicines known as angiotensin II receptor blocker used to treat high blood pressure and heart failure.
TVS Motor Company: The two-wheeler manufacturer inaugurated its first state-of-the-art TVS Experience Centre in Singapore. The launch is in line with the company's global expansion plans. The new TVS Experience Centre will offer a range of TVS Motor's premium motorcycles including the flagship model, TVS Apache RR310 for racing enthusiasts, and the TVS Apache RTR range for the performance seekers.
KPI Green Energy: Shares of the company jumped 7.8% in intraday trade after the company said its board of directors will meet on November 30 to consider the proposal for issue of bonus equity shares. Shares gained 12.1% so far this week.
Easy Trip Planners: Shares of the travel company gained 9.70% in intraday trade after company said it will mull proposal for an acquisition. The board of Easy Trip Planners will meet on December 1 to consider a proposal for an acquisition. The shares have risen 54% from last week's Friday's close.
Indian Railway Finance (IRFC): Shares of the company registered a record high on strong buying. The stock price rose 8.4% in intraday trade on Thursday and 40% so far in November 2022. IRFC reported a 14% increase in its net profit at Rs 1,714 crore in the Q2FY23 as compared to earning a profit of Rs 1,501 crore in the same quarter of the previous fiscal. The revenue from operations during the quarter also grew about 24% to Rs 5,810 crore as against Rs 4,690 crore reported in the same period of last year.
Keystone Realtors: Shares of the company opened at Rs 555 apiece on the NSE as against its issue price of Rs 541 per share. The company shares touched a low of Rs 548 and a high of Rs 569.95. The company shares closed at Rs 556.85 apiece.
Neuland Laboratories: The company's board appointed Abhijit Majumdar as chief financial officer and key managerial person. The board also approved transfer of company's property spanning 1.75 lakh square feet in Nanakramguda, Hyderabad to various parties via perpetual lease for an overall consideration of Rs 117.96 crore.
SBI Cards and Payment Services: The company said that Aparna Kuppuswamy, chief risk officer of the company, has tendered her resignation from the services of the company. Her last working day with the company will be February 10, 2023, the company said in a statement.
Glenmark Pharma: The US Food and Drug Administration (USFDA) inspected the company's Goa facility in May 2022 and issued Official Action Indicated (OAI). The UFDA has now issued a warning letter to the Goa facility. However, the drug maker said that the warning letter will not have an impact on disruption of supplies or the existing revenues from operations of this facility.
Dodla Dairy: The company said it has incorporated a wholly owned subsidiary company, "Country Delight Dairy" in Kenya,. Country Delight Dairy's main object will be carrying out production, processing of milk, milk products and distribution of dairy and other products.
Cipla: The drug major said that it has received a communication from the United States Food and Drug Administration (USFDA) that the classification of company's Goa manufacturing facility continues to be as Official Action Indicated (OAI). The company said that it will work closely with the USFDA and is committed to address these within the stipulated time. The USFDA may continue to withhold product approvals from this facility till the outstanding observations are resolved.
Sonata Software: The company announced that it has secured a deal worth millions from Bermuda headquartered Global Cloud Xchange (GCX), which is a leading network service provider powering global connectivity for new media providers, telecom carriers and enterprises. Sonata Software shall support and maintain the end-to-end application landscape and help GCX migrate from legacy technology and platforms to enable strategic business transformation in this multi-year agreement.
PB Fintech: The company surged 11.9% in intraday trade after the counter witnesses large block deals in early trade on Thursday. On the BSE, 48.40 lakh shares were traded in early trade as against an average trading volume of 4.09 lakh shares in the past three months. On the NSE, 1.57 crore shares changed hand in early trade compared with an average trading volume of 25.35 lakh shares traded in the past three months.
G R Infraprojects: The company announced that the project of four laning of Gundugolanu – DevarapaIli – Kovvuru section of NH-16 totalling a length of 69.884 k.m. in Andhra Pradesh under Bharatmala Pariyojana has been completed. The completion certificate has been issued by the Independent Engineer and the stretch has been declared fit for entry into commercial operation.
Fusion Micro Finance: The NBFC said that its board will meet on November 28, 2022, to consider fund raising by issuance of non-convertible debentures, aggregating up to Rs 145 crore, on private placement basis. The board will also consider financial results for quarter and half year ended September 30, 2022.
Confidence Petroleum: The company said that it has added 10 new auto LPG dispensing stations taking the total count to 219 auto LPG dispensing stations. Out of the 10 stations, six are in Tamil Nadu, two in Maharashtra, one in Karnataka and Telangana, each. Confidence Petroleum is engaged in LPG cylinder manufacturing, LPG bottling & blending, and running auto LPG dispensing stations.