Benchmark equity indices advanced as investors sought riskier assets after lower-than-expected US inflation data boosted sentiments. The Sensex rose 0.88% and the Nifty 50 index gained 0.71%.
Broader markets mirrored headline indices. The Nifty Midcap 100 rose 0.87% and BSE Smallcap climbed 0.52% .
Top Nifty sectoral gainers were PSU Bank [2.38%], IT [1.79%], Financial Services [1.57%], Bank [1.55%] and Pvt Bank [1.39%]. Top losers were Media [-0.97%], FMCG [-0.8%] and Auto [-0.22%].
The Indian rupee fell 11 paise to 79.64 against the US dollar on Thursday.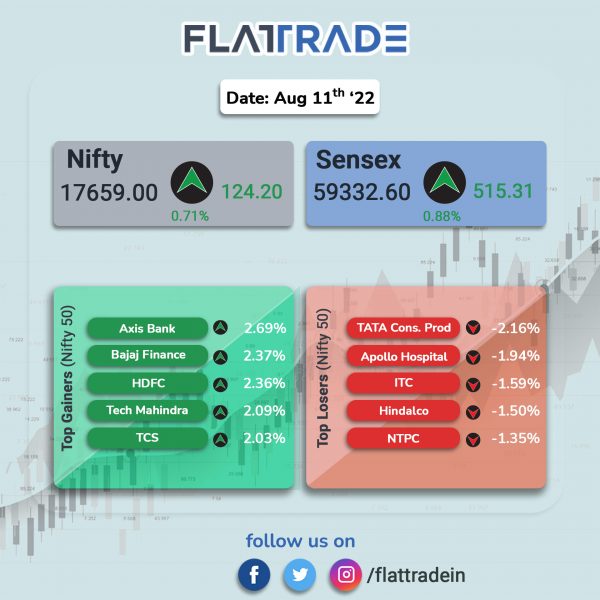 Adani Enterprises: The company plans to invest $5.2 billion in setting up an alumina refinery in the eastern Indian state of Odisha, Bloomberg reported citing statement by the Odisha government. The flagship company of the Adani Group got the approval to build the refinery and a captive power plant in Rayagada for an investment of Rs 416.53 billion rupees ($5.2 billion), according to Bloomber news. The refinery will have an annual capacity of 4 million tonnes.
Housing Development Finance Corp (HDFC): The company plans to raise funds through commercial papers maturing in nearly one year, Reuters reported citing three merchant bankers. The housing finance company will offer a yield of 6.90% on this issue, and has received commitments worth around five billion rupees ($63.06 million), the bankers said. The notes are rated A1+ by CRISIL and will mature in July 2023.
ICICI Bank: Shares of the private lender hit a record high of Rs 865.55, up 2 per cent on the BSE during intraday trading , on the back of strong growth outlook. The share price crosses its previous high of Rs 859.70 on October 25, 2021. In the past two months, the stock has rallied 26 per cent. The bank also now joined the elite club of companies having market capitalisation of over Rs 6 trillion.
Trent: The company posted a net income of Rs 103 crore in Q1FY23 as against a loss Rs 83.75 crore YoY. Revenue rose to Rs 1,650 crore in Q1FY23 compared with Rs 327 crore in the year-ago period. Total costs rose to Rs 1,560 crore in Q1FY23 compared with Rs 490 crore in the year-ago period.
Bharat Forge: The company's net income rose 46% YoY to Rs 244 crore in Q1FY23. Revenue rose 28% YoY to Rs 1,760 crore in the first quarter of FY23. Total costs jumped 30% YoY to Rs 1,460 crore.
Airline company stocks: Shares of airline companies in India advanced after the Civil Aviation Ministry said that domestic airfare limit will be removed from August 31. The decision to remove air fare caps has been taken after careful analysis of daily demand and prices of air turbine fuel (ATF), said Jyotiraditya Scindia, Aviation Minister.
Bata India: The company reported a net income of Rs 119 crore in Q1FY23 as against a loss of Rs 69.48 crore in the same period last year. Revenue rose to Rs 943 crore in the reported quarter compared with Rs 267 crore in the corresponding period last fiscal. Total costs jumped to Rs 793 crore in Q1FY23 from Rs 372 crore in Q1FY22.
NMDC: The PSU hiked prices of lump ore by Rs 200 a tonne and fines by Rs 100 per tonne with immediate effect. The company has fixed the prices of lump ore at Rs 4,100 per tonne and that of fines at Rs 2,910 a tonne.
Kirloksar Pneumatic: Shares of the company ended 6.34% higher after domestic mutual funds bought more than 6 per cent stake in the company via open market. According to data from BSE exchange, L&T Mutual Fund, Aditya Birla Sun Life Mutual Fund, Tata Mutual Fund, Franklin Templeton Mutual Fund and ICICI Prudential Life Insurance Company collectively purchased 3.97 million equity shares representing 6.15% of total equity of KPCL through bulk deals.
Wonderla Holidays: Shares of the company were locked in 20 per cent upper circuit after the company reported robust earnings. Its profit after tax (PAT) grew to Rs 64.38 crore for the quarter ended June 2022 as against Rs 8.51 crore for the quarter ended March 2022. Sequentially, the company's total revenue from operations more-than-doubled to Rs 149.42 crore in the reported quarter from Rs 57.69 crore in the previous quarter.