Sensex, Nifty ended higher on renewed investor optimism after the US Senate passed US debt ceiling legislation, avoiding a default. The Sensex rose 0.19% and the Nifty 50 index gained 0.25%.
Broader markets performed better than frontline indices. The Nifty Midcap 100 index rose 0.46% and the BSE Smallcap index advanced 0.57%.
Top gainers among Nifty sectoral indices were Realty [1.42%], Metal [1.22%], PSU Bank [0.98%], Media [0.92%], and Auto [0.92%]. Top losers were Oil &Gas [-0.67%], IT [-0.4%], and Energy [-0.17%].
Indian rupee appreciated by 11 paise to 82.31 against the US dollar on Friday.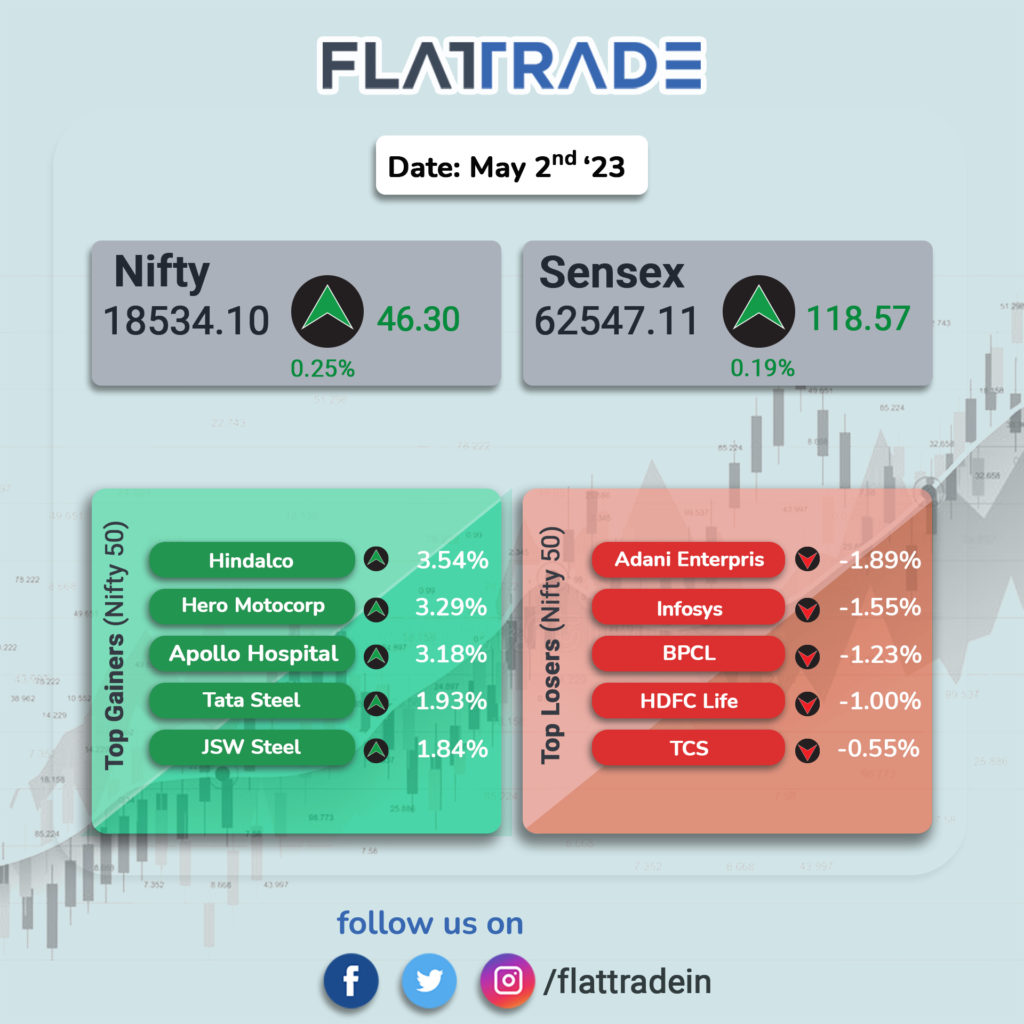 Eicher Motors: The company's total motorcycles (Royal Enfield) sales jumped 22% to 77,461 units in May 2023 from 63,643 units sold in May 2022. While sales of motorcycle models with engine capacity up to 350cc surged 28% to 69,038 units, sales of motorcycle models with engine capacity more than 350cc fell 14% to 8,423 units in May 2023 over May 2022. In the international market, sales stood at 6,666 units in May 2023, which is lower by 34% as compared with 10,118 units sold in May 2022.
Separately, Eicher Motors said that it will set up fifth overseas Royal Enfield CKD assembly unit. The unit will have one lac square feet facility and an assembling capacity of 20,000 units per year. Operations will begin with local assembly of new Classic 350 and Scram 411 models.
Adani Ports and Special Economic Zone (APSEZ): The company announced that it handled 36 million metric tones (MMT) of total cargo in May 2023, growth of 19% YoY. On YTD basis, APSEZ has clocked around 68.5 MMT of overall cargo volumes, registering a growth of 16% YoY. All three cargo segments witnessed growth as follows: Container (up 24%), Dry Bulk (up 12%), and Liquids & Gas (up 10%). Logistics volumes also show a significant jump with YTD rail volumes of approximately 93,000 twenty-foot equivalent units (TEUs) (up 25% YoY) and GPWIS volumes of about 3 MMT (up 46%).
Mahindra & Mahindra Financial Services (MMFS): The company said that its overall disbursements increased by 39% YoY to Rs 4,150 crore in May 2023. The company's business assets stood at Rs 85,500 crore, higher by about 3.3% over March 2023. The collection efficiency stood at 96% for May 2023 as against 95% for May 2022.
Bank of Baroda (BoB): The bank's board of directors approved a proposal to raise additional capital aggregating up to Rs 5,000 crore in suitable tranches. The funds would be raised via issue of additional tier-I (AT I) or tier-II debt capital instruments with an interchangeability option in India or Overseas.
NHPC: The company said that it has entered into a memorandum of understanding (MoU) with Vidhyut Utpadan Company (VUCL), Nepal for joint development of Phukot Karnali HE project.
Tata Elxsi: The Tata Group company has partnered with Cultos Global to integrate a Blockchain mechanism from Cultos Global with its TETHER Connected Vehicle Platform, to create an innovative Driver Reward Program. The partnership will use blockchain technology to track driver behavior and reward safe and responsible driving.
Spandana Sphoorty Financial: The micro finance company's board has approved fundraising proposal through non-convertible debentures on private placement basis. The company will issue listed, secured, senior, redeemable, transferable, rated non-convertible debentures up to Rs 100 crore including green shoe option of Rs 50 crore on private placement basis. Tenure of the instrument is 24 month from deemed date of allotment and the interest rate is 10% per annum.
Bank of Maharashtra: The lender's board has approved the opening of qualified institutional placement (QIP) of equity shares with the floor price of Rs 29.98 per share. The company's board authorised and declared the opening of the issue on Thursday (June 1, 2023). The bank may offer a discount of up to 5% on the floor price. The bank said that the issue price will be determined in consultation with the book running lead manager appointed for the issue.
Mphasis: The company's wholly owned subsidiary — Mphasis Consulting — signed a definitive agreement to acquire 100% of the shares in UK based eBECS, a wholly owned subsidiary of DXC UK International Operations. Mphasis said that the acquisition enhances the company's ability to address client needs and add significant value to its UK business by bringing in marquee client relationships and innovative service delivery and customer engagement models through Microsoft's Business Applications.
Caplin Point Laboratories: The company said that the United States Food and Drug Administration (USFDA) had completed its good manufacturing practices (GMP) and pre-approval inspection (PAI) inspection of its subsidiary Caplin Steriles' injectable site at Gummidipoondi, Thiruvallur district, Tamil Nadu. The inspection was carried out from 22nd to 31st of May 2023. At the end of the inspection, there were four observations by US FDA. The company added preventive actions for these observations will be presented to the USFDA within the stipulated period.
DCB Bank: The lender said that its board has formed a search committee to identify a successor to the current managing director & CEO, Murali Natrajan, whose term ends on 28 April 2024. The board has also appointed Korn Ferry as the Search Firm to help identify and evaluate suitable candidates for the position. Meanwhile, the board has appointed Ravi Kumar as the chief financial officer (CFO) and key managerial personnel (KMP), effective 8 June 2023. Ravi Kumar has over 27 years of experience in Finance, Audits, and Operations, in national and international roles.
Anmol India: The company has approved a bonus issue in the ratio of 4:1, for a share premium worth Rs 45.53 crore. Authorized share capital of the company will rise from Rs 11.50 crore to Rs 57 crore. Meanwhile, the company has re-appointed Vijay Kumar as the Managing Director for five years.
Cyient: Shares of the company jumped after the company declared June 12, 2023, as the end date for the payment of final dividend declared with the fourth-quarter results. The board had recommended a final dividend of Rs 16 per equity share at 320% of its par value at Rs 5 apiece, in April 2023.